Wandering our World is reader supported! If you purchase anything through a link on our site, we may earn a commission at no extra cost to you.
Last updated on October 7, 2022 by Wandering our World
A beautiful town famed for its historic stone buildings, medieval parishes, wonderful meadows and friendly population. It's no wonder we enjoy our trips to Stamford so much.
With an open air theatre, arts centre, swimming pool, plenty of landmarks and walks available you'll be spoilt for choice when it comes to picking how to spend your day here. But there's another reason we love this place so much – the incredible selection of unique pubs in Stamford!
Regardless of how you spend your time in Stamford, if you're like us then after a day of adventuring you'll want some delicious food and a refreshing pint.
As we know this town so well, we've decided to put together a list of what we believe are the best pubs in Stamford.
As you'll see, there is plenty of ale and great food on offer, live music to enjoy, and even a beer garden which doubles up as an open-air cinema!
So sit back and relax while we guide you through the best pubs in Stamford!
The Seven Best Pubs in Stamford For Food, Beer & Fun!
1. The Bull & Swan
From the traditional looking outside, it's glaringly obvious this is an old and historic building. And once inside you'll see that many of the original features have been retained so The Bull & Swan has kept that historic look. Low beams with brass and copper alongside a fireplace in the dining area – it's an understatement to say The Bull & Swan is photogenic.
This posh pub has a peaceful beer garden with some nice seating in the sun, but a lot of it is actually used to grow produce for the restaurant. Talk about fresh!
If you are looking to dine, food is served at lunch and dinner. Considering they use fresh produce from the pub garden, you may have realised already that the dishes they serve are made to order and of excellent quality.
To start with we recommend the Rioja Poached Pear or Breaded Whitebait before moving onto an English pub classic like their delicious Shepards Pie or a Steak from the grill. If you make it to ordering dessert after that filling food, why not try the Rhubarb Panna Cotta or the luxurious Dark Chocolate and Hazelnut Brownie. Both looked very good.
As for the ale here, Grainstore Rutland Osprey & Nene Valley Blonde Session are the two regulars on tap and there's a further two taps which in the past have poured Bakers Dozen Galactic Landlady & Oakham JHB.
Now here comes the best part…..
Remember that garden seating we mentioned? Well each Thursday at 7pm you're welcome to wine & dine in the garden and enjoy the Bull & Swan's very own open-air cinema! With the movie starting at 7:30, be sure to come along on time and grab your seat as there is no booking required and very limited spaces.
With all of that on offer, it's easy to see why the Bull & Swan made our list of the best pubs in Stamford. It's also dog friendly.
Address: High Street, St Martins, Stamford, PE9 2LG
2. Paten & Co
It's no secret that we love craft beer, so we were delighted to come across Paten & Co in Stamford. Like many great craft beer joints and breweries, they've gone for that industrial, minimalist look with exposed brick work and piping split over three floors.
A total of 11 taps dispense some fantastic beer but if you're not a fan of pints then don't worry! They have plenty more to offer. To go along with the fantastic wine and cocktail menu they also have a large range of special gins and spirits.
Food is a big focus here, and Paten & Co use a charcoal oven to cook the meat which is sourced from a local Knead farm. The dishes taste great, but what we really loved was that the menu has been designed with a tapas feel in mind – grab a few plates, share among friends and let the conversation flow.
The Crispy Chicken Wings and Chilli Nachos, as well as the Lemon & Truffle Oil Broccoli, come highly recommended. We also recommend grabbing a side of the Rosemary and Sea Salt Fries to go with any small plate.
If you're after a more filling meal (or don't want to share!) then there are plenty of options. Steak, duck or why not try the Cheeseburger which uses that local charcoal cooked meat we mentioned. And If you're looking for dessert you can't go wrong with their Millionaire Sundae.
This place is all about great craft beer, fantastic food and enjoying all of that with friends and family. It's one of the pubs in Stamford we always return to.
Address: 7 All Saints Place, Stamford, PE9 2AG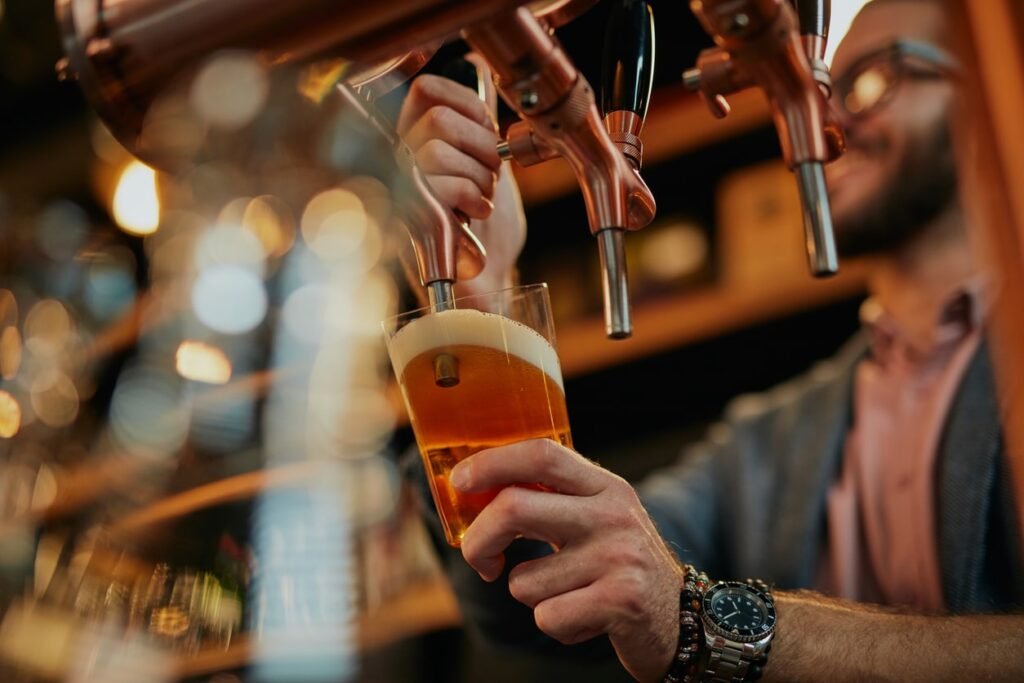 3. The Copper Room
Whenever we find a micropub, we are going to make sure you know about it!
Head on over to The Copper Room in Stamford to experience the best of what a micropub offers – a very friendly atmosphere and some great craft beer. As an added bonus, they also do some extremely good cocktails.
Carefully lit and with exposed brick work, there's a cosy feel to The Copper Room. In fact it's become quite a popular spot with locals in recent years.
Open every day of the week apart from Monday, this is the ideal place to sample some craft beer you've never heard of. If unsure where to start just speak to the knowledgeable staff who can help you out and make suggestions.
If beer isn't your thing (shame on you!) then they have a range of small batch spirits and wines to try out. And as we mentioned before, the cocktails really are something to write home about.
Address: 16 St Mary's Hill, Stamford, PE9 2DP
4. Mama Liz's
If you've been wondering where all the live music in Stamford is, well one of the best places for entertainment is Mama Liz's.
On the ground floor you'll find a New Orleans style bar, upstairs is the Soul Food Shack where you can get incredible food, and in the converted Victorian cellar downstairs is the Voodoo Lounge which has live music every weekend. If you'd like to see which bands are playing in advance then head over to the what's on page on their website.
The ground floor bar is laid back and there are usually a couple of ales available alongside a selection of beer and many cocktails. They've even done £1 pints in the past!
For something to eat, there's a great selection of soul food available upstairs, much of it Caribbean and American Creole style. You can't go wrong with their Chilli or Goat Curry, or the jambalayas that they serve. But if you want something less adventurous, you can always go for one of the best meals you can have with a pint – a burger!
As for the lively cellar, it's not only bands that entertain in the Voodoo Lounge. They also have comedians, DJs, open mic nights, poetry recitals, art exhibitions and the occasional play.
With all of that on offer, and always something on here, it's little surprise that when it comes to pubs in Stamford we think Mama Liz's is the best around for entertainment.
Address: 9a North Street, Stamford, PE9 1EL
5. The Jolly Brewer
Not only has The Jolly Brewer twice been awarded the CAMRA branch Pub of the Year, but they're also the home of the World Pushpenny Championship! If you've never heard of this old pub game before you can read up about it here.
For those reasons alone you should visit, and when you do you will find a spacious interior split into two levels, complete with open fireplaces to keep your toes warm on winter days. But should the weather be kind, there's some seating outside to soak in the sun while you enjoy your drink.
Sports are shown on the TV here and there's some traditional pub games to keep you entertained too. And if you're looking to eat there's a separate dining area where you can order a selection of traditional pub classics, burgers or Sunday lunch, and all at reasonable prices.
Of course, as a pub that's won awards for the ale on offer, there's some great options when it comes to grabbing a pint here. There's a total of four handpumps installed to dispense that delicious ale, and you'll likely find Brewsters Marquis available alongside three other rotating ales that help to show off both local and national ales. This is also a fine pub to enjoy a whisky as they have a great selection of single malts available.
On top of all of that, beer festivals are held here so if you're planning a trip to Stamford, it's worth visiting The Jolly Brewer's website and signing up to their newsletter so you can find out in advance if there will be one held when you visit.
Address: 1 Foundry Road, Stamford, PE9 2PP
6. The King's Head
Beams and beer? Sold!
The Kings Head has held onto its 19th century history, and while it's not the biggest pub, it certainly has a big reputation locally thanks to producing some of the best food and beer in town.
Inside there's comfortable seating, a wood burning stove and some exposed beams, whilst outside there is a sun trap beer garden with some shelter and heating should the weather suddenly turn.
Four handpumps rotate the ale on offer, and in the past they've had Bakers Dozen Electric Landlady and a variety from Drum and Monkey. And if you prefer craft beer to real ale then you're in luck as they serve eight on tap here! In fact this great beer selection has led to the pub winning the CAMRA branch Town Pub of the Year in 2022.
If you've worked up a bit of an appetite after a few beers then there's a selection of classic pub dishes such as Fish & Chips, Nachos, Loaded Fries and Burgers. For something a little lighter there are sandwiches available, and on Sundays you can get a traditional roast.
On the subject of Sundays, every Sunday night is game night at The King's Head! So from 5pm, locals take board games down the pub with them – and as the kitchen is closed by then you're welcome to bring in a takeaway pizza or your own snacks.
Despite being one of the smallest pubs in Stamford, dogs are welcome if well behaved. There's water bowls outside for them too, and the staff keep a stash of treats!
Address: 19 Maiden Lane, Stamford, PE9 2AZ
7. The London Inn
We could talk all day about how beautiful the inside of The London Inn is, from the wood panelling to the beams. But we shall skip ahead and let you discover the photogenic interior yourself.
The London Inn operates over three floors, and has two great outdoor areas to enjoy in the sun. It's a fantastic place to put your feet up and enjoy some food during the day, all ready to recharge your dancing shows for the live music here on Friday and Saturday nights.
There's reasons to visit on other days of the week too. Wednesday night is steak night and Thursdays are reserved for curries. If those aren't for you, the menu is filled with all the gastropub favourites from Fish & Chips, Mac 'n Cheese to some seriously impressive burgers.
To wash that down there's often five ales available, with Caledonian Deuchars IPA and Fuller's London Pride being two regulars. Of course as there's three floors here, the bar is fully stocked with every drink imaginable, so you'll be spoilt for choice. There's also TVs on one of the floors for watching live sports.
This place is a great all-rounder offering a little of everything you could want from a pub. For that reason it's easily one of the best pubs in Stamford.
Address: 4 St Johns Street, Stamford, PE9 2DB