Wandering our World is reader supported! If you purchase anything through a link on our site, we may earn a commission at no extra cost to you.
Last updated on May 25, 2023 by Wandering our World
We always love visiting the beautiful coastal town of St Ives. Not only is there plenty to do and see, but there's also some fantastic cozy pubs in St Ives that are perfect for grabbing pub grub and a beer after a day at the beach.
While the wonderful beaches are the main draw to this town, the area is well known for many other things too. The Tate St Ives Gallery is a fantastic place to visit, as is the Barbara Hepworth Museum.
There's plenty of walks where you can enjoy the scenery as well, and if you want something even more relaxed take the train outside of St Ives for a few miles and enjoy what is regarded as one of the most scenic rail journeys in Britain.
But after all of that exploring, grabbing some good food and a drink should be your priority! Luckily there are some wonderful friendly pubs in St Ives where you can drink some real craft ale, enjoy the scenery, listen to live music and tuck into some pub grub.
As we know this place well, we've put together a list of our eight favourite pubs in St Ives. Whether you're looking for live music, pub food or somewhere to take your dog after a coastal walk, we know the best spots for you.
The Eight Best Pubs in St Ives For Food, Beer, Views & Good Times!
1. The Sloop Inn
A sloop is a boat, so where do you think The Sloop Inn located? Right beside St Ives' harbour of course!
This place is set in a beautiful historic building that's so old it has its own Wikipedia page! The pub dates back to 1312 and you can sense the history throughout the building as soon as you step inside.
The open fire, slate flooring and low wooden beams give that classic, old pub look. On the walls is local art, and up the stairs is a beer garden called the 'Upper Deck' which has spectacular panoramic views of the town. The Sloop also has a ground level outside terrace that looks out onto the sea and harbour.
This pub serves food at lunch and dinner, and has a real focus on seafood – it is St Ives after all. On tap you'll find plenty of Cornish ales, and many good wines too. However our recommendation is to try Sharp's Doom Bar or St Austell Tribute if it's a real ale you're after.
This is also one of the most dog friendly pubs in St Ives. And there's sometimes live music in the evenings too.
With so much character, history and charm it's easy to see why we love this place so much. It's easily one of the best pubs in St Ives.
Address: The Wharf, St Ives, TR26 1LP
2. The Balcony
Whether you're out for a morning walk on the beach or have been enjoying the sunset, we couldn't recommend a better place to relax and unwind with stunning views than The Balcony.
It's more of a bar than a pub, but we had to include this place as the views out towards the sea, beach and harbour are knockout.
The dining area is spacious with plenty of tables. Many of those are sat next to massive windows so you can enjoy the coastline views while having food or drinks.
If you're an early riser, there's a full breakfast and brunch menu available from pancakes to a full English. From afternoon to evening there are plenty of options with burgers, hotdogs, seafood dishes and several vegetarian options too.
If you're passing by just to enjoy the views and have a drink then there's plenty to choose from with wine, beer and the usual spirits available.
Be sure to check out their Facebook before you visit as occasionally there will be live music events, as well as offers on everything from prosecco to jager!
Address: The Wharf, St. Ives TR26 1LP
3. Beer & Bird
We love beer. We love chicken.
We love drinking beer and eating chicken.
If you also suffer from this problem but can never find an establishment with the right focus on both, consider your problem solved. We present to you, Beer & Bird!
They have such a large selection of beer available that it's probably the largest in St Ives. The beer menu alone is 12 pages long with craft beers to real ales all available.
And if you're partial to a cocktail be sure to take advantage of their daily happy hour that runs from 3pm-5pm. Are other drinks served? Of course! You'll find craft cider, a selection of fine wines, soft drinks, hot drinks and more here.
As you will have guessed from the name, the menu is largely fried chicken based. The burgers and mouth watering wings are exceptionally good, and unsurprisingly very popular.
Address: 18a Fore Street, St Ives, TR26 1AB
4. Pilchard Press Alehouse Micropub
Where is all the best ale hiding in St Ives? It's been discreetly hidden away at Cornwall's first-ever micropub, The Pichard Press Alehouse!
Located in an old cellar, up an alley near the harbour, this can be a very easy place to miss. That works in the favour of those looking for it as there's very limited seating. But once you're there you will want to grab a seat and stay for a while as conversation and ales flow.
As you enter you'll see ales on display behind the lovely wooden bar, but there's room for only 20-25 people so this place is the definition of a cozy pub. This micropub is open from 4pm so you may as well arrive late afternoon, stake your claim on a seat, and take some time sampling all there is to offer.
The ales on offer rotate often giving brewers a chance to show off what they are capable of, however you'll often find the likes of Mine Brewery and Treens available. If you spot Cousin Jack then give it a try – this refreshing amber ale is always a good pick.
Of course ale isn't for everyone, so why not try one of the delicious rhubarb ciders which are very popular.
Call it a hole in the wall, call it a hidden gem, call it cosy, quaint or odd. Descriptions are irrelevant here as the drinks on offer do all the talking in this friendly establishment. Definitely one of the best pubs in St Ives.
Address: Wharf Road, St Ives, TR26 1LF
5. Three Ferrets
We all love a throwback to a simpler time when things weren't as fancy, and the people around you were the entertainment rather than the TV. If that sounds like you, then step into the Three Ferrets if you're looking for an independent pub in St Ives with no frills but plenty of atmosphere.
Everyone is welcome (your dog too), the atmosphere is always friendly and lively and there's plenty of room to be either seated or standing. Want some real ale and a real fire? They've got both.
During the day you can pop in to watch football on the TV, but on weekend evenings there's often live music from a range of bands. Things can get pretty rowdy so this place might not be for everyone, but if you miss the old days of pub fun and vibes – you're in for a treat.
Address: 17 Chapel Street, St Ives, TR26 2LR
6. The Hain Line
Bang in the centre of St Ives you'll find The Hain Line, a spacious pub that's part of the Weatherspoons chain. So you know you're going to get plenty of options and for a very affordable price.
There's two levels to this St Ives pub, but with a bar on each level everyone is served promptly wherever they decide to sit.
If you end up dining upstairs you'll notice how bright things are with lovely big windows to let the light in. Grabbing a table beside those windows is the best spot in our opinion.
As The Hain Line falls under the Weatherspoons brand you'll find a menu filled with many options from full English breakfasts to burgers and pizzas.
Of course be sure to grab an ale if you visit, with Greene King Abbot and Ruddles Best Bitter always available on tap, alongside rotating ales. Keep an eye out for the local tipple St Ives Boilers Golden Ale – it's very good.
If ales are not your thing you won't be disappointed as the bar is fully stocked from coffee through to whisky. Or why not have both – Irish Coffee anyone?
Address: Tregenna Place, St Ives, TR26 1SD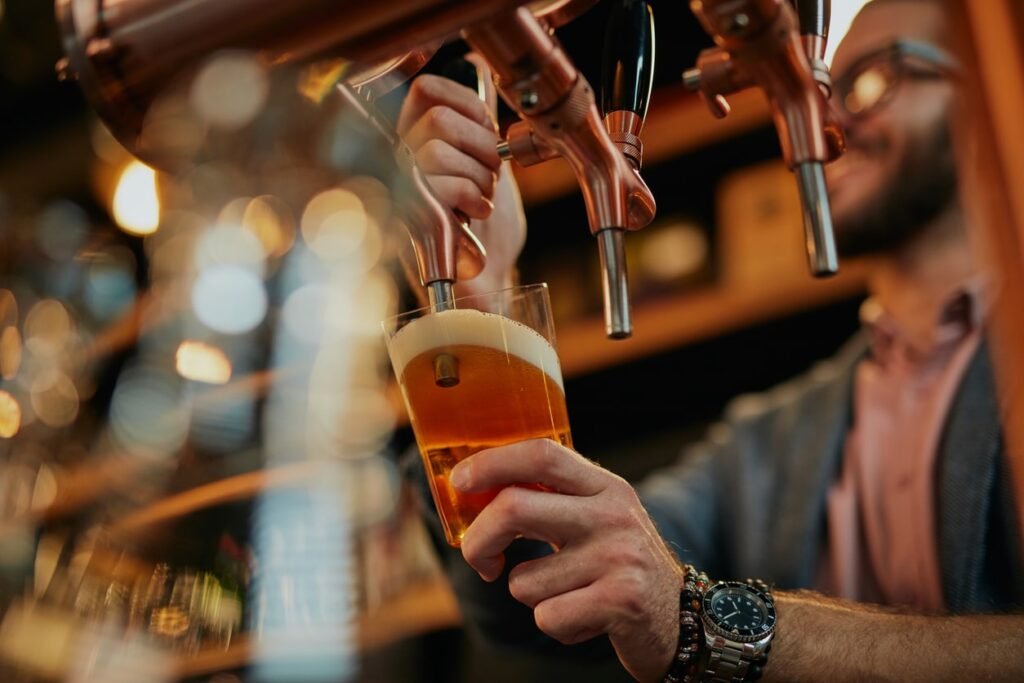 7. The Union Inn
After a day exploring the Barbara Hepworth Museum or St Ives Sculpture Garden you're going to want somewhere to recharge your batteries before you continue with your St Ives vacation. Luckily enough, located just a couple of minutes from each is The Union Inn.
Small, friendly and bursting with character, we always receive a warm welcome here. The food menu is available throughout the day and boasts classic pub grub served in hearty portions – always a big plus point.
There are a few vegetarian options too with mac 'n cheese and veggie burgers available. What about value for money deals? How about their 'Buy two Sunday lunches and get a free bottle of wine' deal – not bad.
On tap there's real ales like Doom Bar as well as other options like Weston's Old Rosie if cider is your thing. In the evenings things can get a bit livelier with live music often featuring at the weekend – just be sure to check their Facebook page to see what's on when your visit.
They're also a dog friendly pub, so this is a great place to bring your furry friend if they've been out exploring St Ives too.
Address: 20 Fore Street, St Ives TR26 1AB
8. The Golden Lion Hotel
If you're looking for a family friendly place with a great food and drinks selection, you can't go wrong with popping into The Golden Lion Hotel (not to be confused with the pub named Golden Lion which we've heard is also worth visiting).
There is very comfortable seating in both the restaurant and bar areas, so wherever you choose to be seated you should find a nice place to relax.
The food on offer is classic British gastropub dishes such as fish and chips, burgers, and duck breast. There's also artisan sandwiches available for something a bit lighter, or afternoon tea if a scone and some good conversation is what you're after.
A carefully selected wine menu is available to accompany any meal, alongside their range of craft beers. If you visit in the early evening and are looking for something a little different, they have a good selection of cocktails available.
We all love a night cap too, and there's plenty whiskeys here to indulge in one. So in the evening grab a comfy seat and enjoy a dram of Glenfiddich, Laphroaig or Macallan. Then sit back, relax… realise your friend has fallen asleep beside you and help yourself to their whisky too!
Address: Market Hill, St Ives PE27 5AL
Pubs In St Ives: A Couple Of Special Mentions
The following two pubs in St Ives we are aware of, but unfortunately we haven't made it round to visiting them yet. We've heard good things so be sure to check them out if you can!
1. Lifeboat Inn
Real ale is available alongside pub classics. There is a fireplace, live sport during the day and live music during weekends! Sounds like our sort of place.
Address: Wharf Road, St Ives, TR26 1LF
2. Golden Lion
Not the hotel, but the other Golden Lion in St Ives. We understand they have lunch and evening meals available, a selection of ales, a beer garden, pub games and are dog friendly.
Sounds like a very good balance of everything you could ask for when it comes to a pub.
Address: High Street, St Ives, TR26 1RS