Wandering our World is reader supported! If you purchase anything through a link on our site, we may earn a commission at no extra cost to you.
Last updated on October 4, 2022 by Wandering our World
Hastings has always been an interesting town, but the renovated pier complete with restaurants, shops and open air events – alongside the opening of the world's largest underground skatepark – has introduced even more people to this fun place.
You may be like us and think 1066 when you first think of Hastings, but it took our first-ever visit to the town to actually learn that the Battle of Hastings took place a few miles away, and the nearest settlement now is a place called Battle!
Despite that there's no escaping history here. Walk West Hill and you'll find yourself gazing at the near 1000-year-old remains of Hastings Castle. Enjoy a picnic or some sunbathing on the beach and you're likely to spot Conqueror's Stone. Or away from the history why not hike through Hastings Country Park Nature Reserve, enjoy Blue Reef Aquarium for a fun family day out, or ride the Hastings Miniature Railway.
What has all of this got to do with the pubs in Hastings? Well if you're like us, then after a day of exploring the town you're going to need some delicious food and a refreshing pint!
And as we know this town so well, we've decided to put together a list of what we believe are the best pubs in Hastings.
As you'll see there's plenty of great pub food to enjoy, live music to keep you entertained, some haunted bars, and many cosy atmospheres and dog friendly spots.
So sit back and relax while we guide you through Hastings pub culture.
The Seven Best Pubs in Hastings for Beer, Food & Fun!
1. The First In Last Out
If you enjoy supporting local businesses as much as we do, then check out the First In Last Out (FILO) located in the centre of old Hastings.
The FILO brewery used to brew their beer in this building until they relocated nearby, and now the site has turned into FILO's very own pub! It's not just beer here though, they've got some fantastic food and live music on occasion which makes this pub well worth a visit. And as this is both a family and dog friendly pub in Hastings, no one needs to be left behind if you do decide to pop in.
We often think consistency is key for pubs when it comes to retaining their customers, and that's been something FILO have excelled at in recent years. After all, that's why they keep appearing in the CAMRA good beer guide.
If you're visiting you need to sample some of that delicious FILO ale they produce. There will always be four available such as Gold, Crofters and Churches Pale ale.
The pub itself has a traditional look with one very dominating feature, a fireplace in the centre of the room which adds to the warm and welcoming atmosphere that's been created by the mix of friendly locals and visitors who keep on coming back. The booth seating resembles church pews, but is comfortable for enjoying your drink and meal.
And if you be want to eat, throughout the week the menu has a lot to offer and sticks to no set format. Enjoy a Sussex Gammon Steak or take a trip to Morocco with the delicious Spiced Lamb Burger. There's plenty of choices. If you're looking for a lighter bite to eat, they have a great selection of sandwiches and starters available too.
And the country hopping continues on Mondays which is tapas night and Thursday night is all about Thali!
With so much to offer – great food, drinks, and music – it's no wonder we think this is one of the best pubs in Hastings.
Address: 14-15 High Street, Old Town, Hastings, TN34 3EY
2. The Jolly Fisherman
Step inside the first micropub in Hastings and you instantly feel that cosy café atmosphere that's been built up over the years before its eventual conversion into a pub.
The rustic furniture just adds to that vibe, and as The Jolly Fisherman is family run there's an overall friendly welcoming feel that just makes you feel right at home.
As with most micropubs there's a real focus on craft beer and real cider and there's a large range from all over the country to choose from. Our advice is to visit here, take your time and try as many as you can (in a responsible manner of course!).
It's not all craft beer though, they've got a nice selection of real ale available too which changes over time to make sure local brewers have a chance to showcase what they have to offer.
Once you've had a few you may want to try your hand at some historic pub games such as shove-ha'penny which we've always been particularly bad at – but it's always good to give it a go!
Feel free to bring your dog along to enjoy the atmosphere as well. The only days you can't show up are Monday and Tuesday – I guess everyone deserves a couple of days off!
Address: 3 East Beach Street, Old Town, Hastings, TN34 3AR
3. The Hastings Arms
As such a historic town it's no wonder over the years stories have started and grown about ghostly beings in this pub… or maybe there really is a lost soul in a wedding dress floating by the bar.
But just because we didn't see it, that doesn't mean it's not real of course. In fact there have been numerous sightings of various ghouls and ghosts by the bar at The Hastings Arms over the years. So for those with a keen interest in spirits – of both the supernatural variety and the alcoholic – The Hastings Arms is for you.
The traditional looking bar and wooden beams that dominate the ceiling here provides the perfect setting for these ghost stories, but there's a lot more to this pub than history.
Not only are they family and dog friendly, they also have live music on some weekends, and we thought the food served was particularly good.
Serving a selection of the best British pub dishes you could ask for, we weren't disappointed. With burgers, classics like Steak & Ale Pie, various fish dishes as well as vegetarian options, there is plenty to choose from. They even have special nights sometimes, like ones focussing on curry and another for tapas.
To go along with your food there's usually Shepherd Neame's Master Brew or Spitfire on tap and a great selection of lager, wine and spirits to make sure there's something for everyone to enjoy.
Address: 2 George Street, Old Town, Hastings, TN34 3EG
4. The Stag Inn
If a ghost in a wedding dress doesn't intrigue you, how about a pub which has a cellar haunted by a murdered Dutch sea captain, and one with the ghost of young girl that likes to linger around the fireplace. Well those are two of the stories that hang around The Stag Inn, which we believe is the oldest pub in town as it can be dated back to 1647!
As far as we're concerned that's already enough reasons to visit this place, but if you need more how about all the fantastic entertainment on offer here!
On Monday nights there's a pub quiz, Tuesday's have live folk music, Wednesdays have bluegrass and Thursdays have blues. With all of that on offer, there's no doubt this is one of the best pubs in Hastings for entertainment.
The interior mixes tradition and modern and to compliment it all is the largest beer garden in this part of town! Completed with three tiers of seating and lovely plants, that beer garden is a peaceful environment to enjoy during summer days.
As with most pubs in Hastings, The Stag Inn is also dog friendly and the staff will make sure your four-legged friend feel welcome with treats, water and attention!
And if you're on the hunt for a good pub meal then the menu is seasonal so will change from our time to time, but that means the food you're getting will be made from fresh (and often) local ingredients. Which is a big plus point.
Although the menu changes, we can provide examples of what food to expect from our last visit. Through the week you can enjoy the likes of Roast Pork Belly, Baked Cod, Roast Cauliflower Soup or Oxtail Ragu. Should you visit on a Sunday there's a traditional roast, and there's vegan and vegetarian options included too, so everyone can come along!
We thought the food here was pretty special so we recommend pairing it with some wine from the nicely curated list, but if you're dead set on a pint they've got some good options from Shepherd Neame's brewery alongside others.
Address: 14 All Saints Street, Old Town, Hastings, TN34 3BJ
5. Porters
When you pair wine with live music and one of the cosiest and nicest beer gardens we've ever come across, you're going to have a good time – and that's exactly what Porters have done.
Usually we are on the hunt for ale but when in town, it's well worth stopping into this wine bar to relax, enjoy the live music, and drink a classy glass of wine.
With regular live music and home cooked food, a laid-back but fun atmosphere has been created here, making this spot popular with locals and visitors alike.
Monday to Saturday there's a great range of meals available too, from sticky BBQ Ribs and Korean Chicken Breast to a very good Vegan Burger and Falafel Sharing Board.
Every Sunday they do a full roast as well served with beef, pork or chicken, alongside vegan and vegetarian options.
It's not all food, music and wine here though, as Porters do have a fine selection of beer, spirits and some ale on tap.
Address: 56 High Street, Old Town, Hastings, TN34 3EN
6. Ye Olde Pumphouse
One of our favourite looking pubs in Hastings has to be Ye Olde Pumphouse. The building this pub is set in is timber framed, and that historic look carries on into the interior – it's a very picturesque place.
This is another pub that is more than happy when you bring your dog along, so much so that they'll probably share a photo of your furry friend on their Facebook page for others to enjoy!
They have a couple of ales on tap to choose from and a very nice wine list, including vegan wine, so there's plenty of drinks for you to try.
If you get hungry Ye Olde Pumphouse serves a selection of classic pub dishes you can enjoy like the very popular Beer Battered Fish & Chips or the Mad Jacks Burger which was named after a famous local smuggler. And as you may have guessed by the fact they have vegan wine here, there's plenty of vegan and vegetarian options too which is always good to see. Plus on top of all that, at the time of writing £7.50 could get you a children's meal with a main dish, dessert and a soft drink – that's fantastic value.
Open every day of the week, this traditional pub has friendly staff and even has a beer garden to enjoy on warmer days. It's definitely one of the best pubs in Hastings.
Address: 64 George Street, Old Town, Hastings, TN34 3EE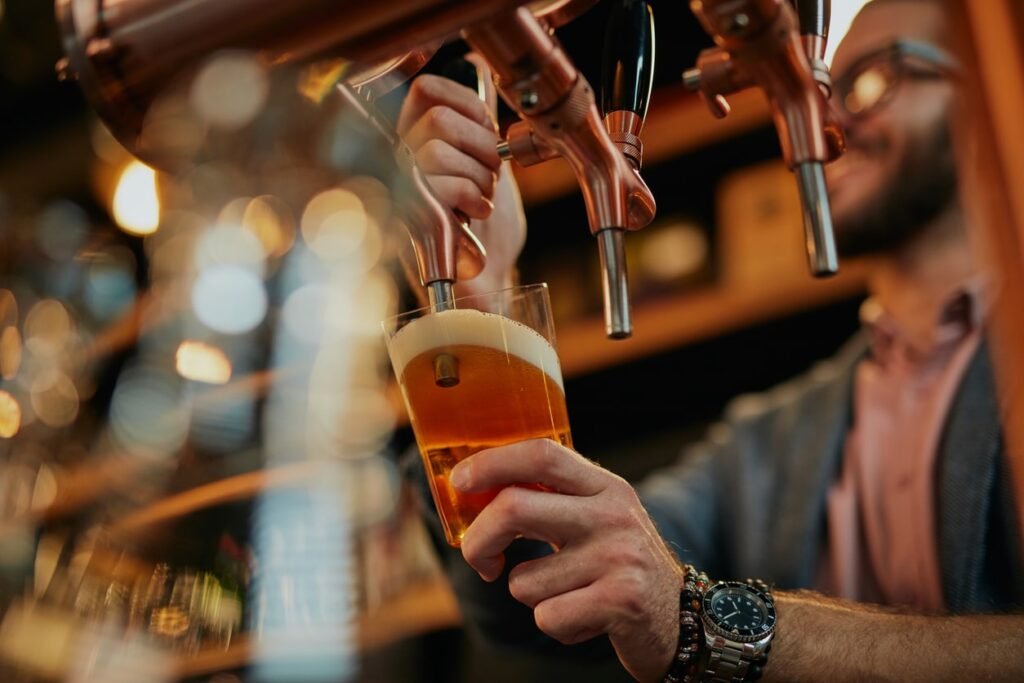 7. The Cutter
If you're looking for somewhere to watch sport when in Hastings, then one of our favourite places to do just that is The Cutter which features a fantastic U-shaped bar.
Traditional with modern furnishings, there's plenty of seating in the spacious bar area which is flooded with natural light to create a nice ambience. You'll be able to watch sport with a good view of the match, while not feeling crowded in.
Harvey's Sussex Best Bitter is the regular ale here, however if that's not for you there's plenty more beer to choose from. If you get peckish while enjoying a game there's a selection of filled baguettes to choose from along with some more hearty pub grub like the All-Day Breakfast, Sausage & Mash and Beef Stew.
As with many pubs in Hastings, on Sunday you can enjoy a traditional roast with all the trimmings. That starts being served at noon.
Address: 11-13 East Parade, Old Town, Hastings, TN34 3AL