Wandering our World is reader supported! If you purchase anything through a link on our site, we may earn a commission at no extra cost to you.
Last updated on October 4, 2022 by Wandering our World
The medieval village of Cartmel is nestled in the gorgeous Lake District and made up of centuries-old buildings and knockout views that stretch for miles. With that the case, it's no surprise we enjoy our trips to Cartmel so much.
Amongst the historic buildings there are some fantastic independent shops to visit and even a Michelin starred restaurant for a fine dining experience you'll never forget!
However one of the biggest reasons we love this quaint village is the lovely selection of pubs in Cartmel. As you'll find out yourself, there's great local ale, delicious home-cooked food, and some fantastic beer gardens.
To help you out, we've decided to put together a list of the best pubs in Cartmel.
So sit back and relax while we guide you through some fantastic Cartmel pubs!
The Eight Best Bars & Pubs In Cartmel For Beer, Food & Fun! 
1. Pig & Whistle
You're in a picturesque medieval village in the heart of Cumbria. The weather's nice outside and the last thing you want to do is sit inside. Simply put, you need a beer garden.
Well you're in luck as we think the Pig & Whistle has one of the most beautiful settings for a beer garden in the region. The countryside rolls on for miles here, and watching the sunset over the hills and fields while enjoying a pint after a day of exploring is one of those simple pleasures in life you never want to end.
And once the temperature drops and it's time to head back inside, things are just as nice. The bar with cosy fireplace provides a lovely place to relax thanks to the friendly atmosphere, and if you wish to eat this pub has a bistro which focuses on serving great food created with locally sourced ingredients.
The menu is traditional British but it's not just any pub grub – it's fantastic pub grub. If you're looking for a starter, their soups are especially good, whilst for mains the Venison Casserole and Pan-Fried Sea Bass come recommended. There's plenty more to choose from of course, with classics like burgers, steak, and risotto all available.
And if you're a fan of ale (who isn't?) then we've got great news as they usually have five available. The three regulars tend to be from Robinsons Brewery and are Cumbria Way, Dizzy Blonde and Piggin' Ale.
On top of all that, you're able to bring your dog along and disabled access is no problem.
This really is one of the best pubs in Cartmel to eat, drink and relax. We just hope the sun is out when you visit so you can take in those beer garden views.
Address: Aynsome Road, Cartmel, LA11 6PL
2. Unsworth's Yard Brewery
We've found that with many breweries you need to book in advance if you want to do a tour and see the brewing process in action. That's not the case at Unsworth's Yard Brewery though, where even on the busiest of days they appear more than happy to show you around and answer your questions. With that open-door policy, they don't come much friendlier than the guys at Unsworth's.
The tasting room is only separated from the brewers by large windows so you can actually watch how the whole process is done while sampling some of their delicious drinks. Now that's a cool experience.
On tap there will usually be three of their own beers, plus the shop is fully stocked with a wide range of bottled beer to take away with you.
To make things even better they've got some seating outside so you can try that nice new pint in the sun.
While they do have an open door policy, if you are a large group and want a tour in a larger group it would be best to call in advance to arrange that.
Beer brewed in Cartmel. You can't get more local than that!
Address: 4 Unsworth's Yard, Cartmel, Cumbria
3. Kings Arms
How about a beer in historic surroundings? Now the Kings Arms isn't 900 years old – you can tell that just by looking at the building – but for the last 900 years there has been a place to drink right where this building stands, next to Cartmel Priory. So grabbing a pint here means you can add to nine centuries of history.
OK we admit that's just an excuse for a drink, but there's a reason this family and dog friendly pub is so popular. It's got a great ambience, very good food, a nice beer garden, a fireplace for those colder days, and even has live music on some nights!
As for the food, there's lots of the usual pub classics on the menu. But we recommend visiting on a Sunday so you can enjoy the Sunday roast – fantastic roast beef, veg and an absolutely massive Yorkshire pudding!
As for the ale on offer, they have five handpumps and while the beer on tap may change, they're usually from Marton's Brewery, Unsworth Yard (which we mentioned above) and Wainwright.
When it comes to the live music, the Kings Arms has artists performing that range from blues to acoustic and even hold open mic events if you fancy your own chance to shine. You can check out this link here to see what's happening when you visit.
With so much to offer and set within beautiful surroundings, it's easy to see why this place makes our list of the best pubs in Cartmel. Pop in for a pint at the Kings Arms and you very well may end up staying till closing time.
Address: The Square, Cartmel, LA11 6QB
4. Royal Oak
Set within Cartmel's village square is The Royal Oak, a traditional looking pub with modern furnishings and a warm and welcoming vibe. The log fire here is a real treat when the weather isn't great, and the oak beams provide more atmosphere – just mind you don't bump your head into them as some are a bit low!
But when the sun's out The Royal Oak's not-so-secret beer garden is the place locals flock too. It's popular with families in particular, who love to spend the day here having a drink in the sun and watching the nearby river flow by. It's all very relaxing.
From Beer Battered Fish & Chips to Sunday Roasts, classic British pub food is served here. But if you're looking for something a little lighter to eat there's a great selection of sandwiches and soups available too.
To wash that delicious food down they've got an incredible 9 kegs and 6 casks to choose from, largely from Fell Brewery, but there are often takeovers from guest brewers. After all, variety is key to making sure there is something for everyone.
If you're not sold yet, well every Sunday there is live music between 4pm and 7pm; so grab some lunch, choose your pint then relax and listen to music. The perfect way to end a week.
Address: The Square, Cartmel, LA11 6QB
5. Priory Hotel
If you're looking for somewhere a little more upscale to eat while in Cartmel, but not too posh that you have to dust off your top hat, then the Priory Hotel is the place for you.
The dining room is beautifully decorated and the perfect place to enjoy an intimate meal with a loved one. Lunch is served everyday, however evening meals are only available Thursday to Saturday.
The food is fantastic here so it's worth going the whole hog and having three courses. The dishes span British and European cuisine, and we thought the Steak and Ale Pie and Pan-Seared Duck Breast were especially good.
While the primary focus here is the food, they do have a small lounge/bar where you can nip in for a pint in cosy surroundings.
There tends to always be Cumbrian Ale's Loweswater Gold and an ale from Unsworth's Yard on tap. Feel free to take your dog into the lounge too as it's dog friendly, and often there's sports shown on the TV too.
Address: 14 The Square, Cartmel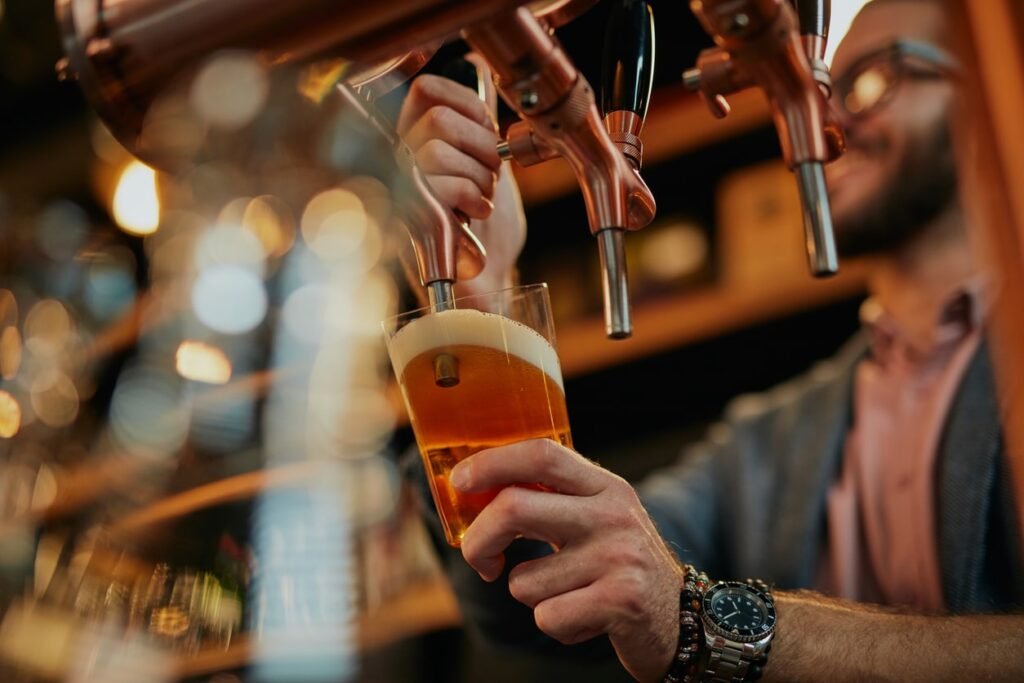 6. The Cavendish Arms
Another pub with a lot of history on show is The Cavendish Arms which dates back 450 years!
This place has a traditional feel and very relaxing atmosphere, perfect for nipping into the main bar for a drink or grabbing a table to dine in the restaurant for some surprisingly good pub grub.
There's classic starters like soup and scallops and some hearty mains such as the Lamb Shank, Roasted Salmon and Butternut Squash Ravioli. There's an impressive wine list too, but if you prefer a beer like us then on tap they've got Cavendish Gold from Unsworth's Yard and often something from Wainwright or Theakston as well.
The bar is dog friendly, there's disabled access and they've even got a beer garden to enjoy a refreshing cocktail or pint when the weather is nice. When it comes to pubs in Cartmel, the Cavendish Arms is a great all rounder.
Address: Cartmel, LA11 6QA
7. Uplands Hotel
Picturesque – from the building to the grounds, the interior and the views. Everything about Uplands Hotel is worth a picture.
There's a very homely feel here so you can relax on the sofa next to the fireplace with a drink, or watch sport on the TV while tucking into some posh nibbles.
On tap there's Unsworth's Yard like most pubs in Cartmel, but there's a good selection of bottled beer too. The beer garden here is a real sun trap in the summer for those who enjoy a cold pint in the sunshine, and if you are camping at High Fell Gate this place is within walking distance.
And if you prefer a gin, Uplands has a massive selection of 80 bottles so it's the perfect place to try something new.
Now to the food – which comes highly recommended. There is a real focus on fresh ingredients here and it's evident from first bite.
To start try the Scallops or the Black Pudding Bon Bons which we really enjoyed. The mains are what you'd expect from a gastropub but they've taken it to the next level. The Steak and Red Wine Pie is well regarded by locals, as is the Wild Boar and Damson Burger.
But if you don't want to venture too far away from what you know, then they do a very good Fish & Chips too.
Disabled access is no problem at this lovely hotel, and they have dog friendly rooms available. So if you're looking for somewhere to stay with your furry friend in Cartmel, it may be worth giving Uplands Hotel a phone.
Address: Haggs Lane, Cartmel, LA11 6HD
8. The Pheasant Inn
On a sunny day it's always great to stretch your legs, so some people choose to walk to Allithwaite which is about 2 miles from Cartmel. If you do, be careful though as the main route is a road so listen out for cars and be sure to step to the side.
After a 2 mile walk, and knowing you've got another 2 to get back to Cartmel, it's time for some refreshments, and the quality of food at The Pheasant Inn is exactly why we are recommending this pub.
Not only are the dishes of great quality, but the prices are very fair too. They've got pub classics such as Fish & Chips and Burgers alongside some good vegetarian/vegan options too.
If you're not hungry and just want a place for you and your dog to rest your legs, then you're in luck as dogs are welcome in the bar area on a lead.
If you've got a designated driver then why not indulge a little more and sample more local ale, hopefully in this pub's very nice beer garden should the weather be kind.
Address: Allithwaite, LA11 7RQ