Wandering our World is reader supported! If you purchase anything through a link on our site, we may earn a commission at no extra cost to you.
Last updated on December 24, 2022 by Wandering our World
It's hard to describe how beautiful Canterbury is. Stepping into this historic city is like stepping back in time into a Dickens novel, but you don't need to just appreciate the architecture to love this city.
There's so much to do here too, from visiting the famous Canterbury Cathedral, strolling through the beautiful Westgate Gardens or popping into the Beaney House of Art and Knowledge. And if you're like us, after a day of exploring you will be looking forward to some good food and even better drinks!
Well luckily there are some fantastic cosy pubs in Canterbury that are perfect for grabbing a real craft ale, relaxing in a beer garden, listening to live music and enjoying some classic pub grub.
To help you out, we've put together a list of our 12 favourite pubs in Canterbury. Whether you're looking for live music and pub food, or a local pint in a dog-friendly beer garden, we know the best spot for you. Cheers!
The 12 Best Pubs In Canterbury For Food, Fun & Beer!
1. The Parrot
Jump in your Tardis – we are off to the Tudor times.
Well not quite, but it's not an authentic look The Parrot have gone for – they are authentic. The medieval building which The Parrot sits in is historic (it's built on Roman foundations), and this place is full of gorgeous wooden beams that you always find in centuries-old pubs. In fact The Parrot is often regarded as the oldest pub in Canterbury as it dates to the 14th century.
This place is one of the most photogenic places to eat and drink in the country too, and it really is a must visit when in town.
Recommended: The Bars In Canterbury Everyone Should Visit When In Town!
In winter you can settle by their open fire which adds to the already warm, friendly atmosphere. And in summer you can sit outside in their spacious beer garden that is flanked by centuries-old walls.
But summer or winter, you can always enjoy one of the many real ales available here, including the award winning local 'Shepherd Neame' which is made by Britain's oldest brewer.
Of course with this being a gastropub there is a range of classic British pub dishes available. And everything's freshly made, right down to the sauces.
Address: 1-9 Church Lane, St Radigunds, Canterbury, Kent, CT1 2AG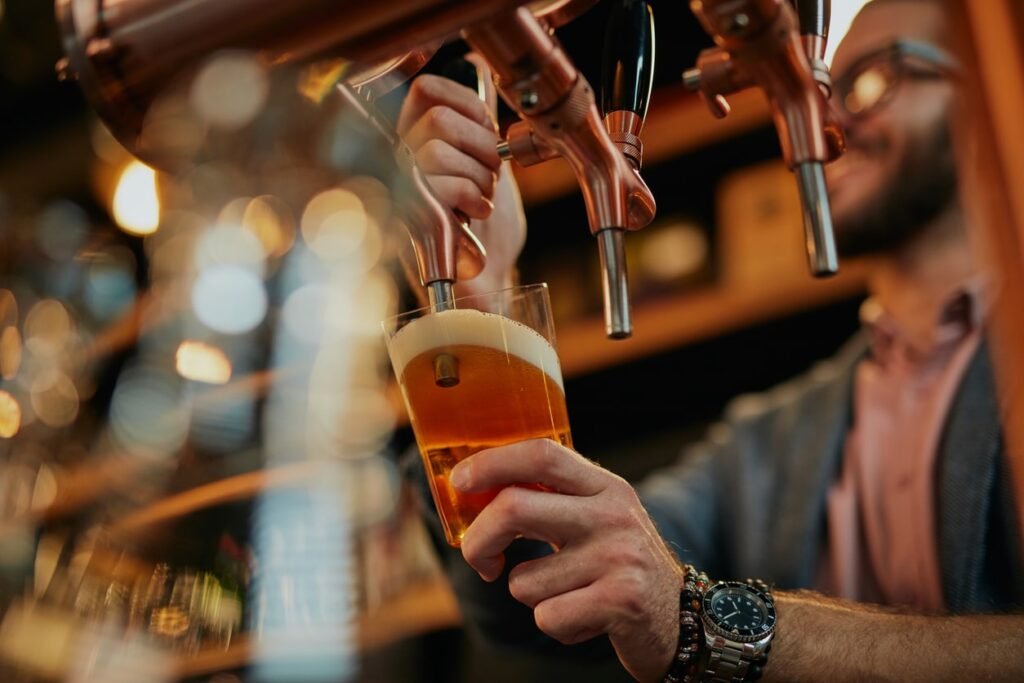 2. The Penny Theatre
Bare with us, as there's a lot to cover when it comes to The Penny Theatre. But afterwards you'll fully understand why this isn't just one of the best pubs in Canterbury, but also one of the best pubs in the region!
Let's start with the building. It stands out – it's blue, it's bold. That alone tells you about the character of this establishment.
During the day things are brightly lit while people enjoy some of the delicious food available, but in the evening things are a bit dimmer with purple and blues creating a wonderful ambience.
Were we drawn in by deals? Absolutely! Every Monday the 'Burger of the Month' is just £5, Tuesday is all about Donut Stacks for £2.50, Wing Wednesdays are regular occurrences too, and Thursdays are saved for deals on craft beer and cocktails. And to top it all off, they have great vegan dishes on their menu.
For entertainment there are often live tribute bands, DJs and quiz nights (every Sunday). You can watch your favourite live sports on the TVs as well, while enjoying one of their beer towers (you heard that right!) And if visiting on a Friday, be sure to take advantage of the double rum, whisky, gin or vodka offer. We told you this place was good!
Address: 30-31 Northgate, Canterbury, Kent, CT1 1BL
3. The Cricketeers
A traditional English pub in the middle of Canterbury, The Cricketeers offers somewhere cosy, comfortable and friendly to relax after a day shopping or sightseeing.
Wood beam ceilings and a log fire give the interior that historic feel, while their lovely courtyard and beer garden is perfect for enjoying some local ales during the summer.
What should you try? Well the Spitfire Golden Ale is well balanced with tropical notes, the Master Brew is a very distinctive mid-brown bitter, and the Whitstable Pale Ale is delicious and will quench your thirst.
There is a wonderful wine list available too, alongside all the usual tipples and a menu filled with all the pub classics you know and love. Look out for the live music and open mic nights they hold as well!
Address: 14 St Peter's Street, Canterbury, Kent, CT1 2BQ
4. The Foundry Brew Pub
Situated within a historic factory that looks like it's come straight from the set of Peaky Blinders, The Foundry is a one-of-a-kind watering hole right in the heart of Canterbury. One thing that sets this place apart is that they don't buy in much alcohol. That's because most of it is brewed on-site from the ales to the spirits! Pretty unique right?
There's a total of 16 ales, lagers and ciders available, like the Foundry IPA which is their take on a West Coast IPA. Foundry Man's Gold is their flagship ale and well worth trying. It has subtle spice and citrus notes, with a little grapefruit lingering in the background.
The Foundry have a menu that has a wide range of British and international dishes too, but when we come here it's mainly for the beer and history.
And what better way to experience the beer side of things by watching the brewing process in action, which you can do when you visit! And if you want some history, well this old factory used to create some of the first street lamps for cities like New York and Amsterdam.
So grab a beer, or try the Foundry's spiced rum and gin, and settle in. This is a laid back spot perfect for chatting to friends.
Address: 77 Stour Street, Canterbury, Kent, CT1 2NR
5. The Unicorn Inn
A classic, honest pub – no frills, nothing fancy. And honestly, that's exactly what we need sometimes.
The Unicorn has that traditional English pub look, the staff are friendly, the food comes in generous portion sizes, and the pints are cold and delicious. This pub is also child and dog friendly. And while there isn't a kids menu, the staff will happily make child size portions from the main menu.
During the warmer months you can also enjoy your pint in their cozy, well maintained beer garden.
If you're a fan of ale, then there's Masters Brew on tap alongside a guest pump which will change from time to time, giving other breweries a chance to shine. Regularly featured are Skrimshander, Golden Braid and Incubus from Hopdaemon Brewery. Be sure to also look out for Prohibition, Tropic Ale and Session by Kent Brewery as they're typically very popular with locals.
If you're looking for a down to earth place with affordable prices, good portions and that homely feel, then The Unicorn Inn is definitely one of the best pubs in Canterbury for that.
Address: 61 St. Dunstans Street, Canterbury, Kent, CT2 8BS
6. The Black Griffin
Time for somewhere lively. And you don't get much more lively than The Black Griffin!
With regular live music, an open fireplace, and a selection of ales (discounted on Wednesday) it's easy to see why this place is so popular with tourists and students alike. It's also one of the most photogenic pubs in Canterbury – you'll see why when you see the exterior.
During the day this pub feels very family focussed, especially as you will often see one or two of the regular's dogs laying in front of the fire, or families enjoying meals at lunch & dinner. But it gets livelier as the evening draws on, as live music kicks off and drinks start flowing. Particularly on Saturday night when this place can get rocking!
The menu has the usual pub grub as well as some slightly different but tasty offerings – fajitas and halloumi are two that stood out for us.
Rev James Ale is always on tap, alongside three rotating ales, usually including one from Kent Brewery. But all in all the drinks selection is pretty good.
But for us what makes The Black Griffin one of the best pubs in Canterbury is the fun atmosphere, entertainment and all round good time we always have when visiting! It's a great place to watch live sports as well.
Address: 40 St. Peters Street, Canterbury CT1 2BG
7. Two Sawyers
Two Sawyers is a unique, quaint pub, known locally for its vast array of gins and delicious real ales.
Conveniently located close to the city centre, this traditional pub serves food like jacket potatoes, burgers, and classic British dishes, and boasts a large drinks menu.
It hosts a weekly quiz night which is really good fun, and is one of the most dog friendly pubs in Canterbury too.
They also have a great outdoor space which has shelter in case of a change in the weather, and a wood burning stove inside for cosy nights. With all of that, it's easy to see why Two Sawyers is so popular.
The cask ales they have are subject to change as they like to give different breweries a chance to shine, but you'll often find Seafarers by Fullers, Hophead by Dark Star and Endless Summer by Oakham available. All good choices as far as we're concerned.
They sometimes have live music too! But it's best to check their Facebook in advance to see if there's any entertainment coinciding with your visit.
Address: 58 Ivy Lane, Canterbury, Kent, CT1 1TU
8. The Drapers Arms
This pub just a few minutes walk from Canterbury Cathedral is perfect for both a quick drink or a three course meal! It feels and looks like an upmarket gastropub, but there's no air of pretentiousness about The Drapers Arms.
But let's start with the surprise you'll find when visiting – a hidden outside terrace upstairs. This is the perfect spot to enjoy a meal and a drink while topping up on some Vitamin D.
Unlike many English pubs, the menu here is Asian street food inspired with small plates of wings or large plates of ramen available to name just two options. The wine menu and kids menu are not as extensive, but the options are good. And the selection of beers is pretty good too.
And if you're after something a little different then there's a bottomless brunch available, which includes prosecco!
This is one of the most dog friendly pubs in Canterbury too, and staff will be happy to provide your four-legged friend with treats and water.
That's a big bonus, but what really makes The Drapers Arms one of our favourite pubs in Canterbury is the classy downstairs bar area (complete with chandelier), and that lovely sun terrace.
Address: 1-2 Sun Street, Canterbury, Kent, CT1 2HX
9. White Hart Inn
In the summer soak up the sun in White Hart Inn's spacious beer garden surrounded by trees. Not only does it have a secluded feel, we think it's probably our of the best beer gardens in Canterbury. And if you're lucky you may end up visiting when they have a Caribbean BBQ on the go!
You can still come here on colder days too though, just grab an ale and sit by the fireplace. And with dogs welcome you may even have a new furry friend by the time you warm up!
If you need some food to warm you up, then be sure to try the Pide which is a homemade pizza/flatbread that's popular in Istanbul, and now Canterbury too. You'll also find classics like Bangers and Mash and Burgers which are well worth a try too!
Occasionally on Sundays there will be live acoustic music or a pub quiz, making White Hart Inn a great place to end your weekend.
Address: Worthgate Place, Canterbury, Kent, CT1 2QX
10. Citi Terrace
Although primarily a cocktail bar, you won't be stuck for a pint at Citi Terrace either. With all the IPAs and lager they have on offer, we had to include this place as sometimes it's not about the type of beer, but where you are drinking it. And Citi Terrace is always full of life!
Through the day grab a bite to eat, but in the evening grab a shisha and chill with friends. Monday to Wednesday you can find deals on drinks as well as 2 for 1 on main courses including pizza.
And on Fridays and Saturdays there is a party atmosphere with DJs playing and plenty of dancing to be had.
Address: Longmarket Court, Longmarket, The Terrace, Canterbury, Kent, CT1 2JS
11. The Bishop's Finger
We love a pub with charm, and The Bishop's Finger is oozing with it. No wonder too as this place is one of the most beautiful pubs in Canterbury, thanks in no small part to the fact this is a pub from the 16th century!
The wooden beams on the exterior walls make this place unmissable if you're walking by, and the laid-back atmosphere, olde-worlde feel, and fantastic beer selection will make you happy you decided to venture inside and visit.
You'll get classic British pub food here, a great selection of local ales, and you can enjoy it all in their spacious beer garden. Or sit inside and watch live sports on one of their large TVs.
They also have live events and music on popular evenings. So why not head along to one of the most popular pubs in Canterbury. They must be doing something right as they've been serving locals for centuries.
Address: St. Dunstans St, Canterbury, Kent, CT2 8AF
12. The Pearson's Arms
Yes, it's not in Canterbury, but if you've made the 20 minute drive out to the coast (Whitstable) then you'll find a fantastic seaside pub called The Pearson's Arms.
This place is well worth a visit as it's been recently revamped and the once battered looking pub is now one of the most stylish around!
An open fire, hardwood floors, old school seating and leather sofas within a spacious well lit room with generous sea views makes this one of the best places to drink a pint in Kent.
The local area is well known for it's production of ale so there are plenty on offer here to enjoy as you soak in the laid-back seaside ambience. Grab something from the menu, a local craft beer or ale, and watch the sun set over the sea.
The cocktail menu has some flare too, and so do the evenings at The Pearson's Arms thanks to the regular live music from amazing local musicians.
Address: Horsebridge Rd, Whitstable, Kent, CT5 1BT