Wandering our World is reader supported! If you purchase anything through a link on our site, we may earn a commission at no extra cost to you.
Last updated on October 4, 2022 by Wandering our World
Brixham is known for its picturesque seafront, colourful harbour houses and crisp sea air. But with museums, great independent shops and even a theatre, there's plenty for even landlubbers enjoy here.
There's no doubt that Brixham is a fantastic place to visit with plenty to do, but there's another reason we love this place so much – the great selection of pubs in Brixham!
Regardless of how you spend your time here, if you're like us then after a day of adventuring you'll need some delicious food and a refreshing pint.
To help you out, we've decided to put together a list of what we believe are the best pubs in Brixham.
As you'll see there's some great proper pubs here where the focus is firmly on good food and drink, as well as some fantastic places where you can dine and enjoy some local ale with knockout coastal views.
So sit back and relax while we guide you through Brixham's pub culture.
The Nine Best Pubs in Brixham For Beer, Food & Views!
1. The Crown & Anchor
Snapping up two of the most popular pub names and combining them into one is The Crown & Anchor with its exceptional seaside views!
Sitting right beside the water means The Crown & Anchor has some of the best outside seating in town for enjoying a pint on those warm summer days. But the interior has plenty to offer too. This historic pub is decorated with pictures of Brixham from the past, and feels cosy thanks in part to the log burning stove that's lit up and roaring on those colder days.
Both family and dog friendly, we think this is the perfect place to grab some lunch in the middle of the day and soak in those coastal views. A variety of sandwiches are served, including local crab which is very popular for good reason.
You can enjoy all of that with some fantastic drink choices such as Bays Devon Dumpling ale which is on tap, or the great selection of wine and spirits that they have here.
It's possible to catch some live sport here on the TV too. And if you're looking for a pub quiz, you're in luck as Thursday evenings are quiz night! It gets even better at the start of the weekend when you can sing your heart out during Friday night karaoke. There is also occasional live music which is advertised on their Facebook page in advance.
With that fantastic beer garden, the friendly atmosphere and the entertainment on offer, The Crown & Anchor is easily one of our favourite pubs in Brixham.
Address: 23 The Quay, Brixham, TQ5 8AW
2. The Blue Anchor
If you're wondering where some of the best homemade food in Brixham is, we'll let you into a secret – go check out The Blue Anchor.
The menu here takes advantage of Brixham's great seaside location to produce some exceptional gastropub classics and delicious seafood dishes. In particular the fresh Fish Pie topped with Cheesy Mash is a hit, but be sure to check out the daily specials which are made from the freshest of local ingredients.
The pub itself has a very friendly atmosphere and has the look of a 'fairytale-esque inn' thanks to its traditional wooden beams, stone walls and fireplace. And if you enjoy an ale with your meal, you're in luck as there's usually three to choose from at the bar.
Open every day of the week, this family friendly pub has a laid-back atmosphere through the day, but things can get a bit more lively in the evenings as four days a week there is live music to enjoy! Great food, ale on tap and live music – our sort of place!
To see which acts will be playing during your visit you can check their Facebook page, which is kept up to date with upcoming events. With so much to offer it's easy to see why we believe this is one of the best pubs in Brixham.
3. The New Quay Inn
They don't come much cosier than The New Quay Inn. As soon as you see the wooden beam ceiling and wood burning stove you can just sense the homely feel that's been created here.
Unfortunately, they aren't open every day, however Thursday through Sunday you are able to pop in for a delicious pint at one of the friendliest pubs in Brixham.
The ale tends to rotate – as it does with all great pubs – so you'll have plenty of chances to try something new. But in general, on tap you'll often find something from Dartmoor or Teignworthy breweries.
It's not just ale from local brewers you can try here, as there's also Deck Chair Gin and Riviera Spice Rum which are so local that they're actually made by The New Quay Inn in their very own Devon Coast Distillery! We highly recommend that gin by the way, as it's award winning.
If none of that is up your street then don't worry. There's a great selection of wine and cider to enjoy here too.
Address: 8 King Street, Brixham, TQ5 9TW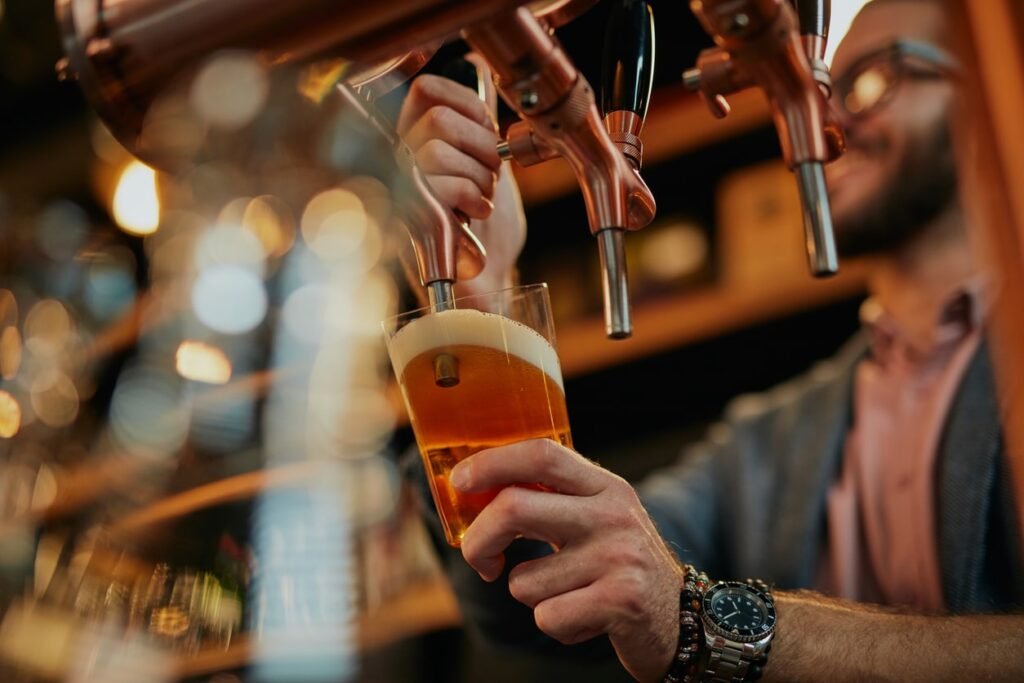 4. The Old Market House
It's hard to beat dinner with a view so how about enjoying your meal on a balcony overlooking the harbour in Brixham?
At The Old Market House you can do just that as they take advantage of their surroundings with excellent seating at ground level close to the bar, as well as upstairs on a huge balcony with exceptional seaside views.
The downstairs bar area has more of a gastropub feel, while the upstairs restaurant has that touch of fine dining to it – no surprise when you can dine while looking out at yachts!
Should you just be popping in for a pint and something light to eat there's a great selection of sandwiches and snacks to choose from.
But if heading upstairs, we recommend getting a bottle from the lovely wine menu and settling in for a while – you'll want to with that view anyway.
Start things off with the Halloumi Fries or Spiced Lamb Flatbread, before delving into some of the delicious dishes you can get here that span both British and international cuisine. Classics like the Fish & Chips come highly recommended, as does the Pan Seared Red Mullet, or if you're vegetarian, the Malaysian Laska.
The portions are generous so if you've somehow got room for dessert, then the Black Forest Roulade is meant to be exceptional. There's a nice selection of ice cream and sorbets too.
Of course, as real ale lovers ourselves, it's good to see ale served here too. But they've also got a good selection of other beers and drinks as well.
With all the good food on offer, and those knockout views, we can't recommend a visit to The Old Market House enough. Even if all you're after is just a coffee and somewhere to rest your legs for half an hour. Easily one of our favourite Brixham pubs.
Address: The Quay, Brixham, TQ5 8AW
5. The Queen's Arms
A pub well worth seeking out in Brixham is The Queen's Arms, a pub that's won 'South Devon Pub of the Year' several times thanks in part to the great selection of beer and cider available.
While there is no food served (at least at the time of writing) at this proper Devon pub, we think it doesn't really matter when there's so many delicious ale and beer choices to try out. Plus they've got live music every Wednesday and Saturday.
If you'd rather test your knowledge than your dancing skills, then The Queen's Arms' pub quiz on a Sunday is worth checking out.
As for what to drink, Teignworthy Defender tends to always be available alongside a rotation of ales from different brewers such as Branscombe, Hunters and Salcombe.
And if you are lucky enough to visit in December there is a charity beer festival at this pub – which you can read all about here.
Address: 31 Station Hill, Brixham, TQ5 8BN
6. The Birdcage
If you're heading to Brixham Theatre for an evening and fancy a drink or meal beforehand, we have the perfect spot for you that's just across the road.
Located in a dominating building in the centre of Brixham, The Birdcage has a striking interior that's modern yet traditional, and filled with a warm atmosphere.
This family friendly place is also one of the most dogs friendly pubs in Brixham too, and is well set up for those wanting to relax on their comfy seats and enjoy a meal or drinks.
As for evening entertainment there is usually live music on Fridays, perfect for getting you in the weekend mood. A good ale tends to get us in that mood too and luckily there's three handpumps serving ale here. You'll most likely spot Laine Birdcage, Sharp's Doom Bar and St Austell Tribute available alongside a great selection of spirits, wines and cider.
The creative menu is filled with a very good selection to choose from too, and we thought the Chipotle Burger and Jackfruit and Chickpea Stew were particular highlights. For those with a sweet tooth there's some nice desserts to choose from and if you just want something to nibble on there's a selection of starters and sides you can grab. Who doesn't love some fries with a pint anyway?
And if you happen to visit on a Sunday, we've heard great things about the traditional Sunday lunch they have available.
Address: New Road, Brixham, TQ5 8LT
7. The Prince William
Nope this isn't named after the Prince William you're probably thinking of, but rather this modern bar and restaurant overlooking Brixham harbour is in fact named after William, Prince of Orange who landed in Brixham back in 1688!
The interior of The Prince William is beautifully decorated, while the outside seating needs no up-selling as those seaside views are perfect for having cocktails in the sun. Cocktails or not, there's a large selection of drinks to choose from here, but first we have to mention the food.
Expect many gastropub favourites at The Prince William, but in particular their stone baked pizzas are known for being some of the best in the area. If pizza isn't for you there's plenty of other classic crowd-pleasing dishes like the Fish & Chips, Burgers and Steak & Ale Pie. Of course, there are vegan and vegetarian options to make sure everyone is catered for as well, and if you're just looking for a sandwich at lunch time, they've got you covered in that respect too.
Now on to those drinks! There are around 40 different bottles of wine to choose from, but if you're more tempted by a pint like us, then on tap they've got Doom Bar, Atlantic Pale Ale and Blue Moon. And those take up only three of the six ale handpumps!
Also, on draught is a selection of lager and cider along with bottled beer and cider – nothing quite beats a cider in the sun after all.
With a large number of cocktails, gin, whisky and other spirits too, you are spoilt for choice drinks wise. For that selection, alongside the harbour-side views, the Prince William is another easy addition to our list of the best pubs in Brixham.
Address: Prince William Quay, Berry Head Road, Brixham, TQ5 9BP
8. The Manor
As always we try to find the oldest pub in town. So welcome to The Manor, which isn't just the oldest pub in Brixham but one of the oldest in Devon!
As it's the oldest around, they know exactly what they're doing – there's a reason pubs survive and that's because they understand what people are looking for.
The Manor provides just that with the cosy atmosphere we all want in a pub, fuelled by their log fire and comfy sofas to relax on.
If you are after beer, they've got ale and lager available, but while you're visiting you may as well try something from their extensive gin list. In fact not only is the gin selection vast, but the wine menu is too.
On a sunny day they've got some seating outside that's perfect for enjoying the good weather, and you're allowed to bring your dog along to enjoy that outside space too.
Alongside that beer garden, The Manor also have regular live music and quiz nights, so be sure to check out what's on when you're in town in case something takes your fancy.
Address: 28 Higher Street, Brixham, TQ5 8HW
9. Long Bar
If you like your pub to have a lively atmosphere then you may want to head over to Long Bar.
This one room pub packs a hell of a punch, and with the comfortable bench seating and tables made from barrels, it's got the looks to match the energy too.
Well stocked with all the favourites, grab a drink then pop some songs on the jukebox before taking up the pool table for some regular pub fun.
There's some small TVs dotted around so you can keep an eye on rugby and football and occasionally there's some live music in the evening too. Any upcoming events will be advertised on their Facebook page so you can check in advance if there's anything on while you're in town.
Address: Union Lane, Brixham, TQ5 8DY