Wandering our World is reader supported! If you purchase anything through a link on our site, we may earn a commission at no extra cost to you.
Last updated on October 7, 2022 by Wandering our World
Oxford is an amazing city for many reasons, but one of our favourite aspects of this city is the wealth of fun and vibrant pubs in Oxford! Whether you want to grab a pint after work, or fancy pub crawling with your mates, Oxford never disappoints.
The amazing combination of gastro-pubs and centuries-old historic pubs within such a unique setting here, makes this city an absolute must visit when it comes to traditional English pub culture.
But with over 100 pubs in the area, it can be overwhelming deciding which ones to choose. However that's where we can help! We know this city well, and so below we share with you what we believe are the most lively, quirky and best pubs in Oxford.
The Best Oxford Pubs For Beer, Food & Fun!
1. The King's Arms
Built in 1607, The King's Arms is famous for being one of the oldest pubs in Oxford and is popular for their splendid cask ales, unique and flavoursome food, as well as their resident ghost!
This pub is the place to be if you're a pie lover as the seasonal ingredients used in their pies and burgers is second to none. We also recommend trying their mulled cider.
With its friendly atmosphere and an outside seating area, The King's Arms is a great place for a pint with friends or a spot of Sunday lunch. You can skip the crowd too and order from your table using their On Tap app.
Address: 40 Holywell Street
2. City Arms
If you are looking for good quality food and speed of service at an affordable price, City Arms is a great option. There's some great vegan food options here too, alongside the chance to enjoy a refreshing pint in their beer garden.
Alongside fantastic service, City Arms has student prices, rewards scheme, karaoke nights and overall has a really fun atmosphere.
This sports-centric pub is good for watching football and rugby, and offers a nice range of cocktails and craft beer. Their new menu also includes a bottomless buffet brunch which includes drinks!
Address: 288 Cowley Road
3. The Bear Inn
We love this authentic 13th-century pub for its traditional English pub architecture, including low ceilings and creaky floorboards that create a very cozy atmosphere.
There's lots of quirky décor too, like glass cases filled with colourful ties, adding a more modern twist to the character of this historic building.
Situated just off Oxford's high street, this pub specializes in real ales, and have a sheltered heated garden which is perfect for the colder months.
Our recommendation is to get one of the local draft ales and have it with the delicious Fish and Chips or Shepherd's Pie!
Address: 6 Alfred Street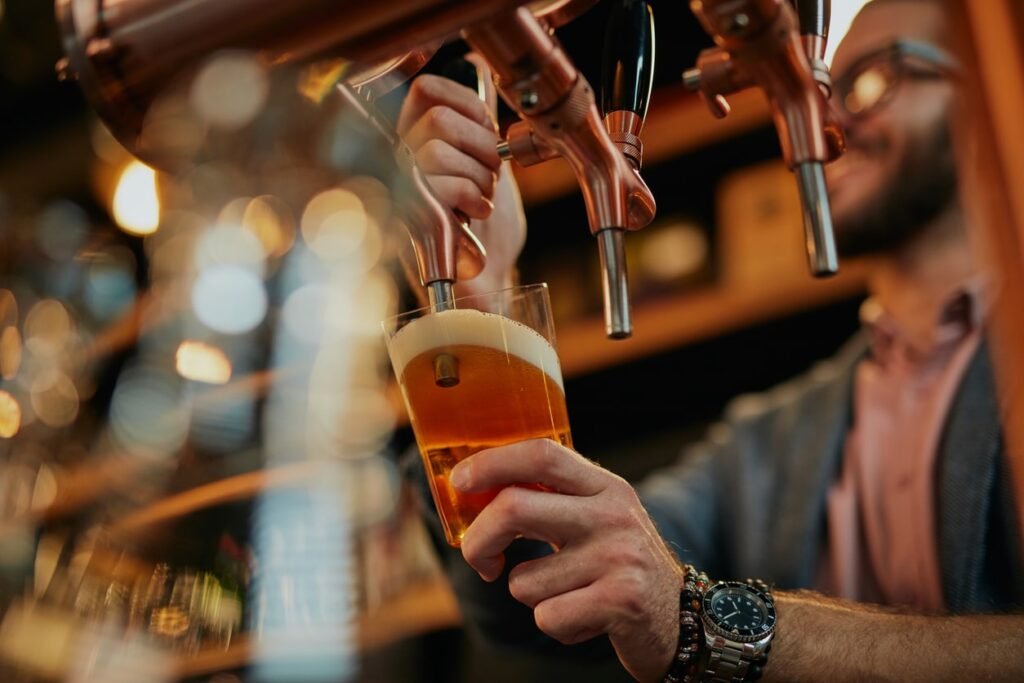 4. The Harcourt Arms
Located in Oxford's pretty Jericho area, this gastro pub boasts a splendid secret beer garden – perfect for enjoying alfresco drinks during the warmer days. It also has a great selection of cask ales, wines, and has very friendly staff.
We've found The Harcourt Arms to be very good at taking on special requests, whether that be due to food intolerances, or just a wish for something a little different with your meal. They're an Oxford pub that's always looking to go the extra mile.
They have live music here too, such as Jazz nights. Smooth drinks and smooth music, what more can you ask for?
Address: Cranham Terrace
5. Cow and Creek
This British pub with a modern vibe is the place to be for a fun atmosphere, amazing good-value food, and a great drinks selection. With their drink deals, delicious sharing snacks and cocktail selection, it's become a go-to place for students and friends wanting a catch up.
Known for their juicy burgers and mouth-watering grills, Cow and Creek is also located just a few minutes walk from Oxford Castle, so you can do a bit of exploring then come here, relax, replenish and enjoy a refreshing pint.
Address: 12 New Road
6. Turf Tavern
This 18th century historic pub located in central Oxford is one of the most loved Oxford pubs among university students and tourists alike! The draft beer selection is excellent, as is the friendly and quick service here.
When it comes to food, there's many dishes worth trying – the fish & chips, gooey mac & cheese, meaty steak and ale pie and even the vegan burgers are all great options. Many enjoy having the Sunday roast in their pretty beer garden too.
Address: 4-5 Bath Place
7. St Aldates Tavern
Located close to the high street in central Oxford, this dog-friendly tavern has the perfect atmosphere for watching football and rugby while catching up with friends.
The selection of cask ales, wines, spirits and beers here is very good, as are the entertainment options which includes a selection of books, board games and TV sport.
If you are a fan of beer, this is an ideal spot for you. And why not add it to your food? We recommend trying their Beer Battered Haddock and Chips – one of the best fish and chips in Oxford.
Address: 108 St Aldate's
8. The Chequers
This quirky pub, set in a 16th-century building, has a very unique past. It used to display rare animals! However this pub now serves a wide variety of beer and wine as well as great food at an affordable price.
This spacious pub also boasts a covered beer garden, and has live music some nights too. The food is good hearty pub grub, and for seafood lovers, we recommend trying their Seafood Platter. There's a good selection of vegan food here too, like their vegan burgers and pies.
Address: 131 High Street
9. The Old Bookbinders Ale House
Beautifully tucked away from the hustle and bustle of Walton Street, this 19th-century pub boasts French themed décor, and combines English pub classics with French cuisine and great ale. This family-run pub has plenty of character, along with a warm friendly vibe.
It's a famous eating place in Oxford's Jericho area, and is also dog-friendly and has a small but good selection of wine, as well as some unique French gins. We recommend trying their Coq Au Vin, whilst their crepes are fantastic.
Address: 17-18 Victor Street
10. The Jericho Tavern
Situated outside the old city gates in a historic suburb, The Jericho Tavern is home to a laid-back atmosphere and great beers. The interior décor has a modern yet classic feel to it and the food doesn't disappoint either.
This pub offers great value for money as it has offers on Tuesdays like 2 For 1 on all burgers – we recommend trying the double 1/4 pounder burger called "The Boss", which is great for those with big appetites. The large beer garden is ideal for soaking up the sun whilst sipping on some cider.
Address: 56 Walton Street
11. The Perch
The Perch is one of the city's oldest pubs, and is an Oxford pub on the river as it sits beside the Thames and boasts scenic views of Port Meadow. This place has been around for centuries, but was recently renovated giving the pub a more modern touch.
The selection of beer and wine here is very good, and goes well with the classic English pub fare on the menu.
The dishes aren't stagnant though, and the menu changes depending on the season and the inventions of the kitchen staff. It's pub food but gourmet style. Even better is the huge outside dining area and beer garden here.
Address: Binsey Lane
12. The Alchemist
If you are looking for a quirky, unique and creative cocktail bar/pub, The Alchemist is the ideal place for you thanks to its outstanding food, service and cocktails. The bartenders have an eye for detail and create exquisite and aesthetically pleasing cocktails with a hint of theatre!
You can even enjoy any warm weather, along with those exceptional drinks, on their outdoor roof terrace. The food doesn't disappoint either as its varied and inspired by worldwide cuisine, and they even serve a bottomless brunch! A unique experience in Oxford.
Address: Westgate, Bonn Square
13. O'Neill's, Oxford
Famous for their gourmet burgers and delicious wings, this Irish pub has a relaxed atmosphere, great service and is a must-visit for sports fans as they have big-screen sport, live music and good food.
This pub is the place to be if you fancy some Irish food, alongside a wide selection of ales and beers – we recommend having the Steak and Ale Pie with Colcannon – a favourite for many locals.
Address: 37 George Street
14. The Eagle & Child
This is one of Oxford's most popular pubs, and is part of the historic buildings in St Giles. This traditional pub serves a wide variety of real ales, along with good food.
We love the warm customer service, rich history and vibrant atmosphere here. Full of character, this pretty looking Oxford pub was the watering hole of literary giants JRR Tolkien and C.S.Lewis in the 1930s and 1940s, and mementos of that time can be found hanging on the walls.
Because of that history, this place is well worth adding to your Oxford pubs itinery when visiting the city.
Address: 49 St. Giles
Recommended for your visit to Oxford