Wandering our World is reader supported! If you purchase anything through a link on our site, we may earn a commission at no extra cost to you.
Last updated on November 7, 2022 by Wandering our World
Situated in the heart of Yorkshire, Harrogate may be known as a Victorian spa town, but it actually has a surprisingly fun bar scene! And to this day it still shows so much of its history, especially in its old English pubs and bars.
When choosing your drinking destination it's important to consider all elements. So follow this guide as we show you the best bars in Harrogate, including traditional pubs as well as bars focused on cocktails, entertainment and beer.
From New York-themed bars serving up 2-for-1 cocktails and live music venues, to centuries old alehouses offering the best Yorkshire has to offer, the Harrogate bar scene is as diverse as it is surprising.
Let's get started!
CONTENTS:
The Best Cocktail Bars
The Best Entertainment Bars
The Best Bars for Beer
The Best Quintessentially British Pubs
The Best Cocktail Bars In Harrogate
1. Mojo
Youthful roof terrace bar offering an extensive cocktail menu with quick bites
This roof terrace bar in the heart of Harrogate offers a fantastic cocktail menu alongside fast-food service. Known for its cocktails, Mojo is a hub for fun and boasts a lively atmosphere with neon signs, funky lighting, music memorabilia and a spacious seating area.
Their incredible range of cocktails includes gin, liqueur, rum, brandy, tequila, vodka, whiskey and prosecco-based cocktails, plus there's even a dedicated area for beer pong!
A popular choice for work dos and hen parties, Mojo even offers cocktail-making classes with an expert member of the team.
Fun staff are also on hand to mix your drinks to perfection and ensure you have a great night out with good music! And if you're after a bite to eat you can choose from a range of quick bites including wings, fries, burgers and hot dogs.
Enjoy one of the best cocktail bars in Harrogate and make it a night to remember at Mojo.
Address: 49-51 Parliament St, Harrogate HG1 2RE, UK
Opening Times: Mon-Wed 15:00-04:00, Thurs 11:30-04:00, Fri 15:00-04:00, Sat-Sun 12:00-16:00
2. Manahatta
Fun New York themed bar with pool and ping pong
Set across two floors, this fun party bar fuses British pub aesthetics with New York influences to create an industrial-style bar serving New York inspired food and cocktails.
The swanky upstairs area makes the perfect setting for a special occasion with a modern colour-coordinated look and an offering of many unique and fancy cocktails. With regular 2-for-1 deals on their cocktails, Manahatta is a great spot for celebrating any special occasion.
There's a fantastic atmosphere here too, with great music and cheerful staff that make it an all-around fantastic experience.
Choose from a range of unique cocktails, as well as wines and bottles of fizz for special occasions. You can even order spirits by the bottle accompanied by coke, diet coke, sprite or fever-tree.
So let your hair down and party late at Manahatta one of the best cocktail bars in Harrogate, UK.
Address: Off The Ginnel, Parliament St, Harrogate HG1 2RB, UK
Opening Times: Wed-Thurs 16:00-2300, Fri-Sat 12:00-01:30, Sun 12:00-22:00
Best Bars In Harrogate For Entertainment
1. Ivory Bar
Modern bar with regular live bands and late-night DJ sets
This swish-looking bar has so much to offer with live entertainment every Friday and Saturday as well as weekend DJs! Enjoy lounge-style seating as you sip your choice of fine wine, beer or cocktail.
The Ivory Bar is a multi-functional space with plenty of places to sit. On entrance to this classy establishment, you may be escorted to your table by a doorman before being served at your table. In fact there is often a live band playing from the small stage with its resident grand piano – we told you it was classy! The Ivory is certainly a lively and fun venue that attracts regulars to its music nights.
Staff offer a great service that will make you want to return, and not only can you enjoy live music here but dance the night away with resident DJ slots most Fridays including Ibiza classics, House music and more!
Don your dancing shoes and enjoy late-night fun at the Ivory Bar, one of the funnest bars in Harrogate.
Address: 2 The Ginnel, Harrogate HG1 2RB, UK
Opening Times: Thurs-Sat 17:00-02:30
2. The Den
Live music and sports bar offering drinks to suit any occasion
Nothing says entertainment like four premium pool tables, seven HD TV screens and Two HD projectors! The Den is set up for showing the best in live sports as well as hosting live music bands every Friday night and acoustic sessions on Saturday afternoons.
This bar has a real hangout vibe to it in an open space where you can enjoy a drink with your mates while renting pool tables and cues. The quirky decor and spacious seating make for a friendly atmosphere and the staff are just as friendly.
The Den also offers a range of quality keg beers as well as lagers, IPAs and refrigerated craft beers as well as local wines, premium spirits and cocktails made with fresh ingredients.
Every Friday night you can enjoy some brilliant live acts of all genres for free, as well as regular DJ nights perfect for cocktails and dancing. The Den's popular Latin Fury night is hosted one Saturday of every month with free entry from 9pm and includes guest DJs playing the best in Salsa, Bachata, Merengue, Reggaeton, Samba and Axe music.
Enjoy a night out on the town at The Den, which is easily one of the best entertainment bars in Harrogate.
Address: Nidderdale House, The Den, Cambridge Rd, Harrogate HG1 1NS, UK
Opening Times: Mon 17:00-00:00, Tues-Thurs 15:00-00:00, Fri 14:00-00:00, Sat 11:00-01:00
Best Bars In Harrogate for Beer
1. Major Tom's Social
An independent bar that's fun for the whole family serving craft beer and pizza
This quirky, cool bar has a community feel to it, with a relaxed atmosphere and a great selection of beers and ales. The relaxed bar with vintage furniture is the perfect hangout for the whole family.
Specialising in craft beer and real ale from local breweries in Yorkshire, Major Tom's Social is truly a social hub. This kid-friendly establishment also offers freshly made stone baked pizzas late into the evening with unique homemade sauces using Italian tomatoes.
Recommended: The Ten Best Pubs In Harrogate
Major Tom's beer selection beggars belief with ten keg lines, four cask lines and three large fridges full of bottles and cans including ones that you can purchase to take away. As well as the fantastic selection of beer, you can choose from a range of wines, spirits, coffee/tea, soft drinks and even milkshakes.
Not only is Major Tom's a great hangout, but it also hosts regular quiz nights that you can get involved in for a fun evening out.
For one of the best beer bars in Harrogate, head down to Major Tom's Social for good fun with great beer.
Address: 3 The Ginnel, Harrogate HG1 2RB, UK
Opening Times: Mon-Thurs 16:00-23:30, Fri-Sat 12:00-01:00, Sun 12:00-23:30
2. Harrogate Tap
Traditional freehouse offering an extensive choice of beer on tap in the old station building
This old English-style pub situated within Harrogate train station has a vast selection of real ale hand pumps. With wood panels and lovely decor, this world beer freehouse is a go-to destination for a pint.
Take a seat in the main bar area or hide away cosily in "the snug" of this unique pub that's set within the remainder of the original train station from 1862.
Not only can you select from a wide range of beer on tap, but Harrogate tap also has over 130 bottled beers from all over the world.
You'll be served efficiently with a smile as staff pull from the 12 traditional cask handpulls and 15 modern keg taps. Enjoy your drink of choice from an extensive handpicked menu of cask and keg ales or enjoy perusing the wine list.
Enjoy one of the best pubs for beer in Harrogate with a wealth of options on tap.
Address: Harrogate Station, Station Parade, Harrogate HG1 1TE, UK
Opening Times: Sun-Thurs 11:00-23:00, Fri 11:00-00:00, Sat 10:00-00:00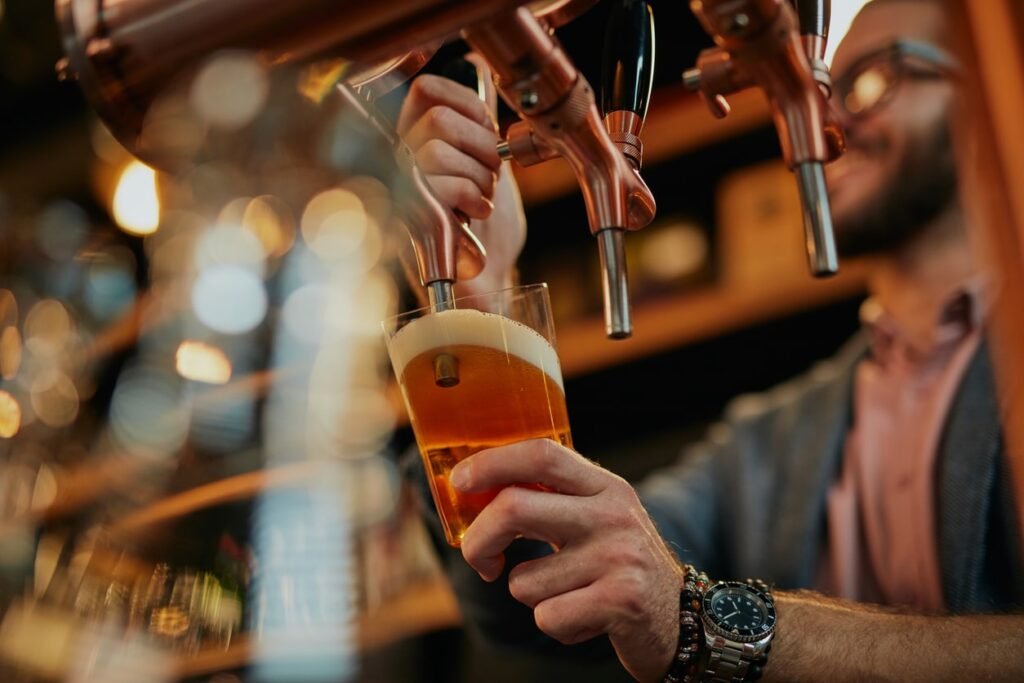 The Best Quintessentially British Pubs
1. The Fat Badger
Traditional British pub with a wine and cocktail list to accompany an award-winning menu
Found in the Montpellier Quarter, this large pub offers plenty of seating indoors and outside. Its dark, moody decor and high ceilings paired with modern British food make for a truly traditional British pub. You can enjoy a lovely atmosphere as you peruse a selection of reasonably priced wine and local cask ales as well as fun cocktails and continental lagers.
The Fat Badger has a food menu that can be enjoyed all week long including small plates, mains, chargrills, sandwiches, and pizzas. Of course, you can expect pub classics including a roast dinner on Sunday, and what could be more British than that?
The extensive wine list has been chosen with the menu in mind to find wines that complement the dishes available and staff are all too happy to guide you in choosing the right match.
The wine list offers red, white, rosé and sparkling wines from all over the world that cater to an array of tastes and infuse the palate with a range of flavours. Not only can you enjoy some delicious wine at the Fat Badger, but there is also a selection of traditional and unique cocktails utilising a mix of bubbles, fruits and spirits.
Should you wish to enjoy a quintessentially British pub experience you won't be disappointed at The Fat Badger, a pub considered one of the best in Harrogate, UK.
Address: Cold Bath Rd, Harrogate HG2 0NF, UK
Opening Times: Mon-Thurs 12:00-21:30, Fri-Sat 12:00-22:00, Sun 12:00-21;00
2. Old Bell Tavern
Centuries-old British pub offering local ales, a cocktail bar and pub grub
This tavern is over 200 years old and is the perfect spot for a quiet beer while you watch the world go by. Despite its age, the Old Bell Tavern has been refurbished to offer a stylish modern venue that still gives a nod to its long-standing history.
Sit at a cosy table by the large windows in the Montpellier Quarter and enjoy a fine ale and homely food. There is a great selection of craft and cask ales alongside boutique spirits, so this friendly, chatty pub makes for a great evening out.
Old fashioned, but not out of touch you can choose to frequent the upstairs cocktail bar if that's more your thing, or stick around in the main pub for a choice of several real ales and keg lines from mostly local breweries.
The menu at the Old Bell Tavern offers small plates, main courses, burgers and sandwiches as well as that all-important British Sunday lunch. This old traditional pub is sure to meet the needs of all in your party to enjoy good pub food and a range of drinks.
If you're after a traditional British pub that ticks all the boxes, head down to the Old Bell Tavern one of the best pubs and bars in Harrogate, UK.
Address: 6 Royal Parade, Harrogate HG1 2SZ, UK
Opening Times: Mon-Sat 12:00-23:00, Sun 12:00-22:00
3. Tap on Tower Street
British pub with an extensive drinks menu and unique board game library
With 50 gins, 30 rums, 20 tequilas and mezcals as well as a full range of craft beers and local cask ales, the Tap on Tower Street makes for an excellent choice.
The traditional pub interior has its modern updates including a fully-stocked well-lit bar with a lovely blue-painted wood finish and hooks for your bags and coats right by your bar stool. There's plenty of seating inside and out, including adorable heated little shed-like huts outside alongside benches and parasols with heaters for those chilly northern evenings.
There are some lovely food options served from the bar at the Tap too, including freshly made Pizza, Asian noodles, Antipasti and local cheese.
In addition to these appetising food and drink options, this British pub offers the unique opportunity to play some board games with a library of over 300 games! Whether interested in classic games, simple family fun or some serious gaming with friends, you'll be spoilt for choice.
Friendly and efficient staff keep everything running smoothly so you can have a good time at all hours of the afternoon and evening all week long.
For one of the best bars in Harrogate, check out the Tap on Tower Street. A British pub with a fun twist!
Address: 31 Tower St, Harrogate HG1 1HS, UK
Opening Times: Sun-Thurs 12:00-23:00, Fri-Sat 12:00-00:00
4. Hales Bar
18th-century British pub offering real ales in a traditional gas-lit pub
Take a seat in Harrogate's oldest pub that's been well-preserved over the years. Enter the main lounge bar and enjoy an atmospheric setting with a good range of real ales, together with popular beverages.
There's still much to be seen of the pub's Victorian era with traditional gas lighting and cigar lighters being a permanent fixture. As you look around you'll find all manner of interesting features to gaze upon including the refurbished Georgian style Vaults room that reveals original wooden beams and a real log fire. In addition to its historic features, Hales Bar has a lovely garden with fresh flowers at the back.
Offering a range of real ales, Hales has an array of drinks to offer including on tap and a reasonable selection of spirits. The friendly staff are fully trained on the ales they serve so you can be sure to get some helpful input if you're unsure what your drink of choice will be.
You can also expect simple, classic food options including basket meals and bar snacks to enjoy with your drink in this old British pub.
You can't get much more British than a mid-18th-century venue, so head down to Hales Bar for a great way to start your evening.
Address: 1-3 Crescent Rd, Harrogate HG1 2RS, UK
Opening Times: Mon-Wed 15:00-23:00, Thurs-Fri 12:00-01:00, Sat 12:00-01:00, Sun 12:00-23:00