Wandering our World is reader supported! If you purchase anything through a link on our site, we may earn a commission at no extra cost to you.
Last updated on October 4, 2022 by Wandering our World
Bristol is a fantastic place to visit thanks to the many things you can do here throughout the day. But without a doubt, one of our favourite things to do is explore Gloucester Road.
Yes, Gloucester Road is known for having a large number of independent traders and a wealth of cafes and restaurants. It's also a chance to cast your eye on some of Banksy's work as you take a stroll.
But for 90% of you reading this, we know why you're really here…..
You've heard about one of the most ambitious pub crawl streets in the UK, and you want to take on the challenge yourself.
But the one issue you may have, is there's actually some fantastic pubs in Gloucester Road. And they're so good that it's hard to tear yourself away from one of them and move onto the next!
As you'll see, there is plenty of great food available (it's important to line your stomach folks), some great ale, beer gardens to enjoy and plenty of live music and entertainment.
So sit back and relax as we guide you through our nine favourite Gloucester Road pubs. Drink responsibly!
The Nine Best Gloucester Road Pubs For Beer, Food & Fun!
1. Gloucester Road Ale House
Split into two levels, the historic Gloucester Road Ale House has a modern yet rustic feel, and has some great comfortable booths for enjoying food and drinks.
Of course as it's an ale house there is a fine selection on offer, and the downstairs bar has six handpumps (one cider), while the upstairs bar has a further three.
And for those not so keen on ale, there's an extensive gin list plus all the usual suspects behind the bar. So there really is something for everyone here.
A refreshing pint goes great with watching some sport, and luckily the Ale House has several TVs you can watch the big game on. What also goes well with a game is some delicious food, and they have some great game day nibbles like the Wings and Dirty Fries.
If you're looking for a heartier meal before starting your Gloucester Road pub crawl then this place have some tasty classics too, like the Beer Battered Fish, Steak, Pie and Chilli Roasted Squash.
On top of that there's even the occasional happy hour, and a quiz on Sundays after the Sunday Roast. They hold other events from time to time too, and announce those on their Facebook page.
Address: 99 Gloucester Road, Bishopston, Bristol, BS7 8AT
2. Industry
Looks can be deceptive so what appears from the outside as looking a little like a micropub is anything but.
Industry is actually an all rounder with everything you need from a pub. And once inside it opens up into a bar area, a lounge, and a partially covered heated beer garden. It's a nice surprise when you first visit.
This is also a great place to watch some sport or relax with a drink and grab some classic pub grub. Choose from the range of small plates available here such as the Mustard and Mango Glazed Sausage, Nachos or Sticky Chilli and Lime Wings, or one of the many Burgers for something more filling.
There's deals to be had too with two for £12 cocktails everyday, or Beer, Burger and Chips for £13 on Wednesday and Thursday. Whilst on Friday you can get three small plates for £12.
The Sunday lunch is rather popular too thanks to the delicious Smoked Beef Brisket and there are vegetarian and vegan options every day as well.
On top of that, there's a frequently changing selection of ale and craft beer on tap, and a wide variety of spirits available. Come rain or sunshine you can't go wrong with a visit to this great pub.
Address: 141 Gloucester Road, Bishopston, Bristol, BS7 8BA
3. The Gallimaufry
Drawing inspiration from the meaning of its own name (which means a jumble of things), The 'Galli' as it's known locally, is decorated with a clever mix of things that don't usually go together.
While a great place for a pint and food, this is a must visit pub for its live music! They have multiple events held every week with live bands, open mic nights, jam sessions and DJs.
There's plenty of small snacks to enjoy, and why not grab a pint and enjoy your food and drink in the sun by taking advantage of The Galli's outdoor seating area which is perfect for people watching.
The menu has an impressive array of vegan and vegetarian dishes too, which is a nice change, so enjoy some Tempura or the Red Pepper Falafel Wrap with that drink.
Should it be a refreshing pint you're after there is usually three ales on offer which change weekly and they're mostly from Bristol based brewers. The same goes for the craft beer on offer too, as there's a big focus on supporting local business at The Galli.
With disabled access throughout, and with dogs welcome to visit too, this friendly place is a great spot to grab a drink and enjoy some entertainment. It's easily one of the best pubs on Gloucester Road.
Address: 26-28 The Promenade, Gloucester Road, Bishopston, Bristol, BS7 8AL
4. Cat & Wheel
A locals pub going back to the 1800s, the Cat & Wheel right at the end of Gloucester Road offers plenty to keep you entertained alongside a slice of history when you visit.
With six TVs inside – and even one in the garden – it's easy to watch the game here. Why not have a go on the trivia game machines or take part in the pub quiz each Thursday night.
On top of that they've got both a pool and foosball table, and a jukebox to provide fun background music during your visit. We did say this was a place that would keep you entertained!
Plus each Friday and Saturday there are live bands playing, whilst on Sundays you can take part in some karaoke!
This is an old school pub so you'll find no food on offer here. But you will find some fantastic ale, many great drinks and a good time in a great atmosphere.
Address: 207 Cheltenham Road, Cotham, Bristol, BS6 5QX
5. Sidney & Eden
We love a craft beer and know many others do too so we've found one of the best places on Gloucester Road to drink some and try something new – Sidney & Eden!
With 20 ever changing taps it'll be easy to pick out a few to try for the first time.
There's plenty of seating inside, sports are occasionally shown on the projector, and there are even regular comedy evenings here!
To see who is performing when you visit, you can find full details here and snap up tickets before they sell out. Who doesn't love a pint and some stand up comedy?
Address: 198 Gloucester Road, Bishopston, Bristol, BS7 8NU
6. Cider Press
So, you're looking for somewhere to watch sport and grab a burger, but you'd much rather choose from a selection of refreshing ciders on a hot summer day than a selection of ales. Then you are in luck as we have the perfect place for you.
Cider Press on Gloucester Road provides up to 28 ciders at all times! So if you haven't tried many before, this is your chance to try something new. If someone with you is set on drinking ale then there are three usually available on tap, so you can both get the drink you want and settle in for the big game.
Food wise they have some great Burgers on offer here, but they've also got a large menu filled with plenty of other popular options too, like Tacos, Nachos, Pizza and Subs. If you do opt for a Burger or Pizza be sure to take up on their offer of a drink with your meal for just £8!
There are two for one cocktails, all day, every day too. Which is always a bonus!
While this is a very family friendly place there is occasional live music so children aren't allowed in after 9pm as it can get a bit lively. There is disabled access too, and a fantastic beer garden to enjoy.
With all of that cider, the food deals, and the great setting, it's little surprise Cider House has made our list of the best pubs in Gloucester Road.
Address: 86-90 Gloucester Road, Bishopston, Bristol, BS7 8BN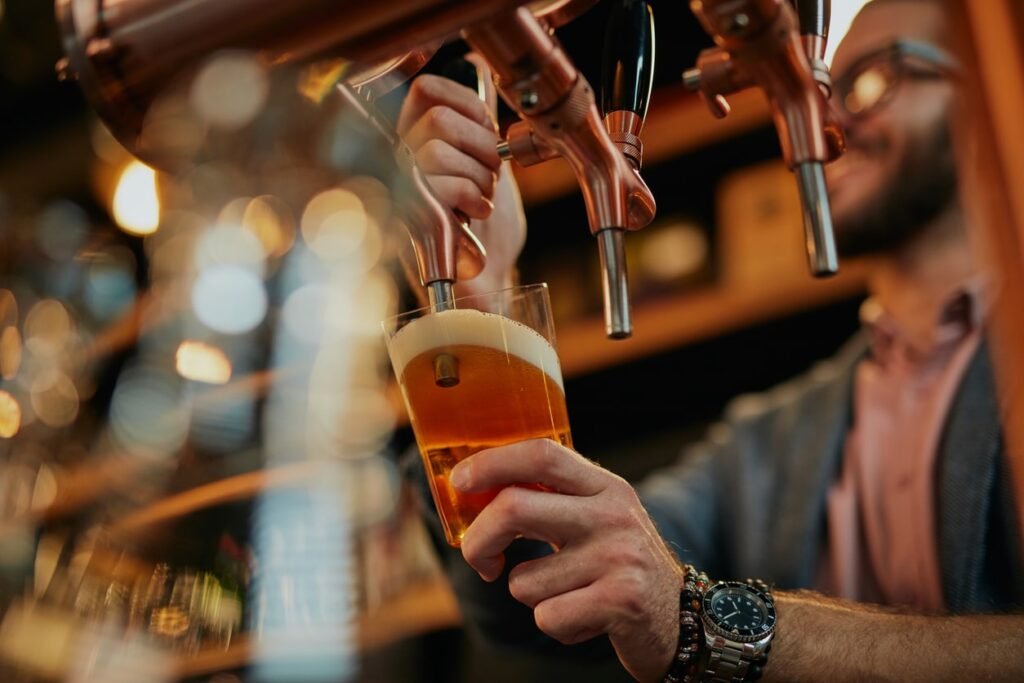 7. The Flyer
If you enjoy a large variety when you visit a pub, then you're not going to find much better on Gloucester Road than The Flyer. There are 15 draught beers to choose from including four changing ales and a staggering 40 different wines!
The menu is packed with choices too, which while a good thing can also sometimes be a little overwhelming, but all you need to do is decide how much you want to eat and then it'll become clear what to pick. If you want something small, then share their fantastic Nachos or snack on some Cauli Wings coated in Buffalo Sauce.
Chicken, Burgers and Veg meals all have their own sections on the menu too so there's plenty of choice for each. And if you want a house special you can't go wrong with their Pale Ale Battered Fish & Triple Cooked Chips.
As with many pubs in the area, disabled access is no issue. You're also able to bring your dog along to enjoy the friendly atmosphere and the nice beer garden if the sun is shining.
Address: 96 Gloucester Road, Bishopston, Bristol, BS7 8BN
8. Bishops Tavern
The Bishops Tavern has a great mix of customers from students to the elderly, so there's always a welcoming and friendly atmosphere here.
This large spacious pub with wooden flooring and panelling has that traditional pub feel, and there's lots of comfortable seating throughout to sink into and enjoy your pint.
There are a few changing ales but as this is a Greene King pub it's usually their own available. Sports are shown live on the TVs for those who want to catch a game and there's even a regular quiz and open mic night. These usually run on Tuesday and Thursdays but they also have live bands occasionally as well, so check their events page before your visit to see if there's something on that coincides with your visit.
Due to the frequency of events in the evening, this is a family friendly pub till 9pm and then children will have to leave. Disabled access is no issue, which is a big plus.
On top of that, if you'd like something light to eat there's a range of starters, sandwiches and toasties available, and for a heartier meal you could have one of the pub classics they serve such as Hunter's Chicken, Steak, Mac & Cheese or their many Burgers. Of course there are vegetarian and vegan options available in this pub too!
Address: 225-231 Cheltenham Road, Cotham, Bristol, BS6 5QP
9. The Golden Lion
The Golden Lion is well known in Bristol for being one of the best places for live music, and the chances are whatever day you visit there will be something going on here.
There really is so much happening here, but we will attempt to guide you through it. Monday is quiz night, while Wednesday is reserved for open mic night.
Thursdays aren't set in stone but likely there will be jazz or live blues bands playing. Friday nights tend to have bigger acts so tickets will need to be purchased at the door, whilst Saturday usually has local bands playing.
On Sundays the tempo tends to come down a bit with a songwriters session, or mostly solo acts playing folk or blues.
To top things off they offer vegan soul food if you get peckish. This isn't a venue you want to miss and should definitely be top of your must-visit list of Gloucester Road pubs. If you want to check what will be on when you visit, you can do that here.
Address: 244 Gloucester Road, Bishopston, Bristol, BS7 8NZ