Wandering our World is reader supported! If you purchase anything through a link on our site, we may earn a commission at no extra cost to you.
Last updated on October 7, 2022 by Wandering our World
A seaside town that oozes history. It's no wonder we enjoy our visits to Eastbourne so much. Take a stroll along the award winning beach, pop into one of the cafes for your morning pick me up, then explore the town centre with its many independent shops.
And if you've brought your hiking boots head over to Beachy Head and explore the chalk cliffs.
There's no doubt this town is a fantastic place to spend a day or two, but there's another reason we love this place so much – the great selection of pubs in Eastbourne!
Regardless of how you spend your time in Eastbourne, if you're like us then after a day of adventuring you'll want some fantastic food and a refreshing pint.
And to help you find that perfect pint and good food, we've decided to put together a list of what we believe are the best pubs in Eastbourne.
As you'll soon see, there's a common theme with the ale – Eastbourne knows what they like! So sit back and relax while we guide you through the best pubs in Eastbourne!
The Eight Best Eastbourne Pubs For Beer, Food & Fun!
1. The Crown
It's no secret we love an ale, and we're also big fans of fun. So when the two are combined like here at The Crown in Eastbourne, consider us sold!
This friendly traditional pub has a modern edge to it, but also a log fire in both the main room and saloon! An award-winning pub, The Crown also has fun and games every Sunday lunch time when there are competitions run for customers and even a meat raffle!
There's even themed quiz nights with a complimentary hot buffet. So be sure to check their Facebook page in advance of your visit.
On top of that there's also regular live music which will sometimes take place in the wonderful beer garden – perfect for those dimly lit summer evenings.
Throughout the day children and dogs are welcome to play in the beer garden, and there's often BBQ's in the summer too.
And to top things off there are three beer festivals held here every year where you'll get a chance to try more than the usual ales on offer which are Gun Scaramanga Extra Pale, Harvey's Sussex Best Bitter and Young's London Special.
With so much to offer year round in such a great looking establishment, it's easy to see why The Crown is one of the best pubs in Eastbourne!
Address: 22 Crown Street, Old Town, Eastbourne, BN21 1PB
2. The Hurst Arms
If you like your pub to have that classic Victorian look and proper pub feel, then head on over to The Hurst Arms!
Separated into two bars, you'll find the main one has a pool table, darts and jukebox – which we all enjoy getting our hands on after a few! Through into the lounge you'll notice it's a quieter area with that added bit of extra comfort which is great to rest your legs.
A proper old school pub, you'll find no food on offer here but who cares when you've got a wonderfully stocked bar complete with a good range of beer and ale. Loyal to Harvey's Brewery you'll likely find Forward's Choice, Sussex Best Bitter and Wharf IPA regularly available. In addition, there are some changing ales throughout the year including Harvey's Christmas ale which comes in at a merry 7.5%!
There's outside seating for those warmer days, dogs are welcome and vapers rejoice as you don't have to go outside to vape. Real smokers still have to, but don't worry the smoking area is heated.
With live music every couple of weeks this is a great pub to pop in for one, strike up a conversation, then end up staying late into the evening. Definitely one of the most old school pubs in Eastbourne, and we love it.
Address: Hurst Arms, 76 Willingdon Road, Ocklynge, Eastbourne, BN21 1TW
3. Bottle Grove
We love a micropub for the cosy and friendly atmosphere they always provide, alongside the comfort of knowing you are trying the best craft beer around. Plus the fact those serving you have a passion for what they do and understand it.
So for your chance to find your new favourite craft beer, head to Bottle Grove. Once you do, take your time and try all you can (within reason, drink responsibly folks). With over 200 beers available, if you're unsure where to start all you need to do is ask the friendly staff what you tend to enjoy normally, and they'll be able to think of something new for you to broaden your horizons.
There's usually four beers on tap, so it's not all bottles and cans. If you're bringing a friend and they're not a massive fan of beer, let them know there's also a selection of craft cider, spirits, wine and gin too.
Open from 2pm to 10pm, Bottle Grove knows not everyone wants to down their drink at the end of the night, so they do hold a licence till 11pm and judge it on the day as to whether to stay open a tiny bit later.
Address: 56B Grove Road, Eastbourne, BN21 4UD
4. The Eagle
That's enough about beer for now, what about where you can eat? Well how about at The Eagle – one of the friendliest pubs in Eastbourne where there's also a great range of tasty meals at reasonable prices.
Try one of the home cooked pies, nachos or grab something from the American diner inspired menu. If you're looking for something a little different you can't go wrong with one of the Yorkshire Pudding Wraps with Mini Roast Potatoes, Pigs in Blankets and Blue Cheese Gravy.
And to wash it all down there's a few ales to choose from with Harvey's Sussex Best Bitter and Hobgolin usually available.
If not dining, keep yourself entertained with some live sport on the TVs or play some pool at the cheapest pool table in Eastbourne that we've found! Things inside are nicely decorated, well laid out and comfortable in both the bar and dining areas.
Dogs are welcome here too, and they've even got a fantastic little roof top garden which is well worth checking out.
And on top of that there's occasional live music as well, so make sure you take a look at their events page to see if there are any bands playing when you're in town.
Address: 57 South Street, Eastbourne, BN21 4UT
5. The Dolphin
Located within an area of Eastbourne known as 'Little Chelsea' which is filled with independent shops and some lovely buildings, The Dolphin is well worth a visit.
The interior is beautifully decorated with that traditional pub feel still being retained. There are two bars to choose from with the main one boasting an open fire. There's also a larger room mostly used for dining and a great patio area to enjoy some sunshine.
Like most bars and pubs in Eastbourne, the atmosphere is very friendly so this place attracts patrons from all age groups as well as locals and tourists.
The menu features a lot of classic pub dishes such as burgers, fish & chips and pies. But one of our favourite things about The Dolphin is their weekly 'Meat Free Monday' where only vegan and vegetarian food is served and all at half price! That provides a great chance to try some delicious plant-based food that many people usually wouldn't.
Or if you happen to time your visit for a Wednesday then be sure to take part in their quiz night.
Harvey's Sussex Best Bitter is served here as it's a very popular ale in the area and there's three ever changing taps to give different brewers a chance.
There is disabled access throughout as well, and like more Eastbourne pubs, dogs are welcome too.
Address: 14 South Street, Eastbourne, BN21 4XF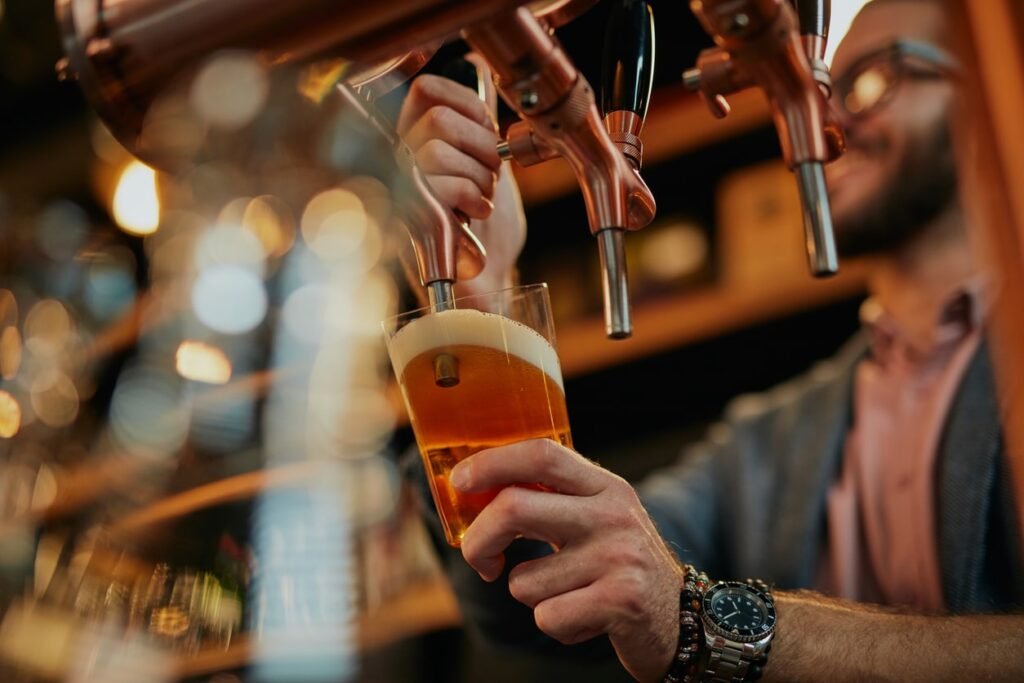 6. The Lamb Inn
We love places with history and you don't get much more historic than one of the oldest pubs not just in Eastbourne, but the whole country. The cellars at The Lamb Inn themselves can be dated back to 1180, and if you arrange in advance, you can even get a tour!
The two traditional bars here are filled with period features and from the moment you sit down you will be well aware you are somewhere special. The fireplaces are rather grand, and hopefully you'll be able to get one of the luxury chairs beside them. However if not, everywhere else is just as comfortable.
So is there more than just history here? Of course there is! There's a menu filled with great pub food with a modern twist and some fine ale.
If it's food you're in for then try the Beer Battered Fish and Chips which are well known locally as being some of the best around. The burgers are rather special too, especially on Mondays when you can grab one with a drink for £12!
Fear not if you visit on Tuesday as why not take advantage of the Harveys Ale Steak Pie for the same offer. There's a good selection of vegetarian and vegan dishes too, so there should be something for everyone.
How about that ale? As this is a Harveys pub you can get Armada Ale, Sussex Best Bitter or one of the seasonal changing ales. There is a carefully selected wine menu too if you'd rather some fine grape juice with your meal.
As for entertainment, The Lamb Inn often has live music, comedy nights and even holds theatrical productions in the function room upstairs.
On top of all that, this history-filled, family friendly pub also has disabled access and you can bring your dog along… what's not to love?
Address: 36 High Street, Old Town, Eastbourne, BN21 1HH
7. The Victoria Hotel
After an afternoon strolling the beautiful seafront in Eastbourne you may be looking for somewhere to unwind even more. And tucked away near to the sea is the wonderful Victoria Hotel.
The bar itself looks incredible as it's styled on those from Victorian London. To help add to the aesthetic, the walls display some Victorian portraits. But if you're not too interested in the surroundings then you can always tune into the live sport on the TV, play pool or darts, or enjoy a drink in the lovely outside garden area.
Food isn't served here but the good news is you're more than welcome to bring in your own food from one of the takeaways nearby.
You can guess what else is welcome – your dog! Bring them along to get some water and a treat while you enjoy one of the Harveys ales on offer. Yep it's Harveys again. What can we say, that ale has a stronghold over Eastbourne.
Every week at The Victoria Hotel there are poker and quiz nights, and sometimes live music too. There's disabled access throughout this establishment as well.
Address: 27 Latimer Road, Eastbourne, BN22 7BU
8. Bibendum
If you've read this far, we won't insult your intelligence by mentioning the ale… you know exactly what is on offer like all Eastbourne pubs! But this place is still definitely worth visiting.
Located within 'Little Chelsea', one section of Bibendum almost resembles a café which is perfect for sitting down for a coffee or meal. The other section feels more like a bar with some ideal homely touches from the decorating through to the lights.
So this is a wonderful looking bar and pub in Eastbourne – that sounds similar to other places we have recommended right?
Well one thing that sets Bibendum apart is the food.
This is somewhere special when it comes to food. You're going to want to take your time and savour the dishes on offer. So we recommend going for a bottle of wine (they have one of the best selections in town) and the full three courses.
Start off with the soup or one of the nibbles such as garlic bread. The mains are those you'd expect in a pub like homemade pies, burgers and fish & chips – but this is pub grub done exceptionally well.
And if you're looking for something a little fancier the chef has his own selection of specials with Sussex Duck and Pork Belly on offer when we last visited. If you've got room for desert (we didn't) then the Double Chocolate Brownie and the Lemon Tart looked delicious.
If you're after something a bit lighter to enjoy with your pint then there's a good selection of sandwiches and wraps available. Or why not share a platter.
To make things better, Monday through Thursday there's a 2 for £18 deal on selected mains all day long, so you can even taste the savings!
Should the weather be nice there's some nice seating outside to enjoy everything on offer too, from coffee to whisky along with all the food. For us, this is easily one of the best pubs in Eastbourne.
Address: 1 Grange Road, Eastbourne, BN21 4EU