Wandering our World is reader supported! If you purchase anything through a link on our site, we may earn a commission at no extra cost to you.
Last updated on October 4, 2022 by Wandering our World
The Great Border City is coated head to toe in history, thanks to sights like Carlisle's 900-year-old castle, the famous Hadrian's Wall, and the city's very impressive cathedral.
With museums, nature reserves, great walks and parks, and all of those historical landmarks to explore, there's no doubt Carlisle is a fantastic place to visit with plenty do it. However there's another reason we love this place so much – the great selection of pubs in Carlisle!
Regardless of how you spend your time here, if you're like us then after a day of adventuring you'll need some delicious food and a refreshing pint
So we've decided to put together a list of what we believe are the best pubs in Carlisle.
As you'll see there's some fantastic pub grub available, plenty of real ale, live music and a warm, friendly atmosphere wherever you turn.
So sit back and relax while we guide you through Carlisle's pub culture.
The Nine Best Carlisle Pubs For Food, Beer & Fun!
1. The Howard Arms
If you like your pub to have a traditional proper feel, then they don't come much more authentic than The Howard Arms. Expect classic bench seating and stools, plenty of room to enjoy a drink and conversation with regulars, and old photos and posters adorning the walls to complete the whole 'historical' feel to this place.
While this pub has been refurbished, the original look has been retained which we are big fans of. This dog friendly pub also has a shaded garden area to enjoy when the weather is nice. But that's not all, The Howard Arms is a popular spot for entertainment as they often feature events from live music to psychic nights!
Should ale be your drink of choice, then they've usually got Theakstons Best Bitter or something from Wainwright on tap. Both of which go well with food of course, and with a choice of baguettes, jacket potatoes and French bread pizzas to choose from there's plenty to keep you full if visiting.
Address: 107 Lowther Street, Carlisle, CA3 8ED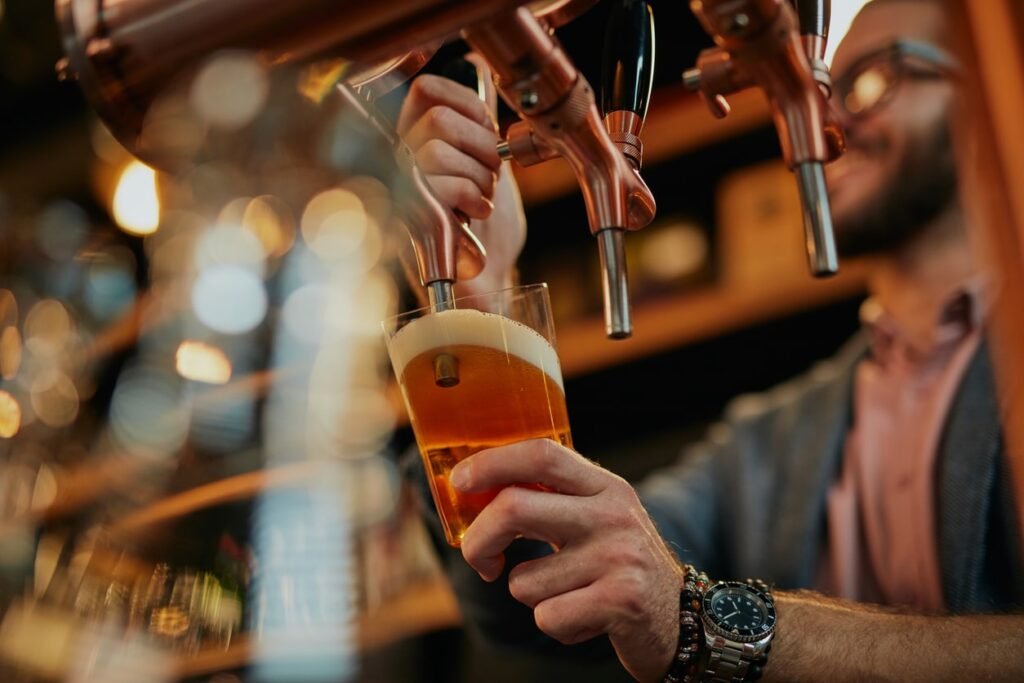 2. The Apple Tree
If you're looking for a more substantial meal when you're out and about then we have the perfect spot for you. That's The Apple Tree, which is a large, family friendly pub in the centre of Carlisle with disabled access and plenty to offer including live sport on TV.
As this pub is run by Greene King, it's mostly their own ale on offer but that's not a bad thing as they do some great pints.
However the main reason we like visiting this place is the food.
A lot of food in the world goes well with beer, and The Apple Tree appear to have made it their mission to offer a menu packed with beer-friendly dishes! Expect the likes of Nachos, Loaded Fries and Chicken Wings here, and if you're feeling rather ambitious those wings go up to 2kg portions – although we'd recommend sharing those!
If you're looking for a lighter lunch then there's a nice selection of sandwiches to choose from, but we would still recommend going for one of the classic pub dishes they have. Not only because they taste great, but because at the time of writing you can get two meals for £10.99! Hunter's Chicken, Lasagne, Steak & Ale Pie, Fish & Chips, Burger or the All-Day Breakfast are just some of the options. There's also several vegan and vegetarian dishes available too.
As you can probably tell, we are very enthusiastic about the food here and cannot recommend it enough. This is easily one of the best pubs in Carlisle.
Address: Lowther Street, Carlisle, CA3 8EQ
3. Coco Mill
One of the first pubs in Carlisle that we always visit when in town is Coco Mill. Why? Well they let their food and drink do the talking.
We have always been fans of pubs with a minimalist approach to their décor, as they tend to let the food and beer be the real focus. That's exactly what you get at Coco Mill. Although there's certainly more on offer than that, as they also have live music during the weekends – that's usually advertised in advance on their Facebook page.
As for the food, expect traditional pub classics alongside inventive gastropub dishes. What do we recommend? Well for starters the Sriracha Nachos and Stone Baked Brie are both great choices. For a main you can get pub regulars like Burgers and Steaks but if you're like us you'll be tempted by something a little different – the Sticky Teriyaki Duck Noodles or Chicken Katsu Curry caught our eye.
As an added bonus there's also a plant based menu with starters, mains and desserts.
There are usually three ales available to accompany your meal but if the weather is hot, a refreshing cocktail may be what you need. And thankfully they have a fantastic cocktail selection here!
They also do good coffee, in case you're just looking for somewhere to pop in and recharge after some retail therapy.
Address: 47- 49 Lowther Street, Carlisle, CA3 8EQ
4. The Kings Head
Some of us take our dogs out on our adventures and rightly so, they deserve an adventure too. If that sounds like you then why not visit one of the most dog friendly pubs in Carlisle, The Kings Head, which also happens to be one of the best pubs in the region for cask ale.
A mix of booth seating and stools provide an open feel to this award-winning pub, while the wooden beams give this place a traditional photogenic look.
This is a very popular pub with locals, however it's a very friendly place to newcomers too, so you tend to find a healthy mix of regulars and visitors here.
While the interior is cosy, we usually head outside when we can as The Kings Head have a large covered courtyard where you can watch live sport on the big-screen TV or enjoy the regular live music they host.
This place has a fantastic selection of real ale too, so it's no wonder they've won multiple CAMRA awards in the past. In particular Yates Bitter has been served here for years, but they also have an ever-changing selection of ale and in the past Hawkshead, Bitter End and Barngates have been featured… in fact over 500 different ales have!
While we recommend visiting The Kings Head primarily for the ale selection, beer garden, live entertainment, and the fact it's dog friendly, they also serve food at lunchtime.
However whilst this pub is dog friendly, children unfortunately aren't allowed in the premises. There's plenty of other pubs in Carlisle where children are welcome though.
Address: Fisher Street, Carlisle, CA3 8RF
5. The Sportsman Inn
We love a bit of history and know many others do too, so as always we have found the oldest pub in Carlisle for you!
That's The Sportsman Inn which dates back to 1747. It should be easy enough to find despite being tucked away a little down Heads Lane.
A family friendly, traditional pub – like most pubs in Carlisle – you'll get a dose of history and great food here, all wrapped up in a very homely atmosphere.
For ale, you can get Timothy Taylor Landlord or Wainwright, which as far as we're concerned go well with the classic pub dishes available here. What do we recommend food-wise? Well the Steak & Ale Pie had that delicious homemade taste to it, as did the Sunday Roast.
Occasionally there are themed food nights too where you can get Mexican, Asian or Italian cuisine! Those are advertised in advance on their Facebook page, but booking in advance is required.
Address: Heads Lane, Carlisle, CA3 8AQ
6. Lakeland Gate
Located just a mile from the centre of Carlisle is the very grand looking Lakeland Gate. A fantastic pub that also has lots to keep children entertained.
Kids can tire themselves out in the soft play area, or they can play outside in the playground or on the grass while you enjoy a seat in the sun.
Food wise there's a a huge range of British and international dishes, and even a separate meatless menu to ensure vegans and vegetarians are catered for.
The Loaded Wings and Loaded Nachos are both popular choices but considering the good reviews why not opt for the Chicken Burger or the Cottage Pie – perfect comfort food when the weather decides to make a turn for the worse.
For those with a sweet tooth there are plenty of indulgent options, with the Apple and Blackberry Crumble and Triple Chocolate Brownie catching eyes.
As far ale, Sharp's Doom Bar tends to be on tap, however they also have many bottled beers including Brewdog.
The wine menu is extensive too, as is the cocktail menu. And with £5 cocktails from 5pm to 7pm everyday it's easy to spend a few hours here!
This is easily one of the best pubs in Carlisle thanks to the food, drinks, and fantastic kid-friendly facilities.
Address: Walk Mill, Warwick Road, Carlisle, CA1 2WF
7. 301 Miles From London
If you've taken the train to Carlisle, you don't need to stray far to find some real ale. In fact you don't need to leave the station!
Named after folklore that said Carlisle was 301 miles away from London, although we now know it's 299, this is a fantastic cosy pub with that lovely historic look we love. That look even includes an original stone fireplace.
The traditional bar serves six real ales from local breweries – yes six! – and ale is made even cheaper here on a Monday!
They've got a variety of snacks to go along with your pint so if you've gotten off the train and have some time to kill before checking into your hotel, why not kill that time in style by checking into this place.
Address: Carlisle Citadel Station, Court Square, Carlisle, CA1 1QZ
8. The Brickyard
We love live music, and while this place isn't really a pub we couldn't leave out one of the best music venues we've found in Carlisle!
Is there a bar? Yes so you can still grab a pint or your favourite tipple and then enjoy live entertainment that spans many different genres.
Be sure to take a look at their website in advance and purchase tickets if there's a show you want to see.
Address: 14 Fisher Street, Carlisle, Cumbria, CA3 8RN
9. Beehive
When that sunny weather hits, you need to be prepared – you need to know where the beer gardens are!
Luckily for you the Beehive has a great beer garden. Not only that but this is a fantastic place to watch live sport and grab a bite to eat too. They've also got a quiz night each Thursday and most Friday evenings there's live music!
Disabled access is no problem and this pub is family friendly, so after enjoying a meal together you can then teach your kids how to play pool on the table here.
If you want to eat, but not something too big, they have a few small plates you can try like the Cheese Burger Sliders or Buffalo Cauliflower Wings. For some more filling classic pub grub the Beehive do a very good Fish & Chips and Mac & Cheese, and they're also well known locally for the great selection of burgers they serve. And on Sundays they do a fantastic roast!
There's a nice selection on tap too, with Morland Old Golden Hen usually available alongside something from Greene King and Marston. But if ale isn't your thing then don't worry, the bar is well stocked with everything you'd expect from a good pub.
Come rain or shine, this is a great all-rounder pub that everyone can enjoy.
Address: Warwick Road (A69), Carlisle, CA1 1LH