Wandering our World is reader supported! If you purchase anything through a link on our site, we may earn a commission at no extra cost to you.
Last updated on October 16, 2022 by Wandering our World
Bridlington is far from a sleepy seaside town. It is surrounded by beautiful rocky coastlines overlooking the North Sea, and there's no doubting where its appeal as a holiday destination comes from thanks to its mild and pleasant summer weather and stunning seaside views. And luckily for those that work up an appetite while enjoying the sights, there's some fantastic restaurants in Bridlington to enjoy!
Modern and trendy stores and restaurants line the streets, mixed amongst decades-old local hangouts. One thing is undeniable though, everywhere you go, you'll feel right at home in this welcoming community.
As we mentioned, Bridlington is home to some incredible eateries. Those serve a mixture of cuisines and offer locals and tourists upstanding hospitality and delicious delicacies. And each venue adds its own character and atmosphere to the town.
But if you want some help deciding which one is best for you, then we are here to be a guiding hand when it comes to choosing where to visit.
So grab your stretchy trousers, and tuck in!
Our Eight Favourite Bridlington Restaurants For Food, Views & Fun
1. Copperfields Cafe
Copperfields Cafe is something of a household name. Their reputation has even spread outside the town and you'll find that guests will travel miles for an opportunity to dine here. Time has certainly done them well. Nearly 50 years since they opened their doors, and Copperfields has become a community staple.
We often say that the best gems are unearthed in the most unexpected places, and at a glance, you might agree. This is an understated venue that sits on a busy street. But ultimately, the magic lies in the kitchen walls and the divine scents that waft into the dining room.
If you love honest-to-goodness, homemade British cuisine, Copperfields excels in the field. Generous portions of Steak Pie fly from the kitchen and are just one of many popular dishes with diners here.
On Sundays, you can treat your party to a decadent roast with rich flavors and hefty Yorkshire puddings pooled with silky gravy. And for the price, it's a bargain. The generosity doesn't stop there though, as they also sell a two-course "Saver Board", paired with a delicious dessert, and have rotating specials all year-round.
The owners are a lovely couple who welcome guests like family, and for many patrons the entire venue has an eclectic familiarity, like warm memories from your favorite aunt's dining room.
In fact that friendly atmosphere means it's no surprise to see conversations carried across tables, with soft music playing overhead. While not licensed, Copperfields do allow a BYOB concept, so you can bring your own wine or drink to accompany your meal.
We urge you to book a table, as this small venue can get jam-packed and you don't want to miss out!
Opening times: Tues – Thurs: 12:30 pm to 3:00 pm; Fri & Sat: 9:00 am to 11:30 am ; 12:30 pm to 3:00 pm; Sun: 12:30 pm to 4:00 pm
Address: 4 Chapel St, Flamborough, Bridlington
2. Tea@33 Cafe
The term "the early bird gets the worm" can be thrown right out the window when it comes to Tea@33. Of course, we usually envy early risers, but in this case, we can enjoy our mid-morning nap and still be ready for breakfast.
We're personally great fans of any place that does a piping hot all-day breakfast, and Tea@33 serves up some of the best breakfasts in Bridlington. That's right, plural. You don't just get the option of a plain old English breakfast here; you can choose from a menu featuring everything sweet and savory. The locals definitely share our sentiments as the kitchen pumps out fried bread and teetering pancake stacks well into the afternoon.
The cuisine here is a colorful mixture of British and American. No two plates are the same, and the combinations of flavor and skill sure makes for some mouth-watering meals.
Be sure to ask your servers about the specials; and if you're lucky, you may just be able to bite into a crisp Cornish pie. They can even make afternoon tea for you to take home to your loved ones. It's a final parting gift as they close for the day.
Or make your way through on a Sunday for the fresh roast dinners, which are so popular they tend to sell out.
If you do visit, we encourage you to sit outside and enjoy the beautiful weather in the summertime here as this cafe's hidden outdoor area is small, yet a fantastic space for guests who love to take their furry friends everywhere with them. You read that right. Tea@33 is also pet-friendly.
If that wasn't enough, the entire restaurant exudes a bubbly atmosphere, golden oldies are playing throughout the day, and friendly locals always seem willing to strike up a conversation.
Owner Paula told Wandering our World she opened up Tea@33 because she felt her town needed "something a little different". The result? A bistro-style cafe that's become so well loved that some regulars are willing to take a bus or train just to get their Tea@33 fix!
Overall, the vibe sits well for a quaint little spot on Bridlington's streets. There's nothing excessive, but that's part of the charm that draws in guests from near and far.
Opening times: 8:00 am to 2:00 pm Daily
Location: 33 Hilderthorpe Rd, Hilderthorpe, Bridlington
3. The Beach Hut
What good is a seaside town without a panoramic ocean view?
If you're just passing through town, The Beach Hut should be one place you have to make a pit stop at. They have a curbside appeal that makes realtors froth at the mouth. And while the view is breathtaking, the delicious smells wafting through the doors is what really lures the visitors in.
The crisp aromatics of freshly ground coffee will have true caffeine enthusiasts, guilty as charged, lining up for their daily dose. You can grab it to go, but you'll want to stay once you see the food.
Plates of generously portioned Eggs Royale, drip with creamy Hollandaise sauce throughout the morning. And after midday, an entirely different menu takes effect, with cheese oozing from crispy toasties. Another popular favourite is the Full English Breakfast – you can never go wrong with this classic!
Daily specials are written upon a board and posted to their social media. Each always appears more enticing than the last, with one of the previous favorites being a juicy Tandori chicken.
In fact the cuisine served up here is global. After all, the genius behind the place is Australian. It all just adds to the charismatic cultural charm of Bridlington even more.
When entering, you'll be greeted by light wood finishes and a naturally bright and rustic restaurant. It fits perfectly into the oceanside venue. If the view doesn't entice you enough, perhaps some of the friendliest neighborhood staff around will. It's such a casual and relaxing environment; we can almost forgive you if you get lost in the moment.
The Beach Hut is, without a doubt, one of our favourite restaurants in Bridlington. And if you give it a chance, it might just become yours too!
Opening times: 10:00 am to 3:00 pm
Location: 1b N Marine Dr, Bridlington
4. Supattra Thai Restaurant
We all crave that feeling of trying something new. The great thing is that you can always find a new adventure on your doorstep when it comes to cuisine. And in Bridlington's case, you can send your tastebuds on a passport-free journey to another continent with Supattra Thai Restaurant.
Chef Koo of Supattra Thai Restaurant has brought the fantastic tastes of authentic Thai cuisine to the shores of the North East. The ingredients are true to their origin, with some even being imported straight from the markets of Bangkok. The quality is undeniable, and if you close your eyes, you may even be able to picture the scenic beaches and bustle of Thailand with every mouthful.
The best way to enjoy a meal here is by ordering a little bit of everything for the table. Think mezze, but make it Asian. With a wide selection on the menu, you will find a symphony of flavors, from local-caught Thai Crab Curry to the rich and intense flavors of Panang Neua.
It's a perfect place to have intimate family gatherings over delicious food. But what's even better is you don't have to cook it!
Their service is extraordinary too. And while it can get busy, you can be rest assured that the staff will try their best to accommodate you, even without a reservation.
Supattra Thai Restaurant is without a doubt one of the best restaurants in Bridlington, but also one of its worst-kept secrets.
Opening times: 5:00 pm to 10:00 pm Wednesday – Saturday
Location: 29 Quay Rd, Bridlington
5. Ruby Soho Coffee
Set your alarms because we've got a great reason to get out of bed! Ruby Soho Coffee, which opens at 8am, is a gift to Bridlington. As far as your usual breakfast spot goes, they are definitely out of the ordinary.
Ruby Soho was born to be a new and exciting hangout and it plays the part well. The ambiance is contagious; it's light, colorful, and boisterous! On rare occasions, they spice up an already vibrant atmosphere with live music, so keep your eyes peeled on their social media.
Their menu is a tribute to trendy and inventive breakfast fare and light meals. The food doesn't just sound great on paper though; it also looks heavenly on the plate. The Hipster Breakfast is a crowd favourite, but if you have a passion for a sweeter start, we cannot recommend the Paris Toast enough. You won't find anything quite like it. Match that with a rich coffee or an indulgent Freak Shake, and you'll be in paradise.
And for those who like a free meal, they've got a challenge for you. Fourteen stacked, all-inclusive American Pancakes, one cake-topped Freak Shake, and 30 minutes to finish it all. Winners will leave with a picture on the wall and a t-shirt to commemorate their victory. Everyone else who fails will leave incredibly indulged but with a slightly lighter wallet.
As the owner rightly told us, "It's not a cafe. It's a vibe," and we're absolutely here for that.
And with that vibe and fun food challenge, it's little surprise Ruby Soho Coffee has become one of the best restaurants in Bridlington.
Opening times: Mon-Thurs 8:00am to 2:00pm; Fri & Sat 8:00am to 3:00pm; Closed Sundays
Location: 95 Promenade, Bridlington
6. Burlingtons Restaurant
Burlingtons Restaurant is one for the ages, and they've spent the last two decades as a favorite in the heart of Bridlington. They're well supported and loved by locals, with plenty of stories to tell over the years.
While the world changes around them, Burlingtons remains unapologetically the same, aside from adding a few teddy bears to their collection. They're etched into the spirit of their community, and in many ways there's no better way for tourists to immerse themselves in the town than to make a visit to what is one of the mainstays of the Bridlington restaurant scene.
You can soak up the rich red accents of the restaurant from any of their dining areas. While there is no outdoor seating, the venue boasts two separate dining areas. One works incredibly well for a more romantic setting; it's smaller and offers privacy for date nights. The other is larger and more accommodating for larger groups.
We always applaud a great cook when we see one, and David is a master in his craft. The menus are inventive and serve a variety of meals from British and global cuisines. But, one thing is undeniable, the taste is incredible!
Unfortunately, their Early Bear menu is only available on Thursdays and Fridays for an hour. But you have free reign on the delicacies on the a la carte dinner menu all week. And in the standard fashion, Sundays are made for a melt-in-your-mouth roast, with generous Yorkshire puddings and crisp, fluffy roast potato.
Even with the oddly charming teddy obsession, Burlingtons is a superb place to visit and easily one of the best restaurants in Bridlington.
Opening times: 6:00 pm to 10:00 pm Thursday to Saturday; 12:00 pm to 2:00 pm Sunday
Location: 91 High St, Bridlington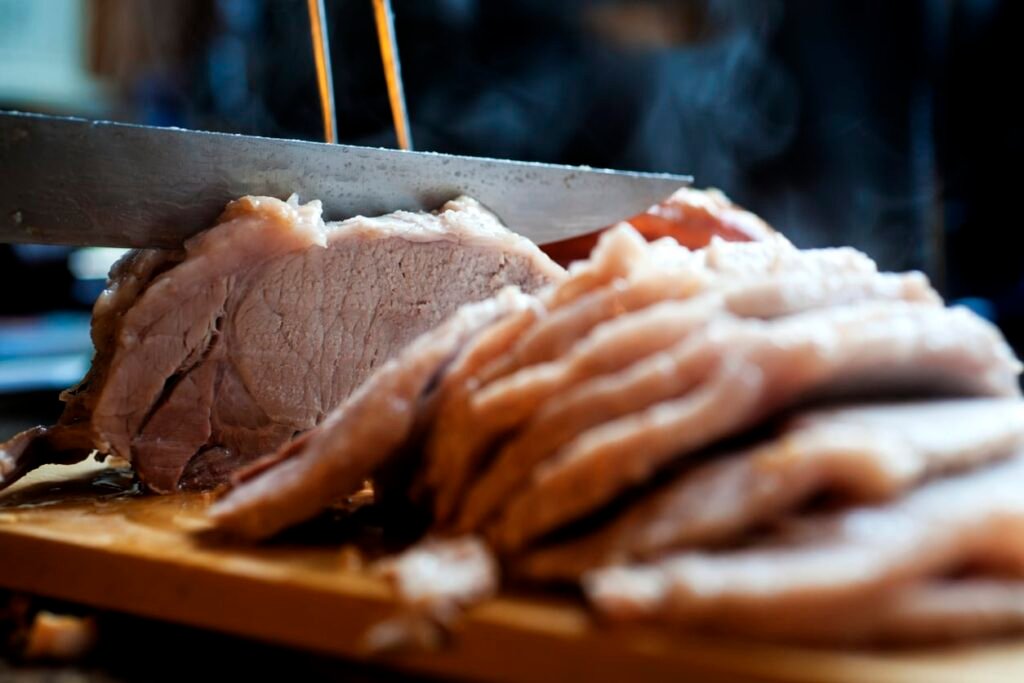 7. The Old Forge
If seaside dining is your aesthetic, The Old Forge is the venue for you. You can smell the salty air and enjoy the natural ambiance of waves crashing against soft-sanded beaches, especially when sitting in their outside patio area.
However, we are firm believers that beauty hides within. So while this restaurant can pass by at a glance, you'll have difficulty getting the stunning rustic interior out of your head.
Like the tides, the menu at The Old Forge is constantly changing. We love that their dishes are seasonal, and as avid supporters of local vendors, they adjust their dishes according to what is available. They pay homage to everything excellent about British cuisine and serve one of the meanest Sunday Roasts on the North Coast.
Their offerings change over the day, and while you may want to enjoy a pub classic for your lunch, you'll be drooling over the Beef Strogganoff for dinner. If you can get your hands on their Steamed Mussels which are prepared with a cider & bacon sauce and served with warm crusty bread, make sure to not miss out! And they serve vegetarian and gluten-free options too!
The atmosphere speaks for itself. It's a warm and inviting environment where every member of the family is welcome, even the dog!
They have a lovely, breezy outdoor area to enjoy the warmer months and a beautifully refurbished indoor dining room for a more intimate experience.
So if you're looking for a comfortable venue to kick back in, head down to The Old Forge. The seaview is well worth it, and one of the many reasons they made our list of the best restaurants in Bridlington.
Opening times: 12:00 pm to 9:30 pm Monday – Saturday; 12:00 pm to 4:00 pm Sunday
Location: 30 Main St, Bridlington
8. The Lamp Restaurant
The Lamp Restaurant has wiped away the dust of the historic Old Bridlington venue it sits in and given birth to new beginnings. After all, throwbacks are trending. While the integrity of the building is well-maintained, we can't help but notice the quaint little characteristics that give it a fresher appeal.
They're on a fast track to success and have been nominated for numerous business awards within the community. The owners are gifted members of the hospitality scene and they know how to make guests feel welcome. In addition, the staff have been known to go to extraordinary lengths to assist guests and provide friendly and efficient service.
The Lamp specializes in traditional-type meals, with occasional contemporary fare tossed into the mix. Mostly, they try to maintain a sustainable kitchen and source their ingredients from the local area, which is one sure-fire way to guarantee exceptional quality.
For seafood lovers, the Baked Salmon fillet is a whirlwind of flavor and cooked to absolute perfection. Their beef dishes are also highly sought after, with the Sunday Roast being such a hit that they even offer it to-go!
There's no shame in being a regular at an establishment like this. It's serene and romantic without being excessive. The understated decor works surprisingly well and spreads from the indoor area to the quaint outdoor space at the back of the venue. Unfortunately, you won't find much in the way of major events here. However, an occasional game night may appear once in a while.
Overall, The Lamp is a celebration of outstanding cuisine and the history of Bridlington. And the dinner rush can see this quaint restaurant bursting at the seams with hungry guests all itching to taste their fantastic meals.
Opening times: 6:00 pm to 9:00 pm Thursday – Saturday; 12:00 pm to 2:00 pm | 6:00 pm to 9:00 pm Sunday
Location: 55 High Street, Bridlington
The Best Restaurants In Bridlington: Our Final Thoughts
Of course, we can see why Bridlington has become such a popular tourist destination. If the natural serenity, friendly locals, and historical sites weren't enough to convince you, the restaurants in Bridlington certainly will.
The cuisine is colorful, and each venue boasts its own special character, making each experience unique and endearing. Adventure is about trying something new, so we implore you to be adventurous and add these eight Bridlington restaurants to your destinations list.
After all, food brings people together. And with a community as welcoming as Bridlington, you're bound to make new friends over dinner.