Last updated on October 4, 2022 by Wandering our World
A market town full of wonderful architecture and bursting with character, it's no wonder we enjoy the trips we make to Beverley so much. For those interested in history there is plenty to visit, such as Beverley Minster and North Bar where you can take a step back in time. And if you're after a walk you can stroll through Beverley Westwood or take on the Hudson Way hike.
There's no doubt that Beverley is a fantastic place to visit with plenty to do, but there's another reason we love this place so much – the great selection of pubs in Beverley ranging from traditional to modern and everything in between!
Regardless of how you spend your time in Beverley, if you're like us then after a day of adventuring you'll need some delicious food and a refreshing pint!
As we know this town so well, we've decided to put together a list of what we believe are the best pubs in Beverley.
As you'll see there's a great mix of places, lots of beer gardens to soak up the sun, and some fantastic food and local ale to enjoy.
So sit back and relax while we guide you through Beverley's pub culture.
The Ten Best Beverley Pubs for Beer, Food & Fun!
1. Cornerhouse
Make the bar big enough so you can stock the biggest selection of ale in town – that's exactly what the Cornerhouse in Beverley have done!
That long bar serves a relaxing area which is fitted with sofas that are ideal to lounge in after a long day, and there's also a dining area for those looking for lunch or dinner. This family friendly pub also has a fantastic big beer garden for those sunny days, but as it's a dog friendly place throughout your dog can settle by the fire on cold days too.
If you're looking to eat there's a great selection of classic pub dishes and often a bunch of food offers too. For example, every Wednesday you can get two pies for one, whilst Thursday is steak night.
As the Cornerhouse opens at 10am Saturday and Sunday you can also enjoy a delicious breakfast here, with full breakfasts (veggie too), sandwiches, and French Toast available.
As for the ale, you'll regularly find Black Sheep Best Bitter, Greene King IPA and Timothy Taylor Landlord available, plus an additional five taps which change to give other brewers a chance to shine.
With disabled access throughout, this is a great pub to relax in all year round. Great food and delicious pints – what more could you want?
There is even the occasional pub quiz which will always be advertised on their Facebook page.
Address: 2 Norwood, Beverley, HU17 9ET
2. The Beaver
If what you're looking for is live sport and entertainment – then The Beaver could be a great option. This narrow pub has 2 large screens and 11 TVs to show the best live sport available, so if you want to catch a game in Beverley, this is the place to do it.
As we mentioned, they've also got other entertainment. So pop on your dancing shoes and join the resident DJ for some fun on Friday and Saturday nights, then let loose with a little karaoke on Sunday!
On top of that they've got a pub quiz every Wednesday evening. All these regular night time activities explain why children are only permitted up till 9pm.
The menu is full of pub classics, and there's some very nice pints too. Both John Smith's Bitter and Sharp's Doom Bar tend to be available, plus there's plenty of lager on tap.
A lively place with lots of character, and definitely one of the best pubs in Beverley for nightlife.
Address: 8 North Bar Within, Beverley, HU17 8AX
3. Atom Bar
Set within a Grade-II listed building which retains original beams, fireplaces and exposed brick walls, this wonderful pub still has all the modern touches you'd expect from a pub that specialises in craft beer.
As part of the Atom Brewery in Hull, the expansion of Atom into Beverley has allowed both locals and visitors a chance to see what they've been missing out on.
The downstairs is rather open and bright and features some large tables which are great for groups of up to six. But head upstairs and you'll find three smaller rooms which are comfortable and cosy – it's easy to settle up there for a few hours, especially if you grab one of the board games to play.
To drink there are an impressive 12 taps and over 80 different cans/bottles to choose from! If you're unsure where to start then it's easy to ask a member of staff who will be happy to help. And if you get hungry there's a delicious selection of food including flatbreads.
This is a great family and dog friendly pub with a focus on good beer and conversation. Be sure to check out their Facebook page in advance of your visit too, as they will often run special events such as tasting nights and quizzes!
Address: 7 New Walkergate, Beverley, HU17 9EH
4. White Horse
For those who like a bit of history, the White Horse in Beverley was a coach inn which goes back to at least 1666 according to local records.
As one of the most historic pubs in Beverley, you'll notice it has many of the original features still intact. Gas lights brighten the wood panelled corridors, stone flooring shows the pub's age, and the open fires help complete your trip through time.
Even for those not so interested in history, once inside you really feel like you are somewhere special. There's a patio to enjoy on those sunny days and your dog is welcome to come along as this is one of the most dog friendly pubs in Beverley too.
Grab a pint, one of their pies or sausage rolls and then relax and take in your surroundings. This is a fairly quiet pub that's perfect to soak up some history.
Address: 22 Hengate, Beverley, HU17 8BN
5. Dog & Duck
If you love a traditional looking pub then the Dog & Duck could be the place for you. From the bar to the seating to the fireplace, this pub in Beverley has tradition running throughout.
There are three distinct areas to enjoy, and both the bar and the lounge have a fireplace. There is also a snug to the rear.
And if you're looking for some food then expect great value for your money. They have some hearty affordable pub classics – but they do only serve them at lunch time.
As for drinks, there will often be four ales available. Those tend to include Black Sheep Best Bitter, John Smith's Bitter and Timothy Taylor Landlord. Dogs are welcome at all times too, and sport will be shown on the TV. A great pub to spend a few hours!
Address: 33 Ladygate, Beverley, HU17 8BH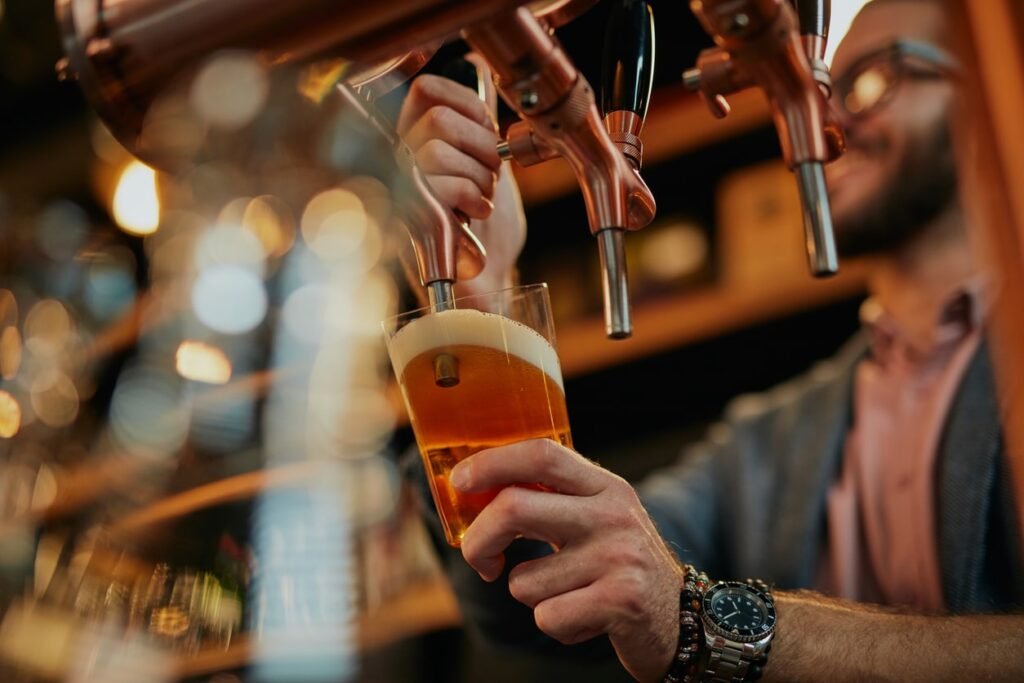 6. King's Head
If it's date night, then the King's Head is bound to impress. Not only is the building rather grand but the modern interior will have you whipping your camera out to take pictures of the whole experience. Expect great food in a beautiful setting.
There is a main bar which is complimented by a smaller drinking area and comfortable seating throughout. Choose a bottle of wine from the nicely curated wine list and then have a look through the menu which has a selection of gastropub classics, British fare, and some international dishes too.
For starters, the Scallops are a great choice, as is the Buttermilk Chicken. There are plenty of wonderfully presented mains to choose from too, and you can't go wrong with the Glazed Pulled Beef Burger or Ale Battered Fish & Chips. Of course there are some vegan and vegetarian options too, so there's something for everyone.
As for dessert, the Dark Chocolate Brownie, warm Sticky Toffee Pudding and Baked Alaska are all popular choices.
If wine isn't for you, then there's ale and cocktails available too, along with all the other drink options you'd expect at one of the best pubs in Beverley.
Address: 38 Saturday Market, Beverley, HU17 9AH
7. The Angel
Located between Saturday and Wednesday Market, The Angel is a very popular pub for those shopping who want to grab some lunch and rest their legs.
On a sunny day take advantage of the enclosed beer garden, or go inside where there's plenty of seating in both the large bar area and a smaller room that's also used for dining.
If you're looking to get fuelled up then food is usually only served for lunch and that includes Sunday lunch which we highly recommended – this is one of the best pubs in Beverley for a Sunday roast! But throughout the week you can't go wrong with their Fish & Chips either.
There's even a couple of ales to choose from along with all the usual suspects you'd expect to find behind a traditional bar. There are a few pub games to play too, and you can bring your dog along to enjoy the beer garden.
Address: 15 Butcher Row, Beverley, HU17 0AA
8. Chequers Micropub
Micropubs are always small and cosy, but Chequers may be the cosiest we have found on our travels!
Despite the small size there's actually two levels to this place and even an outdoor area to enjoy your beer in the summer sun.
Open every day of the week, this warm atmospheric pub in Beverley always provide an interesting range of ales and cider. And one thing we love about this micropub – and which sets them apart from other micropubs – is there appears less focus on craft beer and more focus on real ale!
When you visit you can try ale from the likes of Brass Castle, Atom, Great Newsome and North Riding breweries to name just a few. You are welcome to bring your dog along as well, and they've even got some board games to play which are always good fun with friends!
Address: 15 Swaby's Yard, Dyer Lane, Beverley, HU17 9BZ
9. The Grapes
Another great venue in Beverley to watch sport is The Grapes. This friendly pub has the atmosphere to match and lots of good drink options.
Whether you're watching a game or not, who can say no to a Burger and Chips to go along with a refreshing pint? We can't and luckily this place has great burgers that are affordable and come in good portion sizes.
If you're after an ale there will usually be Timothy Taylor Landlord and Wychwood Hobgoblin Gold on tap too.
With DJs playing during the weekend and a great cocktail menu, this pub is a fantastic all rounder. They have a nice outside space perfect for drinking and people watching too.
Address: 26-27 Saturday Market, Beverley, HU17 8BB
10. Monks Walk
A traditional pub with plenty of history, the Monks Walk has a smaller front bar great for a few drinks and a larger main room that leads into a dining area.
Food wasn't being regularly served here at the time of writing, however we do know they do pizza days now and then – those are advertised on their Facebook page in advance.
On a sunny day feel free to bring your dog along to enjoy their 'secret' beer garden, and with good disabled access at this pub everyone is able to enjoy this family friendly place.
This pub has a focus on ale and there are usually five available, with always a pale, dark and something a little stronger on tap. There's a great selection of spirits available too, some of which aren't household names, so that gives you a chance to try something new. On top of that there's a good selection of real cider here too.
There's a pub quiz on a Tuesday here as well. If you end up going and should it come up…. the town of Beverley actually inspired the naming of Beverly, Massachusetts which in turn inspired the name for Beverly Hills!
Address: 19 Highgate, Beverley, HU17 0DN