Wandering our World is reader supported! If you purchase anything through a link on our site, we may earn a commission at no extra cost to you.
Last updated on March 5, 2023 by Wandering our World
When it comes to dream getaways and honeymoon vacations, Bermuda and Jamaica should be two destinations top of your bucket list. Both of these friendly island paradises can offer amazing experiences, especially if you're looking for sun, sea, and sand.
However these island nations are actually very different from each other….
For example Bermuda has arguably better beaches than Jamaica, and as a smaller island it's easy to reach all the main tourist hotspots.
However Jamaica – with its lush forest and mountains – is more suited to holidaymakers who want a vacation that also involves activities away from the beach, such as hiking or culture-based excursions.
And that's just the beginning when it comes to how different these two Caribbean islands really are.
Luckily after visiting both, we compare them below and show you exactly what each has to offer!
We look at which has the better beaches, nightlife, what activities you can do in each, how the vibe compares and more. All so you can make the right vacation decision!
CONTENTS:
A Quick Overview & Comparison
How Do The Beaches & Landscape Compare?
Which Has The Better Culture?
Where To Stay According To Your Budget
How Does The Cuisine Compare?
Which Is The Better Choice?
Bermuda vs Jamaica: A Quick Overview & Comparison
Both islands have stunning coastlines and those picture-perfect white-sand beaches you expect from a dream holiday.
Jamaica is huge compared to Bermuda though, boasting 635 miles of coastline in contrast to Bermuda's 64 miles.
Both have stunning beaches and great turquoise swimming waters too, but Bermuda is probably the better choice if beaches are your main criteria. Bermuda has some of the best in the region, and even has incredible pink sand beaches!
However, Jamaica is a tropical island that also has a lush green mountainous interior, in comparison to Bermuda which is much drier and flatter.
That makes Jamaica a better holiday destination for tourists who wish to do more outside than just sunbathe and swim – such as hiking, swimming in waterfalls, and culture-based activities. In fact Jamaica's highest peak is 2256 meters – Bermuda's is just 79!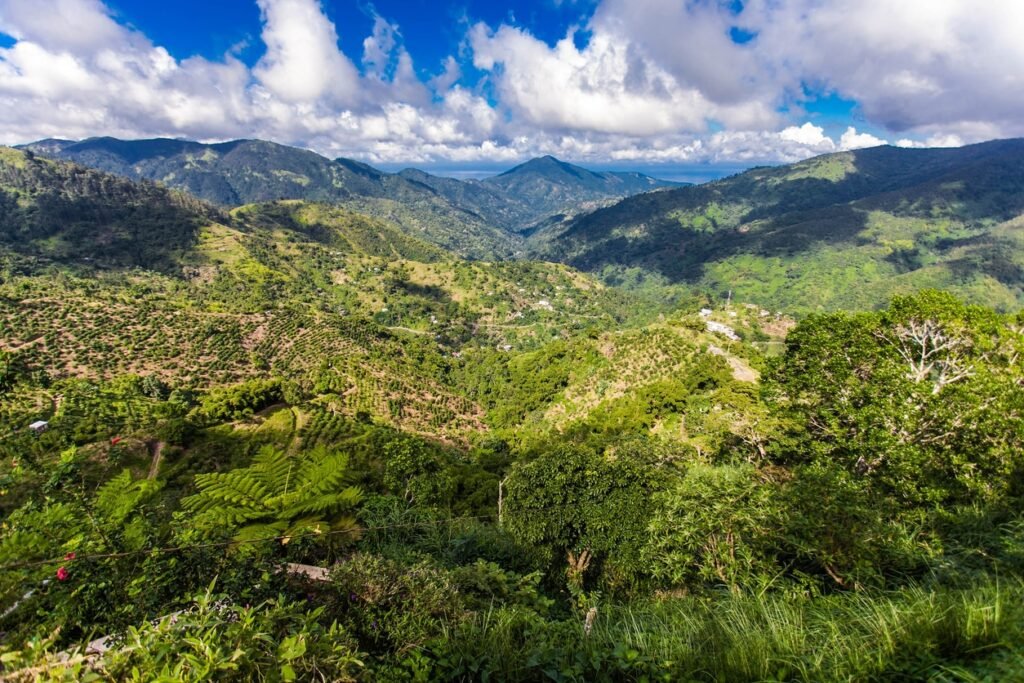 Expect beach weather year-round in Jamaica as well. The temperature in Bermuda is great as well, but mid-December to March can be relatively cool. So that may be worth factoring into your decision too if you're looking to travel during those months.
When deciding between Bermuda vs Jamaica, expenses are very important to consider as well.
The reality is the large local population in Jamaica means there are many different accommodation and food options in the country, and so it can cater to tourists on a range of budgets. Bermuda, in contrast, tends to be quite expensive, more upscale, and has far fewer options for budget travelers.
However there's no doubt that Bermuda is a safer island in terms of crime. Although crime in Jamaica tends to happen in the big cities and away from tourist areas.
Below we look in more detail at what both islands have to offer potential tourists, before showing how each is different culturally, and what to expect. Spoiler alert – they're very different!
How Do The Beaches & Landscape Compare?
Bermuda: The Beaches & Landscape
Smaller Bermuda is perfect for sun, sea, and sand, but it can be easily explored within a week. That makes it perfect for a short holiday, whereas Jamaica may be suited to a longer one.
This little British island territory has some stunning stretches of coastline, with white, golden, and even pink sand beaches!
Bermuda's longest beach, Warwick Long Bay, is a great place to dip your toes for a romantic walk along the shore.
One of our favorite beaches is West Whale Bay, which has unbelievable turquoise-clear water. As the name suggests, you can also spot migrating humpback whales here during April.
For a more secluded and private beach, head to Clarence Cove, which also has safe calm swimming water. However if you want a snorkeling spot, we would recommend Church Bay.
The reef lies very close to the shoreline at Church Bay, so you can rent snorkeling equipment from the refreshment stands nearby and swim out to the colorful sea-life.
For such a small nation, Bermuda packs a punch in terms of natural attractions too.
When you need a break from sunbathing and swimming, then make your way to Walsingham Nature Reserve. There you can explore the magnificent Crystal Caves that are 120 foot below the ground – one of dozens of caves on the island.
For a dip, you can go to the natural swimming lakes situated throughout the mangroves in Blue Hole Park. There are several walking trails to enjoy that take you to and from these swimming spots. The hiking options are not as good as Jamaica perhaps, but having the option is still great.
Jamaica: The Beaches & Landscapee
Jamaica has it all when it comes to a tropical island paradise, but what most tourists want are spectacular beaches!
However the popular beaches in Jamaica can get busy, and tourists often get harassed by people trying to hawk goods. That's less of a problem in Bermuda.
One of the best beaches on the island is Seven Mile Beach at the town of Negril.
Negril is a popular spot, and its long stretch of gorgeous white sand is your stereotypical Caribbean paradise. Expect clear blue water, great snorkeling, and one of the best sunsets in the region.
For another beautiful beach with calm swimming water, head to Bloody Bay. The turquoise-hued water is a great place to swim, snorkel, paddle board and more.
In fact beautiful beaches like this are one of the reasons Jamaica made our list of the best Caribbean islands for couples!
There are many great snorkeling spots throughout Jamaica's coastline, but one of our favorites is Montego Bay. Head there to swim beside colorful reef fish and sting rays. A great underwater camera – such as this one – is a must.
As one of the Caribbean's largest islands, the diverse geography in Jamaica is one of the reasons to visit.
The iconic Blue Mountains are stunning, and the gorgeous 14 mile Blue Mountain Peak Trail takes you through jungle waterfalls, coffee plantations and more as you make your way up Jamaica's highest peak.
For panoramic views of the island head to Holywell National Park in the Blue Mountains. There you can hike up through the jungle. Our top tip is to rent a tent and camp for a night or two. The stars up there, and the sunrise in the morning, are unrivaled.
Which Has The Better Culture?
Both islands have colorful cultures, but as a bigger nation with a varied population, Jamaica has a lot more to offer in terms of cultural experiences and excursions.
Bermuda is more of a family friendly destination with a quiet nightlife. Whilst Jamaica tends to attract a younger crowd and has a lively nightlife.
Below we show you some of the cultural highlights in each island, so you can work out which may suit your vacation preferences the most.
Bermuda: The Culture
As an overseas territory of the UK, expect British influences. However American culture, as well as African influences, have all left their mark on this fascinating little island.
The capital of Bermuda – Hamilton – with its multi-colored houses is a great place to learn more about this mash up between British colonial history and African heritage.
Bermuda National Gallery and the The Museum of the Bermuda Historical Society are both worth visiting if the island's history and culture is of interest.
If you're on vacation in Bermuda for a week or more, and are exploring the island's towns as well as beaches, then expect to come across Gombey!
These colorful Bermudan dance troupes perform on the streets and at festivals throughout the year to rhythmic drumming in a tradition that dates back to the 1800s.
Jamaica: The Culture
Jamaica's culture is colorful and vibrant, and the country is a wonderful melting pot of different religions and beliefs.
One of those is the Rastafarianism movement which was borne out of Jamaica in the 1930s. For visitors to the island, the Rastafari Indigenous Village near Montego Bay is an opportunity to connect first-hand with people practicing the religion, while also learning how to make traditional drums and cuisine.
Probably Rastafarianism's most famous member was Bob Marley, and no visit to Jamaica is complete without visiting the Bob Marley Museum in Jamaica's capital, Kingston.
For the best nightlife on the island head to Montego Bay – named MoBay by locals. This party town is a place where you can enjoy a cocktail on the beach, or dance to reggae until the early hours of the morning.
Where To Stay According To Your Budget
Bermuda
Budget: Bermuda Connections is a set of fantastically priced vacation apartments with sea views located in Pompano Beach. They're well worth considering if heading to Bermuda on a budget, although the apartments tend to get booked up months in advance. See photos and rates!
Luxury: With four private beaches and surrounded by turquoise waters on two sides, it's hard to beat he five-star Cambridge Beaches Resort and Spa when it comes to luxury. With a tennis court, putting great, two pools, a watersports center and more, it's hard to get bored when staying here too. See photos and rates!
Jamaica
Budget: Set on 400 acres, the excellent Half Moon all-inclusive resort in Montego Bay has three kilometers of private white-sand beach and features three restaurants and five bars!
The active-minded can enjoy the basketball, volleyball, squash, and tennis courts, and there's an 18-hole golf course and spa. It's one of those resorts we all want to stay in at least once in our lifetime. See photos and rates here!
Luxury: The stunning GoldenEye resort features private beaches, hidden coves, and a saltwater lagoon. GoldenEye was actually author Ian Fleming's Jamaican retreat, with all 14 James Bond novels being written here.
The property features three outdoor pools and a full spa. Guests can choose from a range of villas, beach huts, and cottages, including beachfront and lagoon-front properties. See photos and rates here!
A Taste Of Island Life: How Does The Cuisine Compare?
Both Bermuda and Jamaica will provide a treat for your taste buds, with cuisine focused around seafood.
Bermuda: The Food
Bermudan cuisine is a real mash of English and Caribbean influences, and subsequently favorite dishes here include salted codfish and potatoes (a common breakfast), fish chowder, and fish and chips!
Seafood is therefore a big deal in Bermuda, and locally caught rockfish and wahoo are almost always on the menu around the island.
For desert, bananas are king. Banana crumble and Bermuda Banana cakes are well worth trying.
To wash it all down, rum – like most tropical islands – is the drink of choice! Try the Dark 'n Stormy cocktail, a blend of rum with ginger beer.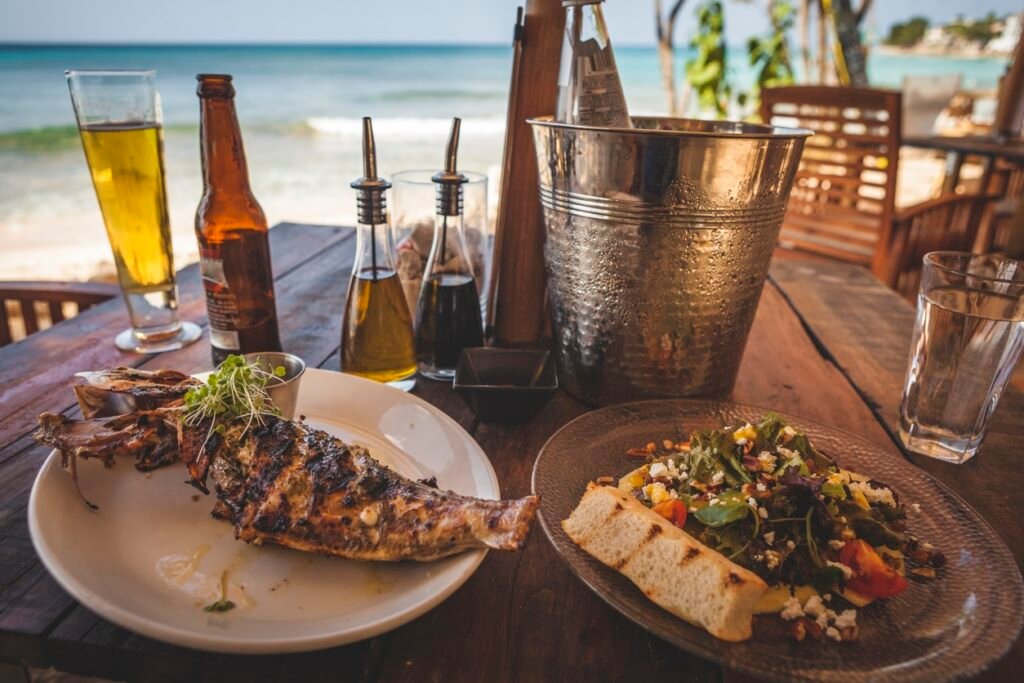 Jamaica: The Food
Jamaica's national food, ackee and saltfish, combines the national fruit of Jamaica (ackee) with salted cod. It's a popular dish that famous Jamaican sprinter Usain Bolt has said he often eats for breakfast!
Another iconic Jamaican dish worth trying is jerk chicken or pork.
This type of cooking is native to Jamaica and the spicy cooking style may have been invented by slaves who escaped into Jamaica's wilderness and invented it as they cooked over wood fires.
For something sweet, try Grater cake – a delicious cake made from grated coconut!
As for what to drink, Jamaica's very-own Red Stripe lager is popular on the island (and around the world). Rum cocktails are also made up and down the island with a variety of fresh fruit.
Bermuda vs Jamaica: Which Is The Better Choice?
Both Bermuda and Jamaica are great places to visit for a beach-orientated vacation, with each island home to beautiful white sandy stretches of coastline, and some stunning snorkeling spots. Bermuda has arguably better beaches though.
However Jamaica – with its lush forest and mountains – is more suited to holidaymakers who want a vacation that also involves activities away from the beach, such as hiking or culture-based excursions. Jamaica is a much cheaper option than Bermuda too.
Being much smaller, Bermuda is probably better suited to tourists who want a beach vacation with all the sights and tourist hot-spots in close reach.
Recommended For Your Trip To Bermuda Or Jamaica