Wandering our World is reader supported! If you purchase anything through a link on our site, we may earn a commission at no extra cost to you.
Last updated on March 22, 2023 by Wandering our World
When it comes to dream getaways, Barbados and St Lucia are two destinations at the top of most people's lists. Both of these Caribbean neighbors can offer amazing experiences. Especially if you're looking for sun, sea, sand, adventure and a different culture.
However these islands, despite their similar size, are actually very different….
For example, if your priority is beaches, then Barbados will likely be a better choice than St Lucia. There's many fantastic beaches in Barbados, but the one downside is they can get quite crowded.
But if you're looking for a holiday which encompasses adventure alongside sun, sea, and sand, then St Lucia's the better choice. After all, the island's lush scenery and wild landscape makes it perfect for hiking, watersports and more. 
However that's just scratching the surface when it comes to how different Barbados and St Lucia really are…
Luckily after visiting both, we compare them below and show you exactly what each has to offer.
We show you which one is the better beach destination, which is better for activities and lots more. We also give you an insight into the culture and food to expect in each island too.
CONTENTS:
A Quick Overview & Comparison
Which Has The Better Beaches & Natural Landscape?
Which Has The Better Culture & Cultural Excursions?
Where To Stay According To Your Budget
Which Has The Better Food?
Which is the Better Choice?
A Quick Overview & Comparison
For tourists looking to sunbathe and swim, both Barbados and St Lucia offer fantastic turquoise swimming waters.
Both are quite similar sized too, with Barbados possessing 60 miles of coastline, compared to St Lucia's 98!
When it comes to beaches, both islands have great choices. But one island is definitely better than the other when it comes to a beach vacation….
As a coral island, Barbados has countless iconic white sand beaches – making it the picture-perfect image of the Caribbean.
St Lucia's beaches aren't as soft and the water isn't as warm. So if breathtaking beaches are one of the main factors when deciding between Barbados or St Lucia, then Barbados will be the better choice.
The scenery in both countries is very different as well.
Barbados is mostly flat and there's little forest and greenery inland. St Lucia, on the other hand, is a volcanic island with a lush mountainous inland and 19,000 acres of rainforest.
That opens up many opportunities for walking, jungle trekking and exploring. So if you're looking for more than sun, sea, and sand, then St Lucia could be just for you.
That mountainous terrain does make St Lucia a more difficult island to get around though. And while hiring a car is easy to do, some of the winding roads are tricky.
In comparison the infrastructure in Barbados is some of the best in the Caribbean, and it's a very easy island to get around.
That means you can get from beach to beach, town to town, in Barbados a lot easier than in St Lucia.
Buses are cheap and easy to get between resorts in Barbados as well, which is another big plus point. You can also walk around Barbados easily, which is not really possible in St Lucia.
However when it comes to accommodation, St Lucia tends to be a more affordable choice too, than more tourist-orientated Barbados.
Below we look at some of the natural sights and spots you will encounter in each island, before comparing what to expect culturally in both too.
Which Has The Better Beaches & Natural Landscape?
Barbados: The Beaches & Landscape
Barbados is perfect for sun, sea, and sand, but with beaches the main aspect of this island, it can be easily explored in a week or two.
That makes Barbados perfect for a short holiday, whereas St Lucia – with its mountains, rainforests, and coastline – may be suited to a longer vacation.
If visiting Barbados, your way to Oistins and Miami Beach for great swimming waters and one of the best sunsets in the Caribbean.
Beaches in Barbados can get busy with tourists though, and sometimes it's harder to find a secluded beach on this island than it is in St Lucia.
You can find turquoise water and perfect beaches up and down Barbados.
One of our favorites is Bottom Bay. It's not a great swimming spot, but it's secluded, romantic, and with swaying palm trees there's a real deserted island feel to it. Beautiful beaches like this are one of the reasons Barbados made our list of the best Caribbean islands for couples!
Barbados' teeming sea-life can also be viewed when swimming and snorkeling. Bell Buoy Reef, near Accra Beach is the perfect place to spot angel fish and parrot fish. A great underwater camera – such as this one – is a must.
Carlise Bay Marine Park is worth visiting too. There you can dive among numerous ship wrecks that have been taken over by colorful fish, nurse sharks, and manta rays! Some of the best reefs to explore in Barbados can be found in this.
St Lucia: The Beaches & Landscape
Although St Lucia has some excellent beaches, this Caribbean paradise is a place to enjoy all aspects of nature. It's rugged, lush, and dramatic, and is perfect for the sun-seeker who wants some adventure too.
It's an island that feels more cut off from the rest of the world than Barbados too. That's mainly due to its winding roads, quaint villages, and less-tourist orientated vibe.
For beaches, head to Rodney Bay where you can find Reduit Beach. This is one of the longest strips of sand on the whole of St Lucia. The golden sand, set against lush green hilly vegetation and the Caribbean Sea, makes it a perfect spot to relax.
But if you're looking for white sand, then Anse des Pitons is the place to go.
St Lucia is also home to incredible coral reefs which are teeming with life.
For one of the best snorkeling spots in the Caribbean, head to Anse Chastanet. Not only is the snorkeling world class here, the backdrop of mountains against the beach is spectacular. This dive map shows the best spots on the island.
Indeed St Lucia is arguably a better snorkeling and watersports destination than Barbados. Which once again, makes this island perfect for someone looking for activities and adventure.
But the real beauty of St Lucia lies away from the coastline. In particular, the phenomenal Pitons – a volcanic mountain range – which rise up against the backdrop of blue near the town of Soufrière.
This majestic World Heritage Site is a great place for hiking and jungle treks – many of which lead to waterfalls. There's also a cable car that provides a view of the jungle from the canopy top. It's very special.
The Pitons have more to offer than just hiking – they're home to the world's only 'drive-in volcano'!
There you can drive to Soufriere Volcano and experience the sights and smells of this dormant monster. Don't forget to take a dip in the mud baths on the slopes before you leave.
Bathing in volcanic mud baths, hiking in rainforest, wildlife spotting and chasing waves with water sports – St Lucia is far more than just a beach destination, it's a real outdoor lover's paradise.
Which Has The Better Culture & Cultural Excursions?
Along with the natural scenery on offer, both Barbados and St Lucia have a wealth of attractions and cultural experiences worth checking out.
While both have a laid-back feel to them, St Lucia feels a little less touristy than Barbados, and has more of a Caribbean vibe to it.
But when it comes to historical buildings and architecture, both Barbados and St Lucia have something to offer.
Below we show you the cultural highlights in each island, so you can see which one suits your vacation preferences the best!
Barbados: The Culture
With a mix of West African and British influences, Barbados is a fascinating country with a rich blend of Caribbean traditions and a culture that emerged out of plantation slavery economy.
Historic Bridgetown is where you should head if you want to learn about the colonial past in Barbados.
A walking tour will introduce you to the country's tumultuous past, and the colonial relics and architecture that still stand today. You can also tour St Nicholas Abbey, a Jacobean plantation house.
As with many countries that were colonized by the British, cricket quickly became the national sport and a way to beat the occupiers on the playing field! Take a trip to Kensington Oval Barbados to watch a game.
Barbados also has one of the oldest horse race tracks in the world, the Garrison Savannah. Situated just outside of Bridgetown, locals and tourists mix on race day as excitement builds. In fact a visit there is on our list of the best things to do in Barbados!
St Lucia: The Culture
St Lucia is a melting pot of cultures, most heavily influenced by African, French and English traditions. The colorful homes here are indicative of the vibrant Kreole culture that has emerged from that mix.
As a country that was fought over for years by colonial powers, St Lucia is home to countless relics. In the north-west, Pigeon Island National Park has to be visited. It's home to many colonial relics left over from when the French and British battled it out for St Lucia.
Staying in the colonial period, head to Diamond Falls Botanical Gardens in Soufrière. Tropical plants and gorgeous colors are everywhere in this garden that's set on an estate from the 18th century.
For something more local, modern, and lively, then you must join in the Gros Islet Jump Up. This street party is full of food, good conversation, and dancing to Caribbean music that's blasted over speakers. It happens every Friday night.
Where To Stay According To Your Budget
Barbados
Budget: With gorgeous sea views from your room's balcony, and a wonderful outdoor pool for relaxing in, the three-star OceanBlue Resort is a fantastic budget option for those who want to have some luxury but without damaging their bank balance. See photos and rates!
Luxury: It's hard to find somewhere more relaxing than the five-star St Peter's Bay Luxury Resort. Their gorgeous villas and penthouse apartments have uninterrupted sea views, hot tubs and direct beach access.
Couple that with the stunning outdoor pool and world-class service and you've got a holiday you'll never forget. See photos and rates!
St Lucia
Budget: Tet Rouge Resort is an adults-only resort that offers a romantic getaway with stunning views of the Caribbean Sea, an infinity pool, and a covered patio with bar – but at a budget most can afford!
The world-famous Pitons, stunning beaches, waterfalls, botanical gardens, and cocoa plantations are all just a few of the tourist hotspots nearby. See photos and rates here.
Luxury: When you arrive at the Cap Maison Resort & Spa, you'll know that you've arrived somewhere special.
This five-star luxury resort was meticulously built and combines exquisite attention to detail with highly personalized service. It is beautifully situated above a secluded sandy beach with gorgeous views and even has luxury private villa suite with rooftop pools. See more photos and rates here.
Which Has The Better Food?
Both countries will provide a treat for your taste buds, with cuisine focused around seafood.
Barbados: The Food
Unsurprisingly, fish features heavily in Barbadian cuisine, and fried flying fish is one of the national dishes of Barbados!
However with such a mix of cultures here, you will find food is influenced by West African, British, and even Indian tastes.
In fact popular dishes include chicken curry, barbecued pig tails and even macaroni pies!
Just like many Caribbean islands, rum is the drink of choice in Barbados. Luckily for visitors, they make great rum too! Get yourself along to Mount Gay Rum Distillery for a tour and some free tasters.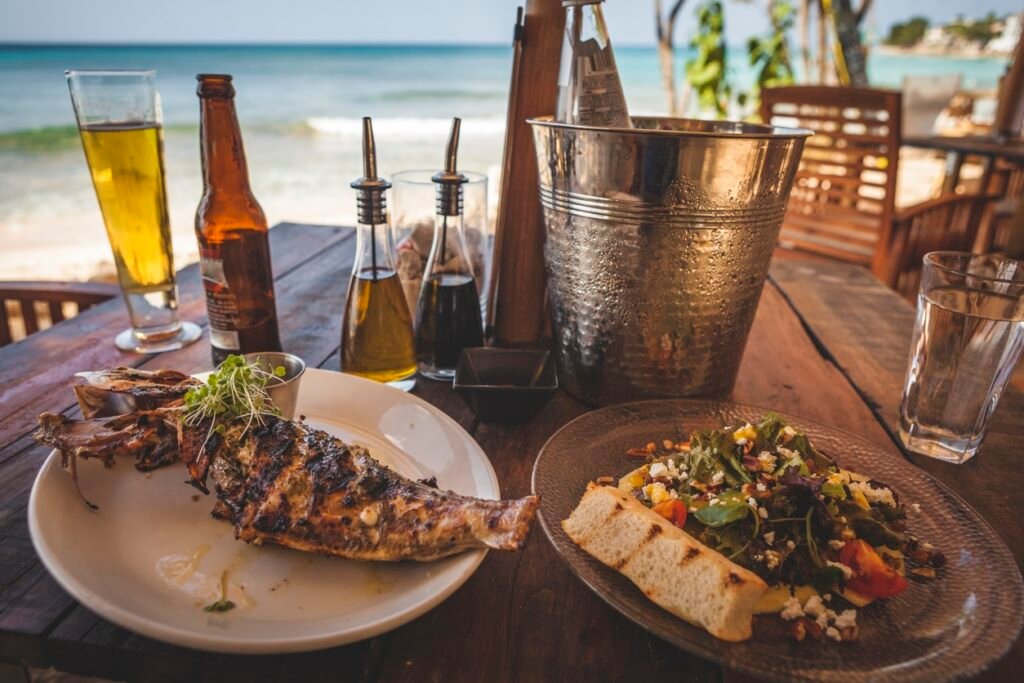 St Lucia: The Food
Seafood is a big part of St Lucian cuisine, but in particular shellfish and lobster are favorites.
When visiting St Lucia, eating freshly caught lobster and lambi (conch) is a must. It's going to taste great whether from a restaurant or a street vendor.
For a traditional appetizer or side, then baked plantain is the way to go. This is St Lucia's version of French Fries.
For a very local experience, the quaint fishing village of Anse La Raye is for you. Every Friday night this tiny village hosts the 'Fish Fry' where street vendors sell grilled and fried fish, lobsters, and much more. All with drinks flowing and music playing!
Barbados or St Lucia? Which is the Better Choice?
Both are great choices, and if you have the time and money, each is worth visiting.
However if the priority is beaches, then Barbados is a better choice than St Lucia. The infrastructure is also well developed, but the popular beaches can get crowded with tourists. Barbados also tends to be more expensive than St Lucia.
If you're looking for a holiday which encompasses adventure alongside sun, sea, and sand, then St Lucia's the better choice.
St Lucia's lush scenery and wild landscape makes it perfect for hiking, watersports and more. It feels less touristy than Barbados, but St Lucia can can be more difficult to move around too.
Recommended For Your Trip To Barbados Or St Lucia