Wandering our World is reader supported! If you purchase anything through a link on our site, we may earn a commission at no extra cost to you.
Last updated on March 26, 2023 by Wandering our World
When it comes to dream getaways, Hawaii and Barbados are two destinations that are at the top of most people's bucket list.
After all, both of these tropical paradises can offer unique experiences. However they are very different destinations…
For example, Barbados has the better beaches for sunbathing and swimming. So if you're seeking more time on the beach with a cocktail in your hand, then Barbados will probably be the better choice.
But if you want an active holiday, and have more than a week to spare, then Hawaii will provide a better holiday than Barbados. A Hawaii vacation can be packed full of culture and adventure, hiking and surfing, as well as great beaches and snorkeling spots.
However that's just the beginning when it comes to how different these two destinations are…
Luckily as we know both Hawaii and Barbados well, we compare them below and show you exactly what each different.
By the end we're sure you will know which is perfect for you. Let's get started!
CONTENTS:
Which Has The Better Beaches & Landscape?
Which Has The Better Culture & Cultural Activities?
Where To Stay According To Your Budget
Which Has Better Food?
Which Is The Better Choice?
Which Has The Better Beaches & Landscape?
Both Hawaii and Barbados offer some of the world's best scenery, but in very different ways.
However as we show you below, if sunbathing and relaxing on beaches is your main priority then Barbados would be a better vacation choice than Hawaii – although for surfers you can't beat Hawaii.
But if you want adventure away from the beach and coastline, then Hawaii will suit you better. Hawaii is a hikers' paradise, and is home to dramatic active volcanoes as well as bustling cities.
Let's go into more detail:
Hawaii: The Beaches & Landscape
Hawaii is an outdoor lovers paradise, and its landscape is dramatic and arguably much more photogenic than the landscape in Barbados.
While Hawaii has gorgeous golden beaches, its mountainous jungle-covered interior has to be explored and is the real jewel in its crown. Barbados, on the other hand, is much flatter and its beaches and Caribbean vibe are the gem in its crown.
That arguably makes Barbados much more suited to those looking for sun, sea, sand, and relaxation. And Hawaii more suited for tourists looking for sun, sea, sand and adventure!
For travelers leaning towards a Hawaiian holiday, there's still many great beaches where you can enjoy that famous laid-back surfer vibe.
Some of our favorites include the less well-known Waimea Bay Beach on Oahu, and the stunning Hanalei Bay on Kauai. For great snorkeling and the chance to see turtles, then visit Hanauma Bay on Oahu. A great underwater camera – such as this one – is a must.
For a more fun-fueled beach adventure, pick up a cocktail at the famous Waikiki Beach and get chatting to locals or try out the world famous surf.
In fact if you want to surf, Hawaii will be a much better choice than Barbados.
And if you're feeling really energetic, a hike up Hawaii's Diamond Head – which looms over Waikiki – will give you spectacular panoramic views of Honolulu and Oahu.
We think hiking is one of the best parts about Hawaii and some of the trails in the state are world-class. And considering the Hawaiian island of Kauai was the backdrop for Jurassic Park, you can expect great hiking trails there that will take you back in time.
The tropical forests on the 'Garden Isle' of Kauai are stunning too, and they make their way up the mountainsides towards sharp dramatic peaks. It's spectacular scenery – and far more dramatic and beautiful than Barbados.
The reefs on Kauai are also world renowned among divers, and offer fantastic scuba and snorkeling opportunities.
On top of that, a visit to the Big Island will give you an opportunity to visit the incredible Volcanoes National Park where you can stare into volcano craters or watch active lava flows.
It's this diverse range of landscapes which makes Hawaii a superb destination for travelers looking for adventure and activities. In Hawaii you can jungle trek in the morning, snorkel in the afternoon, and be partying at night. It really does have everything.
So if you're someone who wants to spend more time on activities – or being active – than sunning yourself on the beach or in a resort, Hawaii will likely be the best choice for you. Hawaii is also full of cultural activities – as we'll explain more on later.
Barbados: The Beaches & Landscape
For tourists looking to walk less, and sunbathe more, Barbados and its breathtaking beaches is the natural choice.
There is often more of a tourist vibe here though, and it's not uncommon to get a little harassed at times by street sellers trying to hawk their goods to sun-seekers on Barbados' most popular beaches.
However Barbados does offer that picture-perfect Caribbean beach holiday many people are looking for, with upmarket hotels, and beach-side bars set on stunning coasts.
However whilst there's a range of accommodation here, it is often more expensive than what you will find in Hawaii – after all it's a smaller destination.
As for those picture perfect beaches, make your way to Oistins and Miami Beach for great swimming and one of the best sunsets in the Caribbean.
You can find turquoise water and golden sandy beaches up and down Barbados, but one of our favorites is Bottom Bay. It's not a great swimming spot, but it's secluded, romantic, and with swaying palm trees has a real deserted island feel to it.
Beautiful beaches like this are one of the reasons Barbados made our list of the best Caribbean islands for couples! They're arguably why Barbados may be a better honeymoon destination too.
Barbados has teeming sea-life too, and it can also be enjoyed when swimming and snorkeling. Bell Buoy reef, near Accra Beach is the perfect place to spot angel fish and parrot fish.
While at Carlise Bay Marine Park you can dive among numerous ship wrecks that have been taken over by colorful fish, nurse sharks, and manta rays! Some of the best reefs to explore in Barbados can be found in this.
All in all, if warm water, white sand beaches, and laid-back beach days are what you're looking for on vacation, then Barbados will likely suit you more than Hawaii.
Which Has The Better Culture & Cultural Activities?
Along with the natural scenery on offer, both Hawaii and Barbados have a wealth of attractions and cultural experiences worth checking out.
Although for a culture-packed holiday, Hawaii – as we'll show you below – likely beats Barbados in that department.
However exploring and experiencing the much larger Hawaii can take time and suits at least a two-week holiday.
Whereas smaller Barbados, can be seen, explored and enjoyed within a week. Although staying longer is a good idea too!
Below we look at the cultural highlights in each destination, so you can make up your own mind.
Hawaii: The Culture
Hawaiian culture – aloha wear, the lei, hula, and luau for example – is almost better known than Hawaii's gorgeous sunsets and swimming waters.
So getting a taste of the real Hawaiian experience is a must if visiting here. This state is culture rich – arguably more so than Barbados – and you'll never be short of cultural excursions if visiting.
The iconic luau – a traditional Hawaiian feast with entertainment – should be the first thing on your list.
We recommend the Smith Family Garden Luau in Kauai due to the delicious traditional food on offer, and the colorful entertainment and dances. But almost everywhere on Hawaii you can find a spectacular luau experience.
With your interest piqued in Hawaiian culture after taking part in a luau, head to the Polynesian Cultural Centre in Oahu. There you'll learn more about the Polynesian people and culture.
Hawaii is also home to one of the most notorious war crimes in history – the WW2 attack on Pearl Harbor. For military history buffs, the Pearl Harbor Aviation Museum is therefore a must visit.
Recommended: How To Accept A Hawaiian Lei & More Etiquette You Need To Know
Barbados: The Culture
With a mix of West African and British influences, Barbados is a fascinating country with a blend of Caribbean traditions. And it's a place where the culture has emerged out of plantation slavery economy.
Historic Bridgetown is where you should head if you want to learn about the colonial past in Barbados. A walking tour will introduce you to the country's tumultuous past, and the colonial relics and architecture that still stand today. You can also tour St Nicholas Abbey, a Jacobean plantation house.
As with many countries that were colonized by the British, cricket quickly became the national sport and a way to beat the occupiers on the playing field! Take a trip to Kensington Oval Barbados to watch a game.
Barbados also has one of the oldest horse race tracks in the world, the Garrison Savannah. Situated just outside of Bridgetown, locals and tourists mix on race day as excitement builds. In fact a visit here is on our list of the best things to do in Barbados!
Where To Stay According To Your Budget
Barbados
Budget: With gorgeous sea views from your room's balcony, and a wonderful outdoor pool for relaxing in, the three-star OceanBlue Resort is a fantastic budget option for those who want to have some luxury but without damaging their bank balance. See photos and rates!
Luxury: It's hard to find somewhere more relaxing than the five-star St Peter's Bay Luxury Resort. Their gorgeous villas and penthouse apartments have uninterrupted sea views, hot tubs and direct beach access.
Couple that with the stunning outdoor pool and world-class service and you've got a holiday you'll never forget. See photos and rates!
Hawaii
Shoestring: Just one minute from the beach and with free bike rental, Hakuna Matata Hostel on Maui is fun, cheap and friendly. You'll be making memories in no time here, and without damaging your bank account.
Luxury: Montage Kapalua Bay on Maui is one of those hotels we all wish to stay in one day. It's extravagant beachfront luxury on a 24-acre landscaped resort with unparalleled views to the sea and beach access. It's everything you'd expect of a five-star resort and more.
Which Has Better Food?
Both destinations will provide a treat for your taste-buds, but with a very different focus.
Hawaii: The Food
Hawaiian food is truly unique, combining Polynesian, European, Japanese and American tastes. If you're a foodie, Hawaii has to be on your bucket list.
A must try – and what you will almost certainly have at any luau – is Kālua pork. This is the star of the show and is a whole pig that's slow cooked for hours. The meat is then pulled apart ready to be eaten. It's absolutely delicious.
For something that has more of an American feel, try loco moco – a burger steak, fried eggs and gravy. It's a fantastic way to stop those hunger pangs after a full day swimming or hiking.
Shaved ice is also common in Hawaii and very popular with locals. It's understandably perfect to help cool you down on a hot day. This tasty treat is flavored with different syrups, and is sometimes served with ice cream too!
Barbados: The Food
As you'd expect from a Caribbean nation, fish features heavily in Barbadian cuisine, and fried flying fish is one of the national dishes of Barbados!
However the food on the island is influenced by West African, British, and even Indian tastes, creating a rich cuisine culture.
Subsequently popular dishes include chicken curry, barbecued pig tails and even Macaroni pies!
Just like many Caribbean islands, rum is the drink of choice in Barbados. Luckily for visitors, they make great rum too! Get yourself along to Mount Gay Rum Distillery for a tour and some free tasters.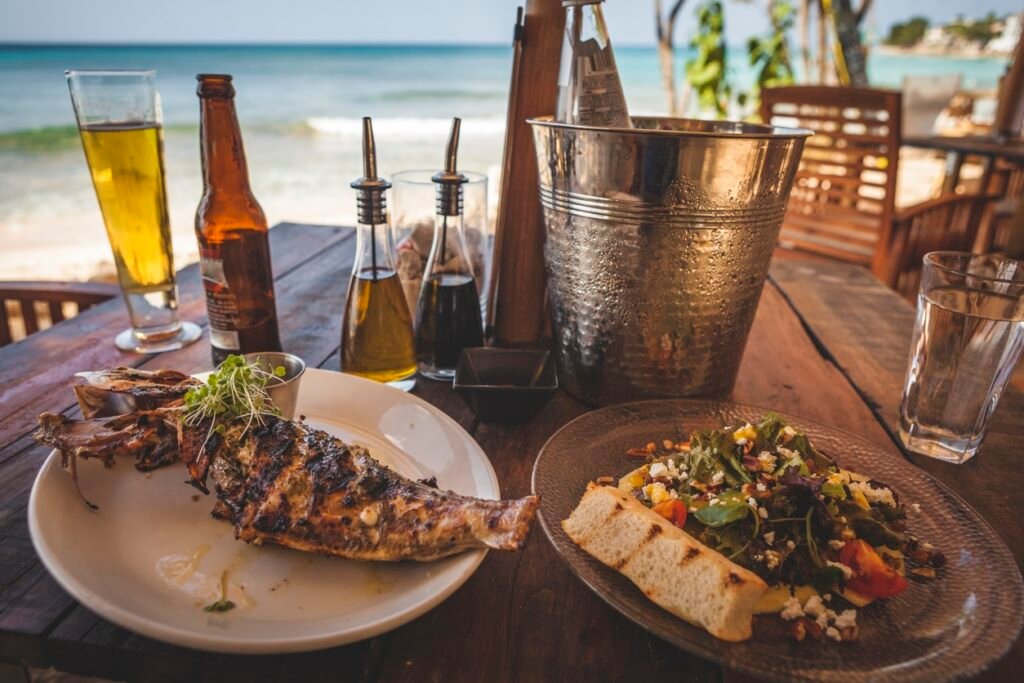 Hawaii Or Barbados? Which Is The Better Choice?
Both Hawaii and Barbados make excellent holiday destinations. But if you're seeking more time on the beach with a cocktail in your hand, then Barbados will probably be the better choice.
However if you want an active holiday, and have more than a week to spare, then Hawaii will provide a better holiday than Barbados.
A Hawaii holiday can be packed full of culture and adventure, hiking and surfing, as well as great beaches and snorkeling spots.
Recommended For Your Trip To Hawaii Or Barbados