Wandering our World is reader supported! If you purchase anything through a link on our site, we may earn a commission at no extra cost to you.
Last updated on March 27, 2023 by Wandering our World
When it comes to dream getaways, Bali and Bora Bora are two destinations that are at the top of most people's bucket list. Both islands offer something unique to every type of traveler.
From romantic getaways to adventure-clad holidays, unforgettable moments are waiting to be had in each. Yet the reality remains that Bali and Bora Bora are actually very different from each other…
For example, if you're looking for sun, sea and sand, but also adventure, then Bali is the better choice.
The Indonesian island of Bali offers more than just turquoise waters, as it's also brimming with culture, incredible wildlife, and happens to be much more budget friendly destination than Bora Bora.
But if you have in your head an image of a tropical island getaway that includes sipping cocktails from a coconut, and spending more time sunbathing and swimming than anything else, then Bora Bora is a better choice than Bali. 
This French Polynesian paradise can be pricey though – especially if you want to stay in an iconic overwater bungalow. 
However that's just the beginning when it comes to how different Bora Bora and Bali can be…
That's where we can help!
Below we use our knowledge to show you which tropical island paradise has the best beaches, activities, culture, food and more. All so you can make the right vacation decision!
CONTENTS:
Which Has The Better Beaches & Landscape?
Which Has The Better Culture & Cultural Excursions?
Where You Should Stay According To Your Budget
Which Has Better Food?
Which Is The Better Choice?
Which Has The Better Beaches & Landscape?
Bora Bora: The Beaches & Landscape
The French Polynesian island of Bora Bora is undeniably beautiful when it comes to sparkling blue lagoons, and picturesque palm trees languidly lining its sandy beaches.
It's the perfect place for an upmarket holiday where you can easily while away your time in Bora Bora's iconic overwater bungalows on stilts, sipping cocktails on the beach. Simply put, for a luxury holiday, Bora Bora may be the best destination in the world.
For a proper beach paradise on the island, head to Matira Beach for white sands surrounded by greenery.
In fact, if beaches and crystal clear water are your priority then hands down Bora Bora will be a better choice than Bali. The water is calm, clear and perfect for snorkeling, and the beaches are some of the best in the world.
Bora Bora also has an exceptionally romantic feel to it. Those iconic overwater bungalows, luxury hotels, and gorgeous views make this the perfect honeymoon destination. So if you're looking for the most romantic destination, then Bora Bora ticks all the boxes too.
Yet although it's best known as a romantic destination, Bora Bora has lots to offer adventure-wise too.
The turquoise lagoons of Bora Bora are perfect for kayaking and provide the ideal conditions for snorkeling, diving, kite-surfing and other water sports.
Hikers will also revel in attempting to climb Mt Otemanu. This old volcano is best scaled with a local guide though.
And if you're traveling to Bora Bora from June to November then it's also peak whale-watching season! Humpback whales migrate here to breed during this time, and can even be spotted while snorkeling around the island. Having a great underwater camera – such as this one – is a must.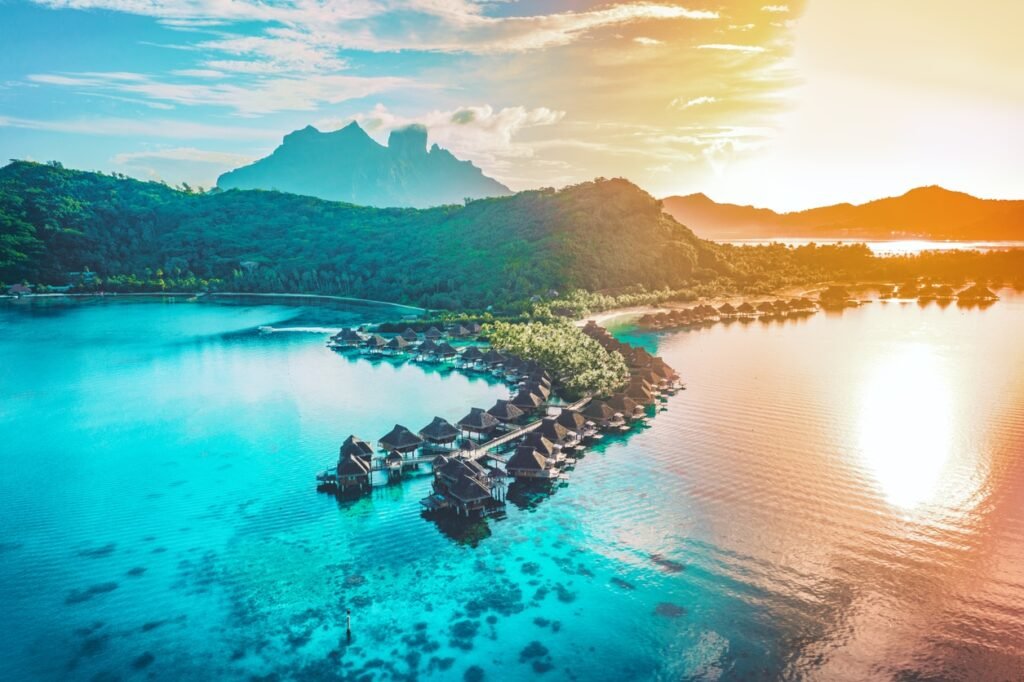 Bali: The Beaches & Landscape
Bali certainly has similarities to Bora Bora, but this Indonesian island is probably more suited to those seeking more than just sun, sea, sand, and relaxation.
After all, Bali's stunning coral reefs and sandy beaches give way to a forested volcano-sculpted inland. which makes it the perfect place to discover exotic wildlife and go jungle trekking.
West Bali National Park is just a three-hour drive from the airport, but is virtually unexplored rain-forest. Whilst Bali's northern-central rain forests have some spectacular waterfalls – Git Git and Sekumpul are two of our favorites.
If you want to stick with sand but avoid the crowds, Nusa Dua is a little-known beach that has miles of golden coastline, and is perfect for swimming, sunbathing and kayaking.
In fact head to Bali's north coast for great diving, but the south coast for superb surfing.
Bali's natural habitats allow you to holiday in style too. Expect upmarket hotels deep in the jungle, yoga retreats in the mountains, as well as the usual beachside break accommodations. That diversity of landscape and accommodations just isn't present in Bora Bora.
Simply put Bali, in comparison to Bora Bora, truly is an adventure lover's paradise.
It also tends to attract many backpackers who come to explore, surf, and have fun. Subsequently you'll find much cheaper accommodation options in Bali – including hostels and guesthouses. In contrast Bora Bora is one of the most expensive holiday destinations in the world.
Which Has The Better Culture & Cultural Excursions?
Bali: The Culture
The majority Hindu island of Bali has a plethora of stunning temples. From exotic beachside sanctuaries to houses of worship hidden deep in the jungle interior.
So you can go temple hopping around the island for a cultural experience, and a way to see Bali in it's full glory.
Tirta Empul Temple – with holy water that you can bathe in which is said to clean sins – is an unforgettable experience and well worth visiting.
In fact with a population of over four million people, and huge diversity across the island, Bali is a culture-seekers paradise. We recommend watching a Balinese Gamelan show – the traditional music of the Balinese.
Rice has been cultivated on Bali for generations, and the gorgeous rice paddies that rise up into the clouds across the island are as iconic as they are important.
Head to Tegalalang to see some of the most beautiful tropical rice terraces on the planet. Speak to the friendly locals in the villages about their life and work when there – you won't regret it.
Simply put, if you're looking for cultural experiences and a real taste of island life on your vacation, then Bali will give you that more than Bora Bora.
Bora Bora: The Culture
If you know where to look you can find culture on this island too.
From the famous story of the 'Mutiny on the Bounty' to the oral history shown through dance and song, you can learn a lot through the cultural experiences on offer here. Many resorts will host cultural events and dances too, and that will likely be your best way to see Bora Bora's cultural highlights.
Recommended: Traveling to Bora Bora? Here's the Culture Guide You Need
Or why not try your hand at spearfishing in Bora Bora or learn the incredible meanings behind traditional Maori tattoos.
On islands like Bora Bora and nearby Tahiti, you will also find dance performances of the 'Ori Tahiti', and there are also places to take lessons with locals.
In general though, because locals and tourists mingle far less in Bora Bora than Bali, and the fact this French Polynesian island is so tourism-orientated, it's hard to get a true cultural experience when visiting.
Bali vs Bora Bora: Where You Should Stay According To Your Budget?
Bali
Shoestring: Rice Padi Artha (see photos & rates), a five-star guesthouse with gorgeous views and a tropical garden is set close to Monkey Forest Ubud and many other attractions.
This friendly place is surrounded by nature and rice paddies, while the guest house itself is authentic-style Balinese. And incredibly, all of that comes on a backpacker's budget.
Budget: With beautiful beachside bungalows and a pool with an unbeatable Indian Ocean view, Nirwana Beach & Resort (see photos & rates) feels far more luxurious than the price tag. Set in pristine Eastern Bali, you'll be taking photos everywhere you turn if staying here.
Luxury: It would be easy to recommend another beachside resort in Bali, but instead we had to suggest what must be one of the most magical hotels in the world.
At Munduk Heaven Luxury Villas (see photos & rates) you'll be walking across bridges above the treetops to get to their stunning restaurant, bar and outside pool. But don't expect to have your feet on the ground when returning to your room – you'll be staying in their luxury 'floating villas' complete with jacuzzi and jungle views from above.
Bora Bora
Shoestring: Bora Bora is an island synonymous with luxury, so finding somewhere great on a tight budget isn't easy.
However at Oa Oa Lodge (see photos & rates) you get beachside accommodation, your own private garden villa, exceptional service, and an unbeatable location within walking distance of Vaitape – the island's largest city. And all of that for a fraction of the price of other accommodation on the island.
Budget: What's better than staying at the beach? Staying at the beach on a private island of course! Fare Ahuna (see photos & rates) is an exclusive property located on Motu Ahuna Island, which is a 3km boat trip from Vaitape.
You'll get incredible sunset views over Bora Bora as you stay on your very own private island paradise in the lap of luxury.
Luxury: It's Bora Bora, an island famed for overwater bungalows. And you'll find arguably the best at the five-star InterContinental Bora Bora & Thalasso Spa (see photos & rates).
The bungalows come with a celebrity price tag, but you'll get celebrity treatment, a private swimming pool and the best seat (and bed) in the house. Simply put, staying at this resort is a once-in-a-lifetime experience.
Which Has Better Food?
With both being tropical island paradises, expect an abundance of fresh fruit, coconuts and fresh fish. Still, there are some local dishes which might surprise you!
Bali: The Food
In Bali the food is pork and chicken dominated.
Definitely order lawar, a dish that is made up of coconut, garlic, chili, and either chicken or pork meat and blood.
Another traditional meaty dish is Bebek betutu, which is duck cooked with coconut inside banana leaves.
If you want to try something vegetarian, then hunt down Urab. This is a delicious and refreshing traditional Balinese salad that is accompanied with coconut.
Bora Bora: The Food
In Bora Bora, the food is mainly seafood based.
For an authentic experience, try raw fish with coconut milk. Usually, this is made from tuna or bonito fish. It is sliced into cubes and marinated in coconut milk, lemon juice, onion, cucumber, tomatoes, garlic and spring onion.
With such a big Chinese-Polynesian population in the region, there is a wonderful fusion of cuisines on French Polynesia.
Chao men (fried noodles with vegetables, meat and shrimp), chicken with lemon sauce, chao chap (roasted duck), and mapo tofu are popular dishes on the islands. Raw fish is also very prominent in Chinese cooking on French Polynesia. 
The French influence in Bora Bora also shines through in sweet treats such as firi firi (Tahitian doughnuts) and banana crepes. A favorite breakfast food is coconut bread! (Related: Exceptional Restaurants in Bora Bora).
Bali Or Bora Bora: Which Is The Better Choice?
If time and money weren't limited, then we would recommend visiting both of these island paradises.
However if you're looking for beaches alongside adventure then Bali is the better choice. This Indonesian island offers more than just sun, sea and sand, as it's also brimming with culture, incredible wildlife, and happens to be pretty budget friendly too.
But if you have in your head an image of a luxury island getaway on an overwater bungalow in one of the most beautiful places on the globe, then Bora Bora is a better choice than Bali.
This French Polynesian paradise can be pricey though – especially if you want to stay in an overwater bungalow. However it is an opportunity to experience an island in one of the most far-flung and desirable places on the globe.
Recommended For Your Trip To Bali Or Bora Bora