Wandering our World is reader supported! If you purchase anything through a link on our site, we may earn a commission at no extra cost to you.
Last updated on March 21, 2023 by Wandering our World
If you're looking for white sand beaches, turquoise waters, and that laid-back Caribbean vibe, then Antigua and Barbados could be the perfect answer!
However these islands, despite their similar size, are actually very different…
While both have picture-perfect Caribbean beaches, Barbados is a lot easier to get around – which is a big plus point. However the popular beaches can get crowded.
But Antigua, in our opinion, actually has the better beaches and a more beautiful landscape overall. It also has a more Caribbean 'vibe' than Barbados. 
Of course that's just the tip of the iceberg when it comes to how different Antigua and Barbados actually are…
Luckily after visiting both, we compare them below and show you exactly what each has to offer.
We look at which has the better beaches, what activities you can do in each, how the vibe compares, what the infrastructure is like and more. All so you can make the right vacation decision!
CONTENTS:
A Quick Overview & Comparison
Which Has The Better Beaches & Landscape?
Which Has The Better Culture & Cultural Excursions?
Where To Stay According To Your Budget
Which Has The Better Food Scene?
Which Is The Better Choice?
A Quick Overview & Comparison
For tourists looking to sunbathe and swim, Antigua and Barbados are great options. Barbados is slightly bigger though, possessing 60 miles of coastline compared to Antigua's 54 miles.
Both have stunning beaches, but Antigua – as the slightly less touristy of the two islands – tends to have more isolated and secluded choices. It arguably has better beaches than Barbados too.
However the infrastructure in Barbados is some of the best in the Caribbean, and it's a very easy island to get around.
That means you can get from beach to beach, town to town, in Barbados much easier than in Antigua. Buses are cheap and easy to get between resorts as well, which is a big plus point compared to Antigua.
That's one of the reasons Barbados makes our list of five cheapest Caribbean islands.
In fact you can easily walk between beaches in Barbados, dipping your toes in the coastline as you go. That's not so easy to do in Antigua – and other islands like St Lucia – where walking between beaches is often not possible.
However when it comes to natural scenery, Antigua has a little more to offer than just beaches. It has a small rainforest, which opens up hiking, trekking and wildlife spotting opportunities.
So if you want to do more outdoors than just sunbathing and swimming, then Antigua will probably be a better choice than Barbados.
We look at each island, their activities, and what's on offer in both, in more detail below:
Which Has The Better Beaches & Landscape?
Antigua: The Beaches & Landscape
Beaches are Antigua's crowning glory, with all 365 beaches on the island – one for every day of the year – accessible to the public.
It is also home to many white sand beaches, the holy grail for sunbathers and beach swimmers the world over. That's actually one of the reasons it made our list of the best Caribbean islands for couples!
For some of the best white sand and turquoise swimming waters in Antigua – and the Caribbean – head to Dickenson Bay. It's one of the most popular spots on the island, but the white powder sand is breathtaking.
Another beach we would recommend is Half Moon Bay. The landscape is a bit more rugged and remote here – and there's no facilities – but that also means there's very few people. It's secluded and has that deserted island feel to it.
Antigua is also home to some fantastic snorkeling spots. One is just off Galley Bay, were you can see teeming sea-life amid the coral thanks to fantastic clear blue waters. This dive map shows the best spots on the island.
Some of the best snorkeling spots in Antigua are far from shore though.
One of those is snorkeling at the shipwreck off Deep Bay. One tip is to hire a small boat from Reef Riders in nearby Jolly Harbour, and join them on an accompanied trip to the shipwreck. A great underwater camera – such as this one – is a must.
There's still some forest in Antigua that can be explored too. Head to Fig Tree Drive, a road which takes you up into the forest and wild vegetation. This is probably Antigua's most scenic road, and it shouldn't be missed.
Thanks to Antigua's forest, hilly inland and gorgeous beaches, we think this island is arguably more beautiful than Barbados.
Public transport in Antigua can be hit and miss depending on where you are on the island though.
But buses are cheap and frequent in the southwest and southern parts of the island, so beach hopping is easy there. However in the north there is far less public transport, and in some cases none between resorts.
All in all, if you're looking for a beach vacation that also incorporates some hiking or an epic road trip or two, then Antigua is going to suit you more than Barbados.
Barbados: The Beaches & Landscape
Barbados is perfect for sun, sea, and sand. It's a mainly flat island with little forest inland, and is best suited for sun-seekers looking for an island that is easy to get around and has fantastic beaches.
For two of the best beaches on Barbados, make your way to Oistins and Miami Beach for great swimming waters and one of the best sunsets in the Caribbean.
However beaches in Barbados can get busy with tourists, and sometimes it's harder to find a secluded beach there than it is in Antigua
Despite that, you can find turquoise water and perfect beaches up and down Barbados. One of our favorites is Bottom Bay. It's not a great swimming spot, but it's secluded, romantic, and with swaying palm trees it has a real deserted island feel to it.
Barbados' teeming sea-life can also be viewed when out and about swimming and snorkeling.
Bell Buoy reef, near Accra Beach is the perfect place to spot angel fish and parrot fish. At Carlise Bay Marine Park you can dive among numerous shipwrecks that have been taken over by colorful fish, nurse sharks, and manta rays! Some of the best reefs to explore in Barbados can be found in this.
All in all, Barbados is perfect for those who want to maximise their sunbathing, swimming and snorkeling time, while also having easy access to amenities and tourist sites.
Which Has The Better Culture & Cultural Excursions?
Along with the natural scenery on offer, both Antigua and Barbados have a wealth of attractions and cultural experiences worth checking out.
While both have a Caribbean feel to them, Antigua – which is slightly more difficult to get around – feels a little less touristy than Barbados which has a distinctive British vibe. So if experiencing a different culture and vibe is a big priority for you, Antigua may be the better choice.
Luckily, both islands use English as an official language due to being former colonies of the British Empire.
Below we look at the cultural highlights in each island so you can see which may suit your holiday preferences the most.
Antigua: The Culture
Around 95% of Antiguans are descendants of African slaves. So the culture has heavy African influences, as well as British influences due to colonialism.
The Antigua Carnival has its roots in the abolition of slavery. It's therefore a happy, fun and colorful festival that takes place during July. Expect street parties, fantastic street food, and parades when Carnival comes to town!
If you want to learn more about the colonial period, then you should visit Betty's Hope Estate.
This was a working sugar plantation that was run by the British during slavery. It's now been converted into an open-air museum so tourists can learn about that dark period of history.
For those keen to learn more about Antigua's past, then head to the 18th century Nelson's Dockyard in Saint Paul Parish.
This UNESCO World Heritage Site is home to centuries old colonial buildings, and a maritime museum that documents the turbulent times around Antigua. However it also remains the only continuously working Georgian dockyard on the planet!
Barbados: The Culture
With a mix of West African and British influences, Barbados is a fascinating country with a rich blend of Caribbean traditions and a culture that emerged out of plantation slavery economy. The British influence in particular is very strong.
Historic Bridgetown is where you should head if you want to learn about the colonial past in Barbados. A walking tour will introduce you to the country's tumultuous past, and the colonial relics and architecture that still stand today. You can also tour St Nicholas Abbey, a Jacobean plantation house.
As with many countries that were colonized by the British, cricket quickly became the national sport and a way to beat the occupiers on the playing field! Take a trip to Kensington Oval Barbados to watch a game.
Barbados also has one of the oldest horse race tracks in the world, the Garrison Savannah. Situated just outside of Bridgetown, locals and tourists mix on race day as excitement builds. In fact a visit here is on our list of the best things to do in Barbados!
Where To Stay According To Your Budget
Antigua
Budget: Tropical Garden Cottage is a wonderful self-contained apartment (complete with garden and hammock!) that's situated in the center of the island and so is perfect for exploring. It's a fantastic budget option. See photos and rates here!
Luxury: If you're looking for something unique and extremely photogenic, the exceptional Royalton Antigua has the only overwater bungalows on the island they're absolutely perfect for romantic vacations and honeymoons. See photos and rates here.
Barbados
Budget: With gorgeous sea views from your room's balcony, and a wonderful outdoor pool for relaxing in, the three-star OceanBlue Resort is a fantastic budget option for those who want to have some luxury but without damaging their bank balance. See photos and rates!
Luxury: It's hard to find somewhere more relaxing than the five-star St Peter's Bay Luxury Resort. Their gorgeous villas and penthouse apartments have uninterrupted sea views, hot tubs and direct beach access.
Couple that with the stunning outdoor pool and world-class service and you've got a holiday you'll never forget. See photos and rates!
Which Has The Better Food Scene?
Both islands have cuisine influenced by multiple sources, however each is quite different from the other.
Antigua: The Food
The national dish of Antigua is the first thing you should try. Called fungie (pronounced foon-jee), this is a typical breakfast dish made out of cornmeal. It's similar to mashed potato.
For something a bit more filling, then Antigua is famous for its pork chops with banana and bacon. It's exactly what it sounds like, and it's delicious.
The official fruit of Antigua is also well worth trying – the black pineapple! It's regarded as one of the sweetest tasting pineapples in the world, and is often had for breakfast.
A popular dessert here is Ducana, which is a dumpling made from sweet potato and coconut, then cooked in banana leaves. Or just bypass dessert altogether and just go for a fresh coconut, drunk direct with a straw!
Barbados: The Food
Unsurprisingly, fish features heavily in Barbadian cuisine, and fried flying fish is one of the national dishes of Barbados!
However with such a mix of cultures here, food is influenced by West African, British, and even Indian tastes.
Here popular dishes include chicken curry, barbecued pig tails and even Macaroni pies!
Just like many Caribbean islands, rum is the drink of choice in Barbados. Luckily for visitors, they make great rum too! Get yourself along to Mount Gay Rum Distillery for a tour and some free tasters.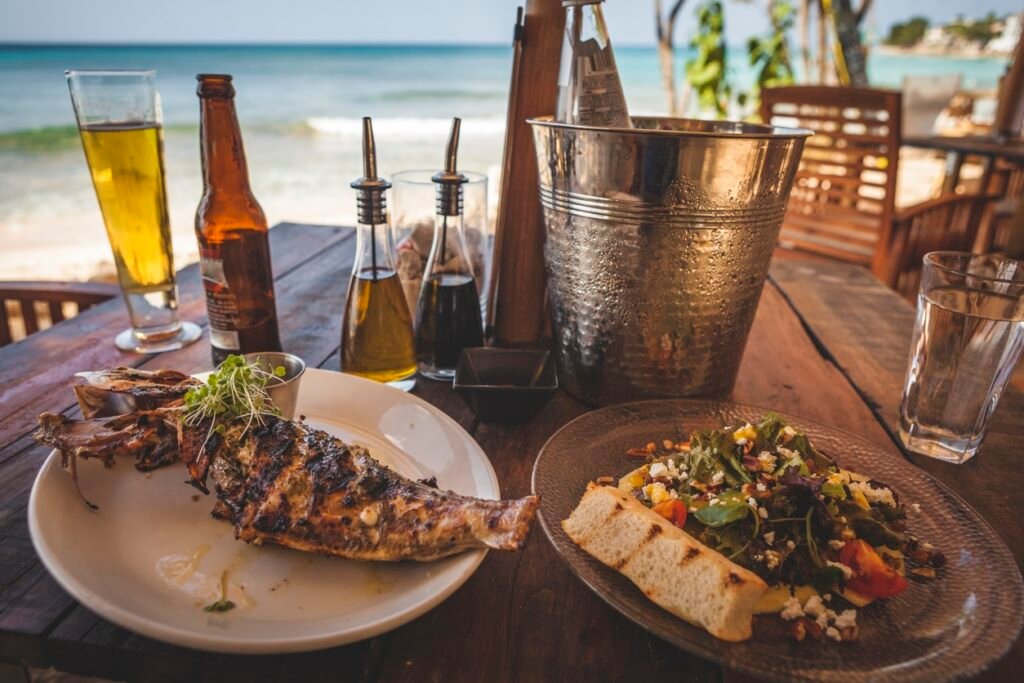 Antigua Or Barbados: Which Is The Better Choice?
Both are great choices, and if you have the time and money, each is worth visiting.
While both have picture-perfect Caribbean beaches, Barbados is a lot easier to get around – which is a plus point. The infrastructure is well developed and it's cheap and easy to take the bus around the island. But the popular beaches can get crowded.
However Antigua, in our opinion, has better beaches and a more beautiful landscape overall. It also has a more Caribbean 'vibe' than Barbados, which is a big plus point for those looking to experience something different.
Recommended For Your Trip To Antigua Or Barbados