Wandering our World is reader supported! If you purchase anything through a link on our site, we may earn a commission at no extra cost to you.
Last updated on May 24, 2023 by Wandering our World
Located on the lower end of the Gulf of Mexico, Naples is one of the crown jewels of south Florida. Known for its variety of world-class shopping, abundant restaurants with unique cuisine, challenging and innovative golf courses, as well as gorgeous white-sand beaches, this is a must visit city. But in recent years the nightlife in Naples has also been earning plaudits, and no wonder.
Although known more for dolphin spotting than drinks, Naples nightlife is still exciting, varied, and full of different forms of entertainment. Here you'll find great evening spots for refreshing hand-crafted cocktails, decadent dishes from numerous cultures, and live music of all kinds to satisfy any taste and make you want to get up and dance!
Most of the vibrant Naples nightlife scene is concentrated on 3rd and 5th Avenue, where you can find shopping boutiques, great restaurants, and bars and lounges with house made craft beers, spirits and cocktails. At first glimpse it might look like a sleepy city, but the late-night atmosphere gets surprisingly energetic and can be rowdy.
Here we introduce you to the best Naples has to offer. From the best bars, to the places you need to visit if you're looking for live music and dancing. We also share our favorite restaurants in the city so you can start your night off right, include info on happy hour deals in Naples, and tips if you're visiting Naples for the first time.
The Best Bars In Naples, FL
Here are some of our favorite bars in Naples! These are the bars we like to visit when starting our night out. After this section we share with you our favorite clubs and bars for live music and dancing!
1. D'Amico's The Continental
Imagine New York steakhouse meets 1920s Parisian bistro with great interior and outdoor sitting atmosphere. That's what D'Amico's offers.
This bar and restaurant has butcher-cut prime steaks of the finest Piedmontese and Wagyu beef and a wide variety of beers, spirits and craft cocktails. If you're looking for great food and drinks to start your Naples nightlife adventure this could be it.
2. Industry Beer and BBQ
This laid-back hangout is a colorful yet rustic bar with succulent Texas-style BBQ, local craft beer and lowbrow art.
They offer a great outdoor seating space and a massive selection of beers. Come chill out, enjoy a few beers, browse the art and play games.
3. Nectar Lab Kava Bar
This vibrant social lounge has exceptional happy hour specials of 2 for 1 from 3-6 p.m everyday, Saturdays from 11 a.m. to 1p.m. as well as a late-night happy hour on Tuesdays and Thursdays from 9-11 p.m! Uniquely, you can get kava drinks here.
They also provide weekly events such as trivia, kava pong and bingo, and have a menu with a unique south beach modern twist to it.
4. Old Naples Pub
This neighborhood pub is very welcoming and casual with a family-friendly atmosphere. They have an extensive menu of classic American food alongside many beers and wines.
Located just a short walk from the beach and historic fishing pear, it's a great place to meet friends for dinner and drinks.
5. Sidebar 505
This intimate neighborhood bar's decor was inspired by a speakeasy cocktail den. It's dimly lit with leather couches and has a contemporary industrial aesthetic.
With over 80 whiskeys and bourbons, rare wines, and locally inspired cocktails there is plenty of drink options to enjoy here. A great late evening spot for deep conversations.
6. Pelican Larry's Raw Bar and Grill
Seafood, sports and spirits sum this place up. For over two decades Pelican Larry's has been serving traditional bar favorites, such as their award-winning fresh seafood straight from the gulf, alongside wings, sandwiches and wraps. There are also daily happy hour specials and 50+ TV screens to enjoy game days.
The oysters are fresh and shucked at your table, but we also recommend their fresh snow crabs, shrimps, clams and groupers.
The Best Bars for Live Music and Dancing in Naples
Some of our favorite bars in Naples also have live music and dance floors, perfect for continuing your night out and dancing until the early hours of the morning.
1. Bambusa Bar and Grill
This queer-friendly gathering place has a full bar and ample dance floor. Bambusa is known for their live DJ performances, karaoke, bingo and drag shows. They serve great organic meals and have daily in-house made pasta and happy hours from 4-7:30 p.m.
2. The Cabana Bayfront
Expect drinks and music by the marina at this waterfront bar with it's open-air layout. There's a laid back atmosphere, numerous signature cocktails and beers, as well as many other drinks.
In the evenings they often host local bands, so you can enjoy drinks and live music right by the water. That's a fun Naples nightlife experience you won't forget!
3. Dogtooth
Dogtooth has an eclectic blend of live music to please all tastes five nights a week, a multitude of TV screens for any and all sporting events, and an amazing happy hour schedule Monday- Saturday from 11 a.m. to 6 p.m.
From mud bone blues to college football, come and enjoy the great atmosphere and even better drinks.
4. The London Club
Expect an intimate space with a sultry-chic ambiance. The London Club has live entertainment from Tuesday to Saturday, but they don't take reservations for live performances so it's first-come-first-served.
They also have sublime bar fare which includes excellent seafood choices alongside wines, spirits and draft beers to pair them with.
5. Dylan's Drafthouse
This drafthouse say they have the biggest beer selection in Naples, and we tend to agree. With over 100 kinds of draft and craft beers, there is always a new beer to try!
Besides their daily happy hour, they offer darts, billiards, video games and a shuffle board. They also host poker tournaments and live music performances at the weekend. If you're looking for a fun atmosphere with lots of things to do then this could be the place for you.
6. Midnight Tavern
This family-operated bar focuses on showcasing the best local talent around. Come for the evening performances from Thursday through Saturday, and find your new favorite 'underground' band.
Of course there's great craft beers and cocktails to discover and enjoy too, and Midnight Tavern is known locally for their popular Colombian burgers too.
7. South Street
South Street was inspired by the famous 1950's South Street in Philadelphia where bars and clubs promoted and supported many of the local talent.
This bar and music venue has graffitied brick walls and modern pop art that creates an atmosphere that lends itself perfectly to live band performances. Add in the draft beer, killer cocktails and freshly made pizza they have here, and it's no wonder this is a popular Naples nightlife spot.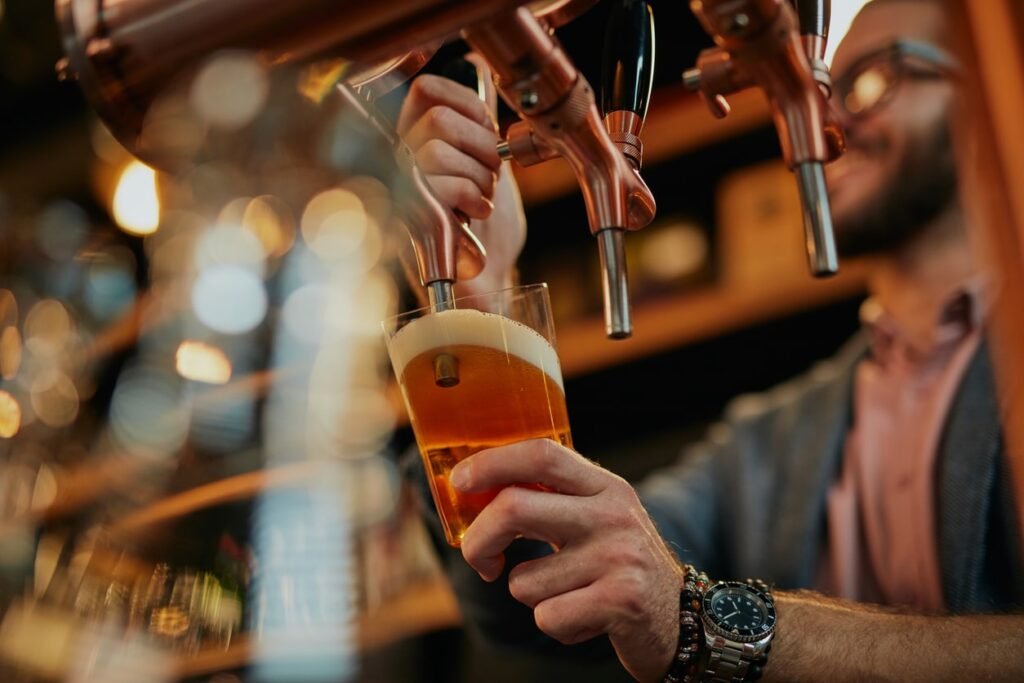 8. Vergina
Expect a dynamic blend of Mediterranean cuisine, hookah pipes, charming decor and outside sitting which provides an open-air dinning and drinking experience. Vergina's happy hour is everyday from 3- p.m, and they have live music every night with an open dance floor starting at 8:30pm.
The Best Restaurants to Start Any Naples Nightlife Adventure
If you're like us, you will want to start any Naples nightlife adventure with good food and great drinks. Here's some of our favorite restaurants to visit when we want our evening to be the best it can be.
1. The French
This restaurant has an informal backdrop with classic French staples, coastal favorites and light casual fare.
Chef Vincenzo's cooking style can be described as 'country and coastal' Italian cuisine, with many of their pastas, sausages and pastries made in-house. Seafood and meats are acquired from local fishermen and family-owned farms around the Naples area.
2. Bha! Bha! Persian Bistro
Expect striking flavors as fresh fish, meat and poultry combine with a Persian mix of spices to enhance the food in what we can only describe as a union of flavors.
Bha! Bha!'s entire menu and atmosphere is inspired by chef Michael Mir's Iranian roots. The Ginger Apricot Shrimp dish has become one of this restaurant's trademark dishes and is well worth trying.
3. La Pescheria
Stories told around the dinner table is at the heart of this unique eatery. Expect a very refreshing dining experience as patrons are encouraged to join in the 'conversation' about ocean advocacy, based on their dinning choices.
Each multi-course dinner comes with a remarkable story behind the chef, fisherman, particular fish species, and any other hot topic involved in ocean life conservation. Expect a spectacular dinner prepared by top chefs that will leave you satisfied and informed on the positive impact the culinary community can have on the environment.
4. Mediterrano
This restaurant produces a unique vision of Mediterranean cuisine combining mesmerizing flavors with fresh local products. They bring flavors from multiple coastal countries along the Mediterranean Sea, such as Greece, Italy, Morocco, Spain.
Happy hour is from 4:30 p.m. – 5:30 p.m. when you can enjoy selected wines and sangrias for just $6.
5. Osteria Tulia
Florida's first osteria is a special experience, from the decor to the menu. The food, entirely inspired by Chef Vincenzo's childhood, is authentic and rustic centuries-old Italian cuisine.
The cheese, sausage and pastas are made in house, and the seafood and meats are fresh from local catch and nearby farms. Come enjoy the village tavern atmosphere with homemade local dishes and exquisite regional wines.
6. Pop's Spot Grill
This little red Greek food truck is one small eatery but it packs a real punch! The menu is simple yet flavor packed and well-worth any wait. Expect delicious gyros, grilled kebabs, Italian pastas and salad bowls, all under $10. Enjoyable food at an incredible price.
7. Sails
A mesmerizing blend of flavor profiles from France, Greece and Italy meet at Sails. Many of their dishes are prepared on a custom wood-burning grill that adds a smokey, old-world flavor. They also possess a well-curated wine list for inventive pairings.
8. Truluck's
This elite high-class dining restaurant is for black-tie crowds and special occasions. The menu is created with special care to honor the plate, palate, and planet by being sustainably-conscious. Their popular Florida Stone crab is always fresh – at most 24 hrs from trap to table.
9. USS Nemo
Voted by locals and critics alike as the best seafood restaurant in Naples. They have numerous must-try dishes on their menu that have put this fine restaurant in Tripadvisor's Hall of Fame.
The miso-broiled sea bass is worth the trip alone, not to mention their exquisite Mediterranean and Indian inspired dishes.
Tips For Your Trip to Naples
All seasons in Naples are pretty busy so make sure to plan ahead for room, board, and food.
Hurricane season is from June through October so keep that in mind while planning your Naples trip.
Naples is generally a very safe area. Nevertheless , always take precautions, especially if you're unfamiliar with the area. Be aware of your surroundings.
Public transport isn't very reliable so be ready to use a ride share app or rent a car.
Last call is around midnight to 1 a.m. so plan your nights accordingly.
Being a beach town, Naples has a high average of sunny days, perfect for golfing and going to the beach.
Its a home to arts, outdoor activities and great fishing, not to mention being a restaurant powerhouse in its own right